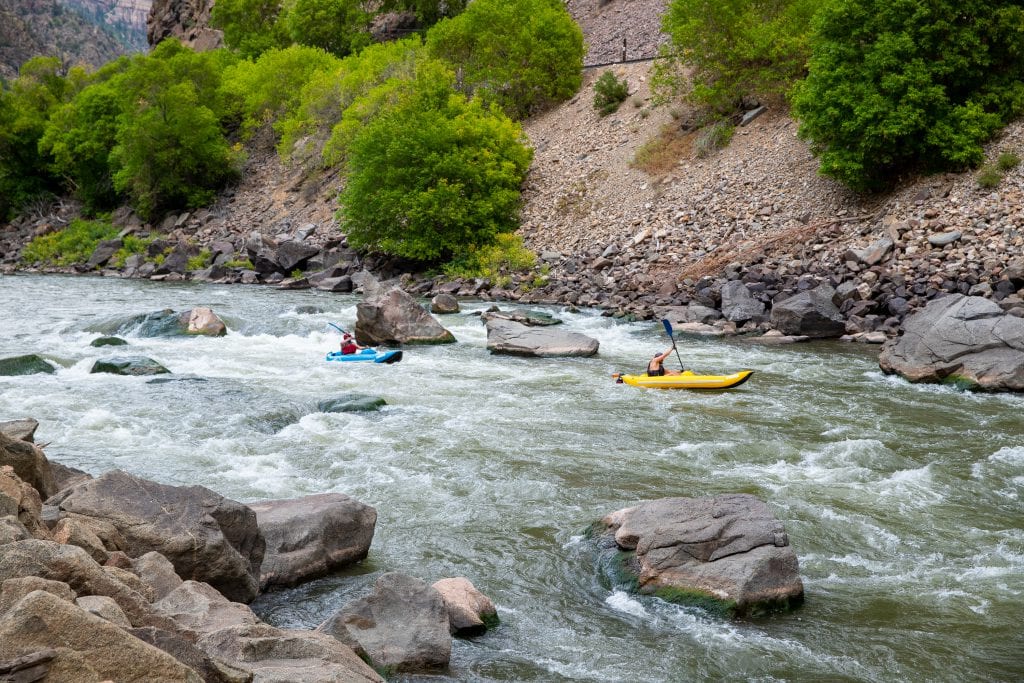 Maybe you've heard of packrafting. It's a relatively new sport (depending on who you're talking to) that is the ultimate crossover adventure tool. It's a whacky, sub-10 pound whitewater kayak that will float a couple of people, a whole bike, and even most of an elk.. The key part, and where it gets its name, is that because it's inflatable and lightweight, you can carry it in your backpack or bike to allow you to go anywhere on your travels. Maybe you'll take it across the Brooks Range, down the Grand Canyon, or into backcountry creeks. Some people even mount small sails to them.
What on Earth is a Packraft?
Take a whitewater kayak – a little one – and make it an inflatable boat. Its DNA is certainly more kayak than canoe, as your butt sits in the water and most people use spray skirts and can roll their boats. Now put a zipper in the back, so you can fill the tubes with stuff. Most of the major manufacturers have this feature, and it is truly impressive. You won't find me floating with a bunch of crap strapped to the outside of my little raft. It rolls down to a 15L wad, and the middle-of-the-road model weighs around seven pounds. And competent paddlers have floated the Grand Canyon (the whole thing) in these boats. Pretty too-good-to-be-true to me.
Who is it for
The boats are used to access backcountry whitewater, link up disparate river drainages, and take you on infinite multi-sport adventures. They have been employed for bikerafting (combining floating with bikepacking), skiraftineering (using the raft as a sled on a ski mountaineering trip and then floating the glacial melt out), multi-stage wilderness racing (like the Wilderness Classic) and backcountry hunters and fishermen. Basically, if there are bodies of water between you and where you want to go, a packraft is a useful tool. They especially shine where the trails and routes give way to watercourses and game trails. They make backcountry loop-style whitewater trips actually fun! If you want to run more whitewater and spend less time thinking about car shuttles, this thing is for you.
Essential gear
The most obvious piece of gear you need for packrafting is a packraft. Duh. But there are different brands and styles. I personally have an Alpacka Raft. Sheri Tingey, the mastermind at Alpacka Raft, created the modern packraft, from which all other modern rafts are imitators, but not less than. Within both of the major manufacturers, Kokopelli and Alpacka, there are four classes of boats: ultralight, all-rounder, whitewater and cargo. Make sure you are buying a boat to suit your needs. The differences between the styles are quite sizable.
Of course, not all of your regular whitewater gear will work for packrafting. Most packrafters carry four-piece paddles, ultralight helmets, slimmed down PFDs, dry/wet suits and varied rescue systems. These, again, depend on your adventure. Class V Alaskan creek boating will look different from desert bikerafting. The less whitewater involved, the more stripped-down the gear. Some people even strap trekking poles to paddle blades!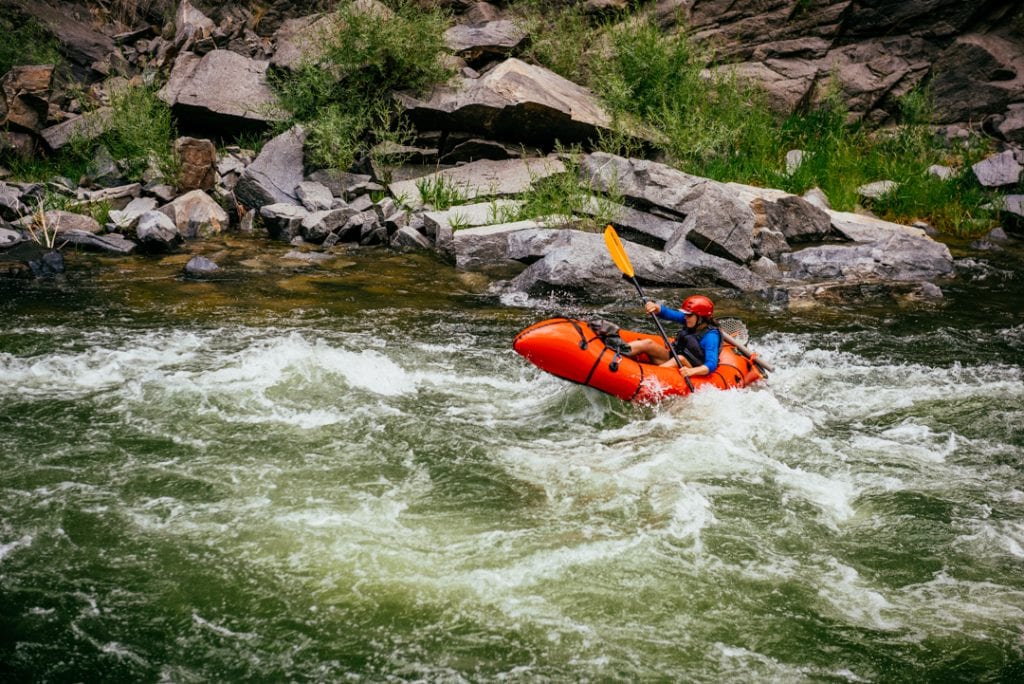 How to Get on the Water
No one wants to buy a $2,000 raft just to try a sport they've never done before. There are, thankfully, major fine purveyors of rental packrafts! These companies are generally located in major hubs of the packrafting world, such as northwest Montana, southeast Alaska, and southern Utah. Unfortunately, most of the rental options do not include the most sophisticated, specialized rafts or the ultralight drysuits that some rafters use. However, $200 for a week of trying out the sport is well worth it. Much like skiing, the boots and skis you buy before ever having slid on snow are not the skis you would appreciate later in your ski life.
Where to Paddle Then?
First of all, take the hint from the rental companies. Those guys know where the good rafting is. They live there! In terms of planning trips and heading out on packrafting adventures, topographic maps can serve almost all of your needs. Obviously, there are tons of trip reports on the internet, and you can certainly follow those routes. However, when setting off on your own adventure, most of the information you need is on a topo. Is it possible to get to the body of water you're aiming for? Are there major, troubling features on that body of water? Where will it take you? Answer those questions, and the world is your oyster.
Please note that this story contains affiliate links, and at no additional cost to you, Huck earns a commission if you decide to make a purchase after clicking through the links above. We appreciate your support!