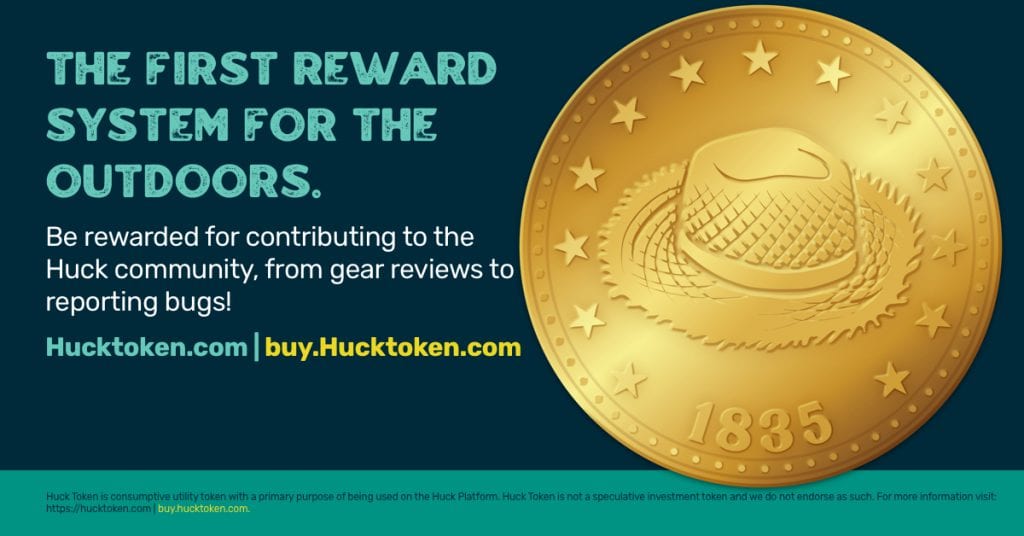 Huck Adventures is creating the world's first social platform and reward system for the outdoor industry, and its presale/crowdsale for its utility token launched yesterday.
The Huck App, which is currently being tested through a live beta in Colorado, connects outdoor enthusiasts with each other and the resources they need to get outdoors.
The Huck Token (ticker symbol: HUCK) is an ERC-20 based utility token, which derives its value from Huck ecosystem products and services. The pre-sale will run through Nov. 28 with a bonus structure of up to 30 percent for early adopters. The crowdsale will run Nov. 29 through Dec. 30. There will be 1 Billion Huck Tokens available during the crowdsale, with a hard cap of USD 5 million. Initial listing price will start at $0.005 per Huck Token. Huck Tokens may be purchased on www.hucktoken.com.
"Huck Adventures is leading the way in democratizing the outdoor industry," Huck Founder/CEO Ben Nelson said. "With the Huck Token, a user's knowledge on sports or gear will no longer be valued on how many likes it receives, but instead by providing tangible benefits and real value to other outdoors enthusiasts worldwide."
Through the Huck Adventures app, outdoor enthusiasts will be able earn Huck Tokens by contributing to the Huck community, including reviewing outdoor gear, reporting bugs on the app, posting educational content, and uploading photo and video content. Huck Token will be able to be redeemed for rewards through the Huck Reward Platform or cashed out for fiat. Eventually, rewards on the platform will include adventure deals from travel providers, new equipment, and exclusive swag.
The outdoor recreation industry is worth an enormous $887 billion per year in the U.S. alone, accounting for 2.2 percent of total GDP, and inspiring 147 million American outdoor enthusiasts to regularly adventure in nature. Despite this, it's still incredibly difficult for outdoor enthusiasts to find a simple and engaging platform, where they can share interests, connect, and pass on their experience.
That's why the Huck Adventure App is creating the world's first social platform and reward system for the outdoor industry.
Huck aims to unite people with the desire to get outside, explore the world, learn from each other, and create connections that will last a lifetime. Together with its community of outdoor enthusiasts and content creators, Huck aims to grow outdoor participation, and drive research and development in the outdoors industry.
Huck also donates 10 percent of its profits to environmental and outdoor recreation nonprofits.
Learn more at www.huckadventures.com.