At Outdoor Retailer Snow Show 2019, brands from across the world congregated to launch their latest products. Our team spent a week in Denver walking the show and talking to some of these amazing brands. Here's some of our favorites.
Jones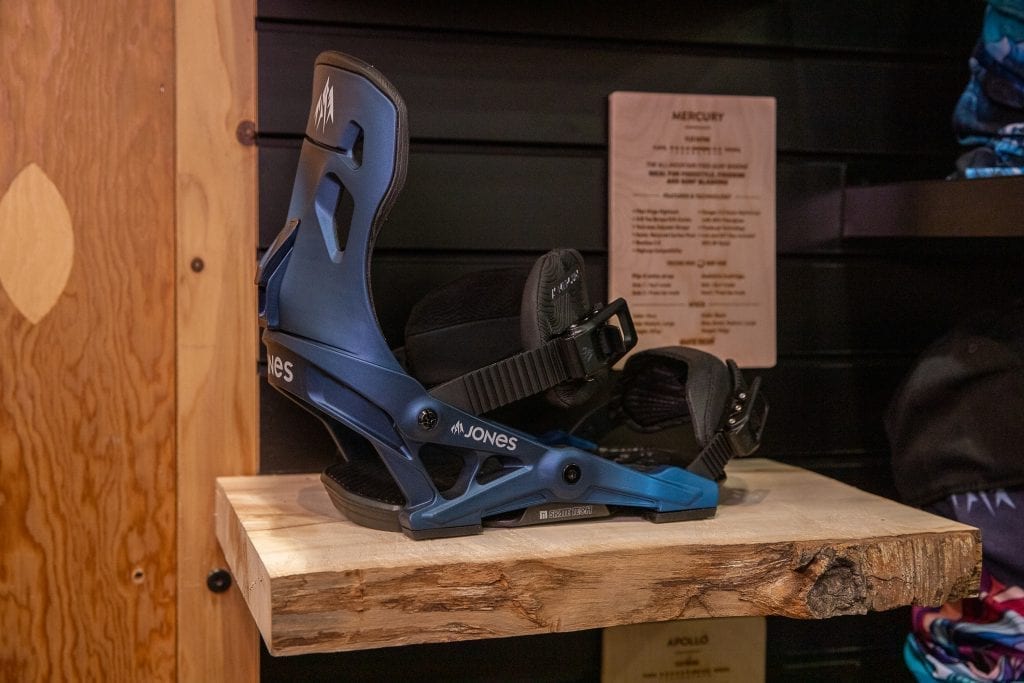 One of the first snowboards we saw at Snow Show was Jones' 10th Anniversary edition of their Flagship board. The shape is a little more tapered with the same directional profile with a camber underfoot, a rocker tip and tail, and with a more blunted nose.

The new Flagship is made with a lot of new material, including FSC (Forest Stewardship Council) certified wood. And instead of using an epoxy that's made from petrochemicals, for this snowboard Jones started using a sustainable, plant-based bio resin made from waste materials from the agriculture industry.

The Flagship is made for anyone who is an intermediate to advanced freerider that leans on the more aggressive side. This is for anyone looking for a board that's great for charging fast through trees, handling drops from cliffs, or heading down pillow lines.

The team at Jones also showed us the new women's splitboard, the Hovercraft Split. It's built with a directional shape for quick turns. It has a rocker nose, a camber underfoot, and a tail that is very tapered, so it's really fast edge to edge. The Hovercraft is a little bit wider, so that it can be ridden shorter and still have the same surface area and volume to float in the deep snow.

Jones also showcased their bindings, which was a new category for them in 2018. Their Jones Apollo binding has a new highback that has a wider profile at the top, so that snowboarders don't fall out of their bindings when making hard toeside or heelside turns. This binding also continues Jones' sustainability efforts by being made from ultra-damp Flax fibers and 3K Carbon Fiber for lightweight response.

These bindings, among others in their lineup, utilize NOW Skate Tech design, which provides an active binding that mimics the function of a skateboard truck. It's an active binding, so there's a lot of great energy transfer. The "Kingpin" in the binding acts as a fulcrum, while the "Hanger" magnifies the energy transfer through leverage.
You can find Jones products throughout the United States in a variety of outdoor retailer shops along with online retailers, including Backcountry, Evo, and REI. You can find out more information about their boards at https://www.jonessnowboards.com/.
Faction Skis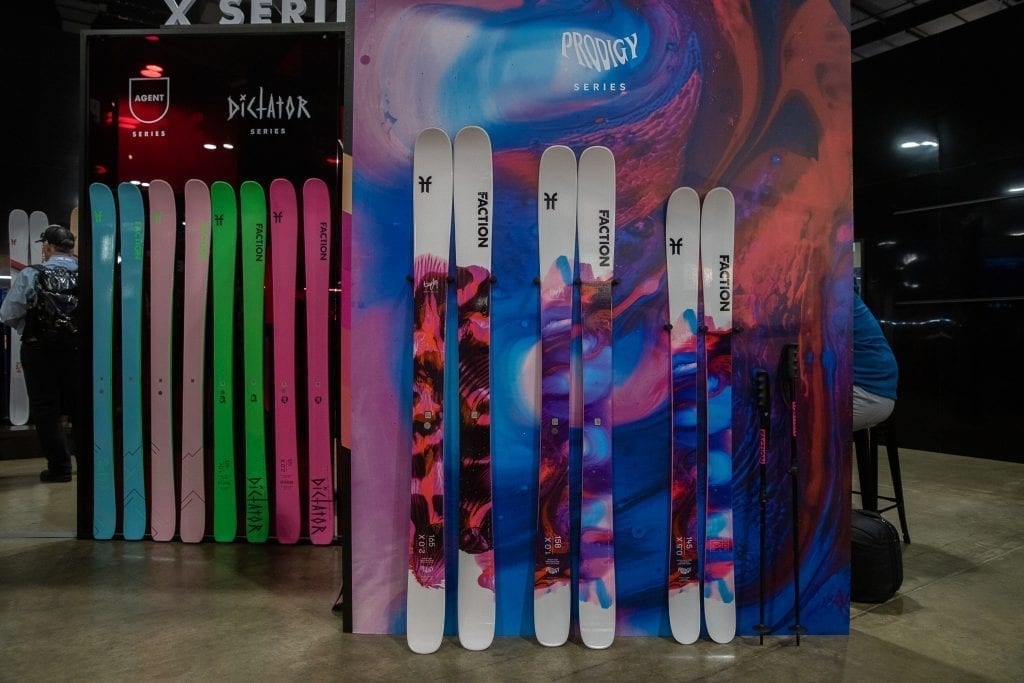 Faction Skis is a Swiss-born company that was started in 2006 with the goal of providing consumers with a wider ski.

What they showcased for us at Outdoor Retailer was their Candide Thovex (CT) Signature Series, which has introduced a female graphic called the Mademoiselle, available in the 2.0 and 3.0 models. The CT 2.0 has a 102mm underfoot with their poplar/beech wood core. Their CT 3.0 has a 112mm underfoot and a balsa/poplar core. This season, the core in the 3.0 has been updated by beefing it up for a stronger ski within the men's and women's models.

These skis are perfect for women freeriders who want a wider ski. The CT 2.0 is going to be more mountain friendly for powder skiing. The CT 3.0 will be awesome for a deep snow day on the slopes.

You can find their skis at retailers across the U.S. or on their website www.factionskis.com

Rossignol
At the Snow Show, Rossignol was introducing the new Xavier de Le Rue signature series of snowboards.

They showed us the directional "fish" shaped Sushi, which they said is one of the most friendly and fun boards to ride. "It's absolutely insane in the powder and one of the best tree boards," said Tom Lebsack with Rossignol snowboards.

The Sushi is a tribute to the intersection of snow and surf with its roots in Japan's snowboarding scene. The all-new XV Sushi Split is the newest splitboard design from Rossignol, featuring their innovative L.I.T.E. Grip technology, which integrates an urethane strip that bend towards and away from the edge of the board, increasing grip when you need it. It should make for a versatile ride to slash through fresh powder.

Next up was their XV Sashimi LG, a hybrid between the Sushi and original XV board. It is a friendly ride and more forgiving than the XV, but allows you to push it further than the Sushi. It provides an exceptionally smooth and quiet ride in any condition; whether you're in powder, or on groomers, chilling with friends, or pushing yourself to go further and faster.
You can check out their line up at www.rossignolsnowboards.com
Icelantic Ski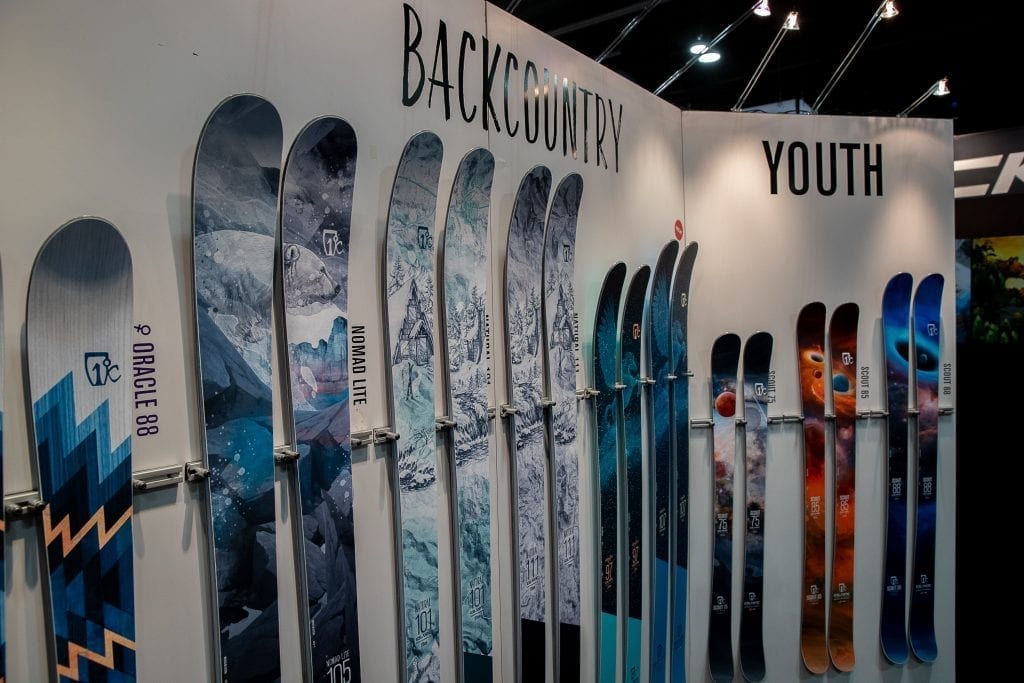 We had the opportunity to talk to Travis Parr, co-founder and head artist for Icelantic Skis. He founded the company 15 years ago with his best friend Ben Anderson. They've grown to become the largest U.S. independent ski manufacturer.

They have several different lines within their ski company, but one of our favorites was the award-winning 109 Pioneer. It's a powerful and versatile all-mountain ski that can power through any condition. It's stable, snappy, and responsive as you're hard-charging down the mountain.

New for this year, they introduced a women's version of the Pioneer called the Riveter. They took the same aesthetic with the wood, but introduced a soft water color in the art on the top of the skis.

For their backcountry line, they wanted to keep the same aesthetic as their freeride series, but lightened up the ski in the core to make it the perfect ski for skinning and trekking. It has a surfy, playful, and fun aspect to it.

Overall, the biggest draw for us was Parr's storytelling artwork that graced each of the skis in their showcase at Outdoor Retailer. Each ski is brought to life through his unique artwork and color palette which seems to pull inspiration from nature and tribal art.

You can check out their line up on their website, https://www.icelanticskis.com.