When hiking with our dog, Parker, our biggest challenge is carrying all the things.
Our backpack is already full of snacks, sunscreen, a first aid kit, and water for the human kids. Yet, we still have water, water bowl, snacks, and poo bags to pack for our canine kid.
Ruffwear sent us their Approach Backpack to review just in time for school to be out and our summer outdoor adventures to begin.
The Ruffwear Approach Backpack is a harness for dogs that offer saddlebag storage and all-day comfort for your four-legged family members.
The saddlebags contain four total zippered pouches; enough space for water, dog bowls, snacks, food, and those pesky poo bags.
During our testing period, we took Parker on several multi-hour hikes. We were able to store ample supplies, but it is worth noting that Ruffwear suggests that dogs carry no more than 25% of their body weight and to start them out with lighter loads to build up their endurance.
Parker is a big dog and eventually, he'll be able to carry around 20 pounds. For the testing period, he carried anywhere from 3-7 pounds of supplies. And even with that, there was plenty of room for more light items.
The Ruffwear Approach Backpack is made of a light and durable 150 denier polyester. The saddlebags have a radial cut to provide a comfortable fit and throughout our hikes moved easily with Parker.
Each side has a lower main compartment zipper and an upper side stash zipper. The lower pockets were the perfect size for flat water bottles, food, leashes, and stashing full poo bags. The smaller pockets up top were great for snack bags and his collapsible water bowl.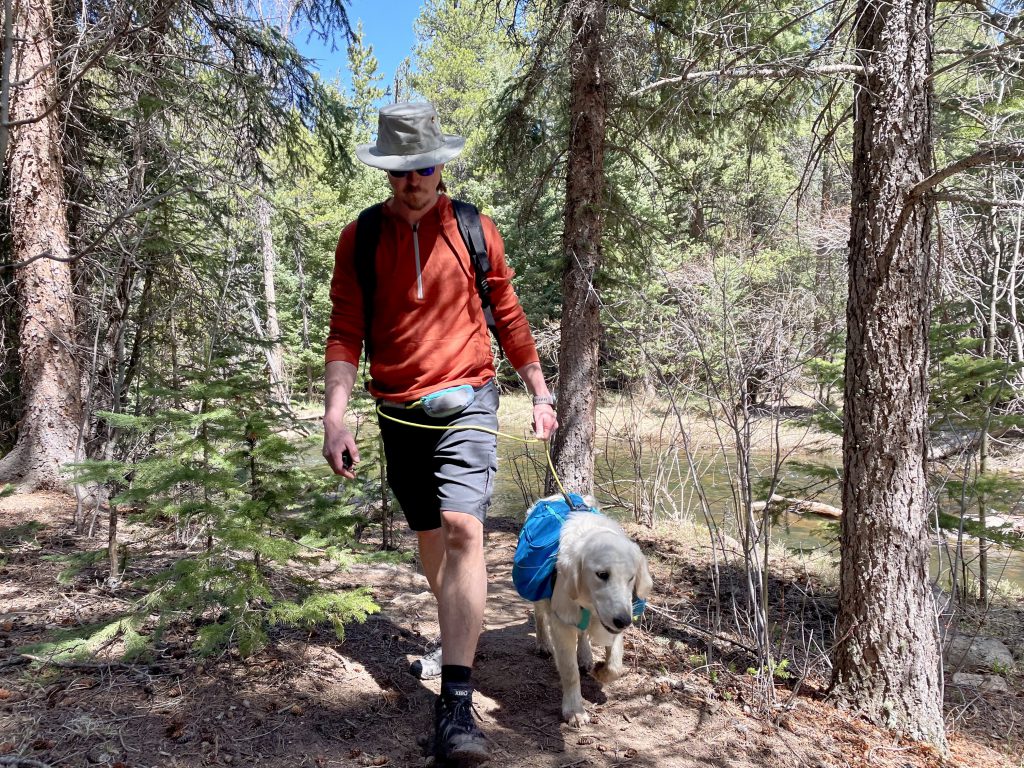 On the top of the Approach Backpack, Ruffwear has a padded handle to lift Parker up and over large boulders or sections of trail that were too technical for him. Next to the handle is a metal v-ring for leash attachment.
On the underside of the pack, there is a five point adjustment system. There are three points of adjustment on the chest plate and two additional straps on the underside of the backpack. This allows you to size accordingly to your pup's size and make sure that the pack is stable, but not too tight; just enough to remove any sway or shifts in the pack.
During each hike, I monitored Parker to make sure the pack was comfortable. Throughout his tail was wagging as he walked down the trail.
After the hike, after I removed the pack, I inspected Parker to make sure there was no rubbing caused by the pack and there wasn't. He seemed very comfortable throughout.
Conclusion
Overall, I was very impressed with the Ruffwear Approach Backpack. And so way Parker!
It is a very well made, comfortable, and durable piece of hiking equipment.
If you are wanting to hike with your pup and not carry all their crap, this is a great investment. The Ruffwear Approach Backpack is a winning combination. Any time I pull it out, Parker gets excited because he knows a hike is coming!