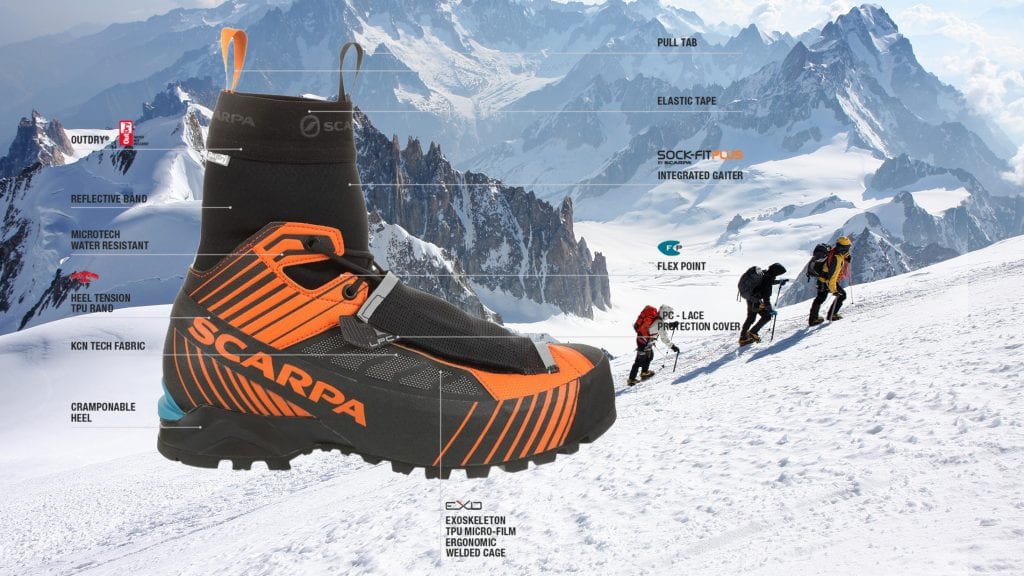 Scarpa's Ribelle range of boots represents the future of fast & light alpinism. It is part of a growing industry trend towards fast and light alpinism, where we've seen a lot of new products, such as Petzl's Irvis Hybrid Crampons, Patagonia's Hybrid Sleeping Bags, and Edelrid's Skimmer Pro Dry 7.1MM rope.
Alpinism is certainly cutting grams, and enabling safety through speed.
Scarpa sent us the Ribelle Tech OD Boot to review. It's a three-season alpine boot that is a hybrid between an approach shoe and mountaineering boot.
For this review we decided to attempt Mount Massive in Lake County, Colo., in mid-May when it had record snowpack. Unfortunately, we didn't summit, but we did put in 11 miles on snowshoes, crampons, and microspikes.

Customization.
Scarpa's standard liners are quality. However, after a 4 mile test hike, I realized these were closer to my Scarpa Phantom Techs than my running shoes, and replaced the standard liners with my custom orthotics from Bent Gate Mountaineering in Golden, CO.
Once the orthotics were in place, these boots were comfortable enough to wear all day. In fact, I wore them for an entire day preparing for the trip. They were comfortable enough to drive in, run errands, and set up our camp. My goal was to make sure they had a full-day of sweat in them before bivving for the night.

Warmth: Don't Stop Moving
We got to the campsite late around 8 p.m., and decided to start at 2 a.m. the next morning. As soon as my fiancé and I climbed into our bivvies, it started to snow. Perfect! In addition to sweat from the day before, now my boots had snow covering them.
Thankfully these boots are warm. After knocking the snow out, and breaking the ice off the boots they warmed up quickly. As long as I was moving, I stayed warm in the 15 degree morning air.

Stability: Like a Tennis Shoe
Lacing up the boots reminded me of a tennis shoe. There is one set of holes around the ankle, but it doesn't provide much support. That last set of lace holes appears to function solely as a way to snitch the gaiter "sock" down further. You will need good, flexible, and strong ankles for this boot, and I don't recommend spending much time in Grade V climbs: your calves will get pumped.

Traction
The sole on these boots are very soft and grippy. It took me by surprise when after a mile of hiking on snow ice, I realized how confident I was without extra traction. Plus, the rubber seems to be held up well. Hopefully, they hold up well over the next year of climbing.

Running
You can run in these. However, being able to run in a mountaineering boot, doesn't mean you should. On a "test" hike, I put in two miles on this boot, and I was done. The soles are really stiff and unforgiving, so while you can trail run in them, don't plan on putting in a ton of miles.

Gaiter: Holy Gaiter Batman!
This year's historic snowpack in Colorado combined with mid-May snow rot made for a lot of deep post-holing. The Ribelle's Sock-Fit Plus Gaiter held up to nearly three hours of postholing. The Sock-Fit Gaiter was simple and effective, and I would recommend it for all except the dryest powder days.

Crampons, Snowshoes, and Mircospikes.
Sticking with the fast and light approach, I decided to use the Petzl Irvis Hybrid crampons. While these boots have some flex, they were stiff enough for the Dyneema cord and held the semi-automatic crampons on securely.
Their stiffness also made snowshoes a dream. I could crank down the straps on my MSR Snowshoes and never experienced any wiggle.
I would recommend sizing up on Microspikes for the Ribelle Tech's. While not as bulky as a full mountaineering boot, they are higher volume, and I had trouble getting my size L Kahtoola Microspikes to fit my 44.5 boots. I should have used XL Microspikes.
Summary
At 1220 grams, this boot has me excited for more four-season fast and light 14ers, and further stoked about the future of fast & light alpinism. I will continue to use this boot all year round.

Similar boots are the:
Please note that Scarpa is an affiliate to Huck Adventures, and at no additional cost to you, Huck earns a commission if you decide to make a purchase after clicking through the links above. We appreciate your support!