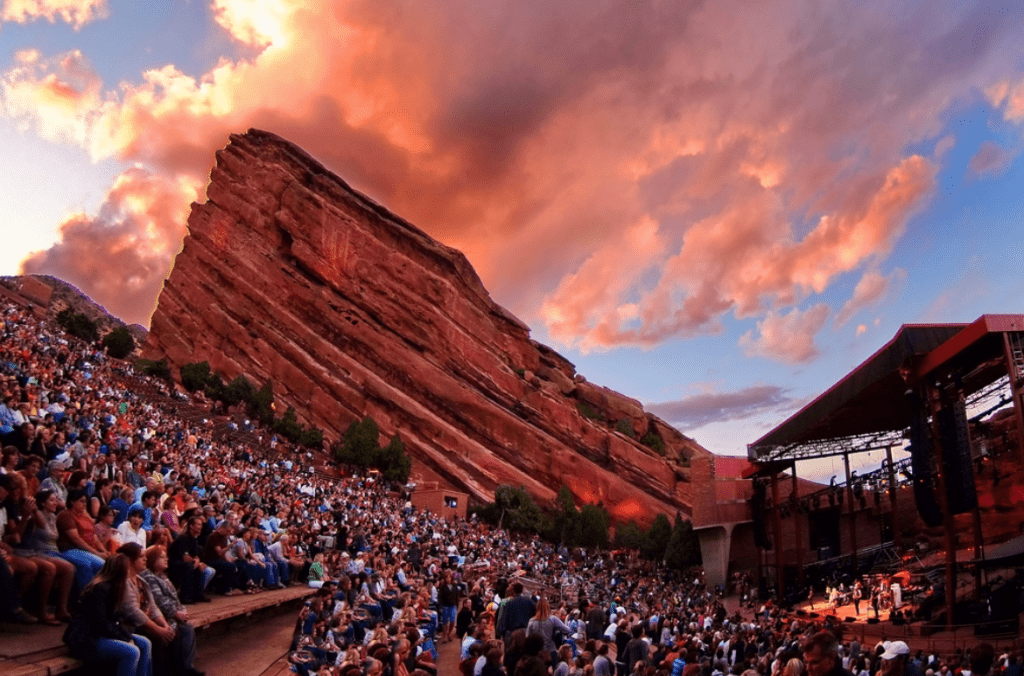 Due to Red Rocks Amphitheater being in my backyard, I have developed a profound love for finding and sharing music. This has spiked my interest to travel to other outdoor music festivals, in order for me to get a feel of what other venues are like. Red Rocks Amphitheater is my all time favorite. Below is a list of 10 must-see shows before this Winter.
Louis The Child: July 11, 2019
This Chicago-based DJ and production duo are making their way into the electronic music genre. They are one of the newer bands to the EDM scene and are known for their hit singles:
Better Not
Weekend
Fire
It's Strange
Love is Alive
Slow Down Love
Yoga on The Rocks: August 3, 2019
Take a break from the bass and enjoy your morning with sunrise yoga on August 3, 2019. Practice your flow and get in the zone with a class that is instructed on the rocks overlooking Denver.
Flume: August 6-7, 2019
Flume August 6-7th, 2019
Harley Streten, also known as Flume, is an Australian music programmer, record producer and DJ. Above all, he is known for being the pioneer of future bass. Influencing the electronic dance genre by his talent and original beats, Flume has won too many awards to list off including:
Best Independent Artist
Best Independent Album
Best Male Artist
Producer of the Year
Engineer of the Year
Album of the Year
Touring a majority of the time internationally, his appearance in Colorado is a blessing to the Red Rocks community. I can assure you, from experience, that this is a show you do not want to miss.

Red Rocks Yoga, Alison Wonderland: August 10
Start your day with a morning of stretching at Yoga on the rocks and end it with a night of dancing to Alison Wonderland. Alison Wonderland is an Australian singer, DJ, and electronic dance music producer. Most noteworthy, she is certified gold by ARIA and also made the top charts being debuted at No.1 on Billboard's Top Dance/Electronic Albums. She also received titles such as:
Artist of the Year
New Artist of the Year
Breakout Artist
Alison is the highest billed female DJ in Coachella history. Catch her at Red Rocks this season for a show full of beautiful vocals and electronic dance music.
GRiZ: August 30-31, 2019
Grant Richard Kwieciński, also known as GRiZ, is an electronic producer and American DJ recognized for playing the saxophone and producing music in the electro-soul and funk genre. Because of his groovy and old school Motown soul vibe, he attracts listeners from all over. Get to the rocks for some new disco, future funk, advanced electronica, and anything that screams new sound.
Rüfüs Du Sol: October 2-3 2019
Yet another iconic Australian dance group consisting of Tyrone Lindqvist, James Hunt and Jon George that goes by the name of Rüfüs Du Sol. Receiving dozens of awards worldwide, this band is a must-see live.
Debut album Atlas, peaked at No. 1 in Australia for Best Independent Dance
Best Electronica Album
Best Dance Release
Record of the Year
Live Act of the Year
It will not be difficult to get down with this talented group of artists at one of the most amazing venues in the world.
Mac Demarco: October 6, 2019
McBriare Samuel Lanyon, also known as Mac DeMarco, is a Canadian multi-instrumentalist, singer-songwriter, and producer. Generating a mix of indie-rock, jangle pop and psychedelic rock, DeMarco never fails to stun the rock community with his "jiizz jazz" style of music.
Tyler the Creator: October 7, 2019
The very talented Tyler Gregory Okonma, also known by his stage name Tyler the Creator, is an artist whose expertise in music is far beyond measure. Specializing in rapping, songwriting, signing, recording, fashion designing, graphic designing, and music video directing, Tyler is a performer to say the least. Tyler excels at the piano, keyboard, drums, vocals, and synthesizer, making him one of the most interesting performers to watch today. Tyler has won Best New Artist, Rookie of the Year and Must Follow Artist, attracting Red Rocks fanatics from all over.
Vampire Weekend: October 8, 2019
Ranging from a mixture of indie pop, indie rock, art pop and baroque pop, Vampire Weekend is an American rock band originating from New York City. The band's first album Vampire Weekend was praised by critics for its worldwide music influence, leading the band to fame immediately. Come rock out with one of the most influential bands, at one of the most attractive scenes in the World.
TroyBoi: October 18, 2019
Troy Henry, also known as TroyBoi, is an up and coming British DJ in the Dance/Electronic music genre. He is headlining his first Red Rocks show mid October. Bringing colorful vibes with no restrictions, TroyBoi is ready to throw down in Morrison, and you should be there for it.
Check out the full Red Rocks Calendar to see all of the events happening this summer.