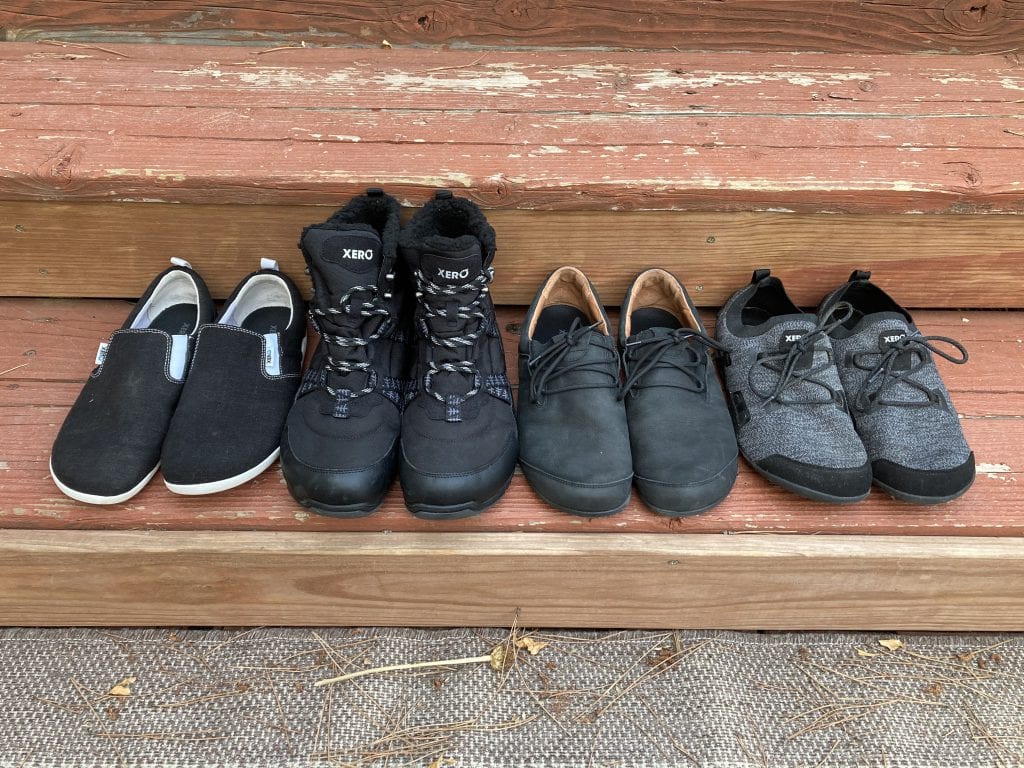 Xero Shoes is a Colorado-based minimalist shoe company. They believe in the natural ability in feet; that they are meant to bend, flex, move freely and feel. They have a wide selection of incredibly light shoes and sandals built with this "foot-first" mission.
All of their shoes have the same DNA:
A wide toe box that lets your toes spread and relax
Zero-drop, non-elevated heel for proper posture
Flexible soles so that your feet bend and flex naturally
Natural feel through their thin soles; allowing your feet and brain to regularly communicate
I've been wearing various pairs of shoes—mostly in their running and hiking categories—and couldn't have been more happy about testing out their Fall 2020 lineup.
APTOS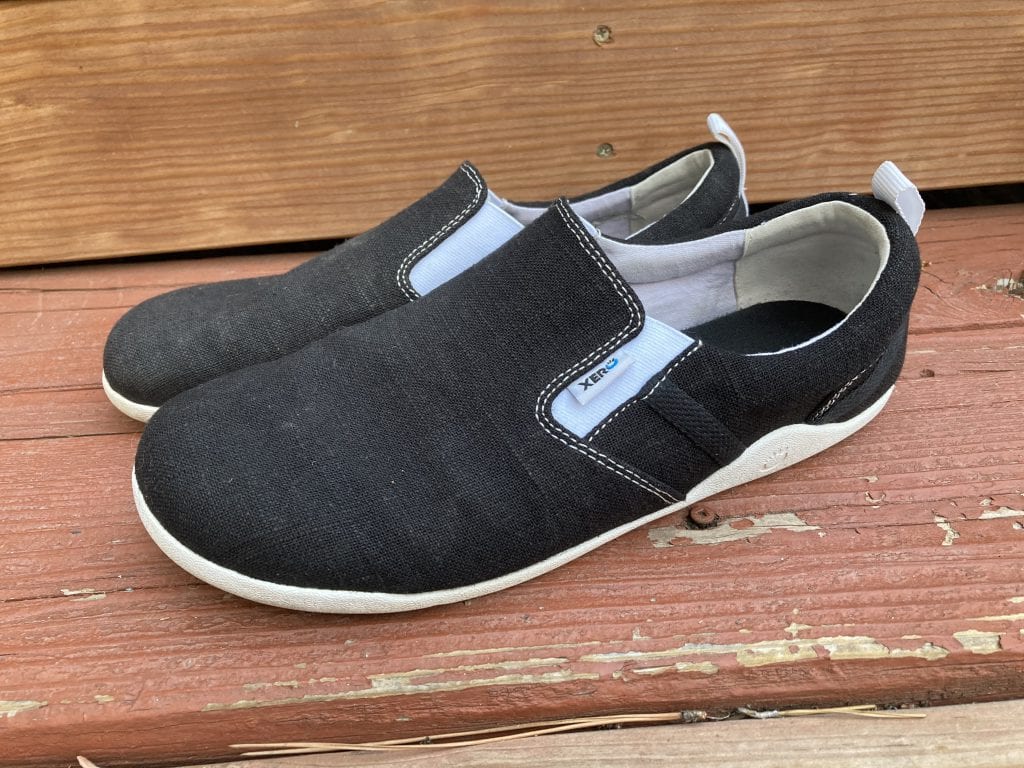 First up is the Xero Shoes Aptos. For Fall 2020, this shoes is part of their casual lineup, and right out of the gate I love it.
It still retains the classic Xero Shoes design with these mid-point straps. While in this shoe they aren't as functional as other products (mainly because of the lack of laces), the shoe fits well.
The shoe I tested is a 10.5 Mens. Normally with Xero Shoes products I'm a size 11. Because of the lack of laces, I scaled down to make sure I had a room to flex and feel, but without having my foot move around too much.
The look of these are amazing. They look a lot like the classic Vans slip-on. These have become a staple for me in the office mainly because it allows me to be little bit more dressy, but while still being able to wear a minimalist shoe.
The top is super sleek with it's hemp upper. It's great to pair with a pair of jeans or something a little less casual.
Xero Shoes sells these in men and women sizes in two colors: black and navy.
ALPINE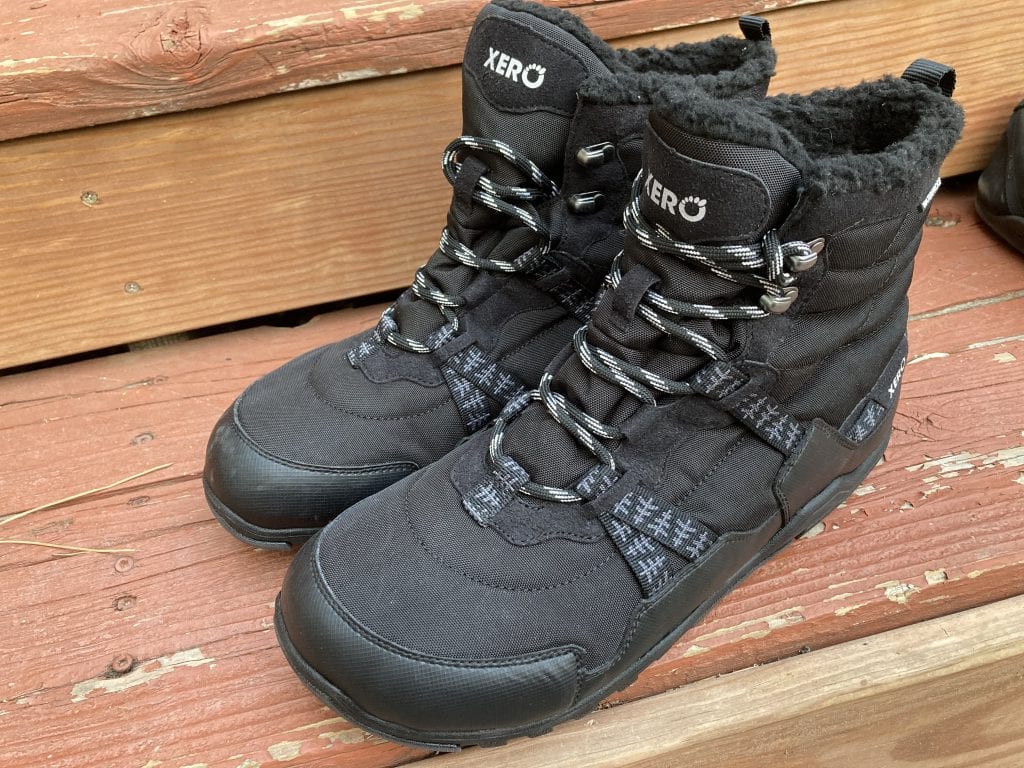 Xero Shoes is also releasing a snow-friendly, waterproof, insulated boot: The Apline. It has polyester insulation, heat-reflective insoles, and a fully seam-sealed lining to get you warm and dry.
While I was testing them in August without any snow available for a deeper test, I tried them out in two different scenarios.
Ice Bucket Challenge. I filled a bucket with ice and stepped into it with the boot on. The beauty of the heat-reflective insole is that it does exactly what it's supposed to do. While there was some cold that seeped through, my foot was still extremely comfortable. I left it in for 45 minutes and while a lot of ice melted, the inside of the shoe was dry.
Snowshoeing. This is always the question I have for minimalist winter boots: can I snowshoe in them? The extent of this test of just strapping a pair of snowshoes on. While it was successful and I didn't have any issues with the boot slipping out while walking around my yard, it's fair to say that this test was incomplete.
I can't wait for Winter to come so that I can test these more fully and will post a follow-up review after our first significant snowfall.
The Alpine I tested was a size 11 Mens. It's fit is loose, but that's good. When I test this further in the winter, I'll be pairing it with thicker socks and for snowshoeing it'll be good to have some extra room in them.
HANA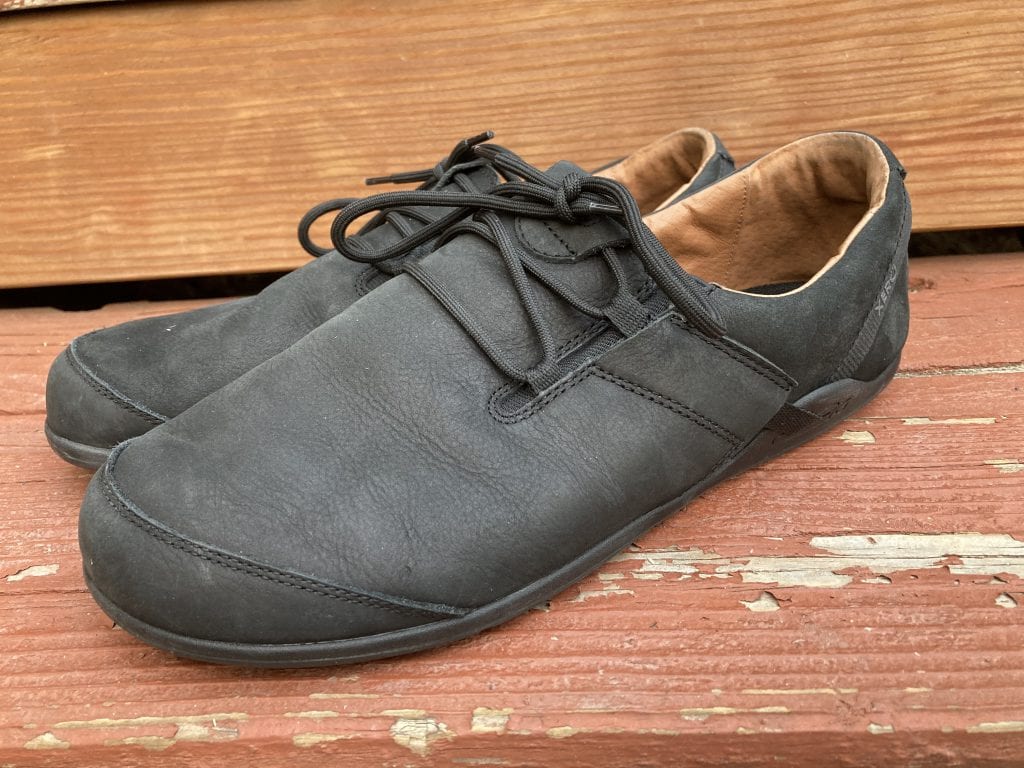 Four years ago when I first discovered Xero Shoes, the Hana was one of my first purchases and I still have that original shoe. Even though it's been fairly beat up it's still a slick shoe to wear into the office.
For Fall 2020, Xero Shoes is adding to their original model's lineup a Hana with a leather upper. Even with the leather upgrade, the Hana retains its original slipper-like feel and true to Xero Shoes design it retains the functional, huarache-inspired heel strap for a more secure fit.
While the original Hana was a classy shoe for wearing out around town or in the office, the leather definitely helps the shoe step up the classiness an extra notch. Stylish, comfortable, minimalist shoes for work wear or more formal engagements has always been challenging. While there are more brands on the market trying to deliver this function, they typically run into the same issues: they are either too expensive, too weird-looking, or don't have enough form to them and after a few wears look trashy.
These on the other hand are pretty damn awesome. I've played around a bit with different outfits and they worked well whether I was pairing them with a suit jacket or a short-sleeved button up.
The Hana I tested was a size 11 Mens. It felt true to size.
OSWEGO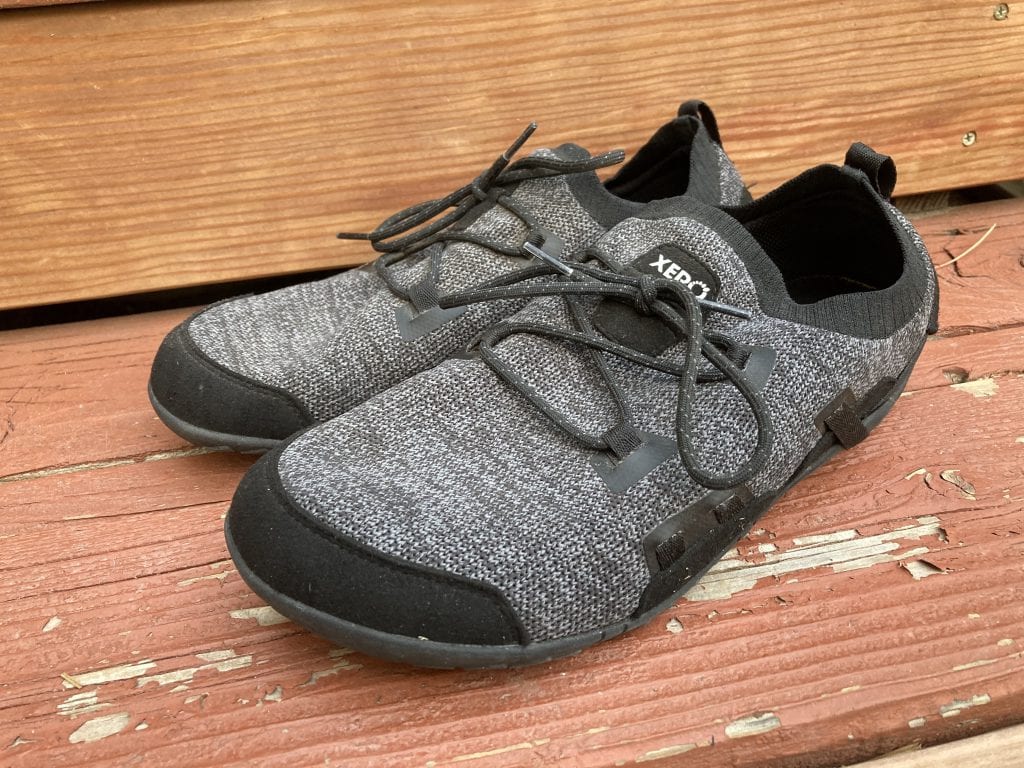 Oswego is new for Xero Shoes this fall. And out of everything I've tested, my favorite. It stands out as a performance-shoe, but with a style that you could easily take from the trail to Main Street.
The bottoms have the same grippy pattern on the sole as their Speed Force shoe, but the uppers have a cool polyester knit upper.
My first impression was how close they look to All Birds. I remember when All Birds came out and Googling whether they were minimalist and being disappointed when I found out that they weren't. The Birds were stylish and cool, but now with the Oswego, I can easily give that brand the bird when sporting these.
These shoes, because of their nature, have been the most heavily tested. Because of the grippy sole I've taken them for runs, flipped tires in the backyard in them, and cycled to the office in them. They work well in all scenarios. Can you think of another shoe that you could bike to work in, go for a run in, and shoe up to an executive meeting in? I can't.
The Oswego that I tested was a size 11 Mens. I felt it was true to size.
When they launch they will come in an assortment of colors for both Men and Women.
PHOENIX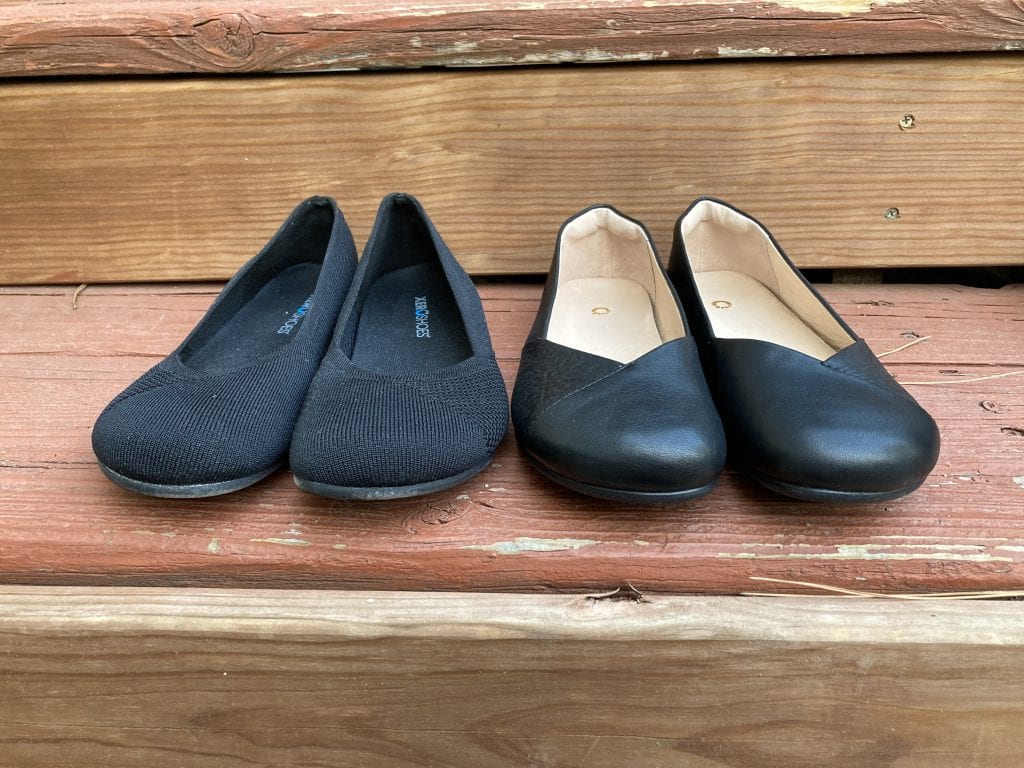 We also tested out two versions of the Phoenix: a classy women's flat in both knit and full-grain leather.
My wife has naturally wide feet that make shoe-buying hard, which is why she gravitates towards minimalist brands, but with that comes another, more serious challenge: finding cute shoes.
Any time she needs to buy more dressy shoes, it's a struggle finding anything wide enough. Most women's "wide" shoes on the market just aren't that wide.
With the Phoenix, right off the bat, she noticed the 8 Wide's sole was wider than the widest dress shoe in her closet. My wife also thought the design of the shoe was "super cute" with the lines and texture on a corner top of the shoe. For sizing, she usually wears an 8W, and these were a perfect fit.
My wife found the knit version of the Phoenix to be great for wide feet. She has a wide toe box, and her feet were actually wider than this shoe. But, because the knit version has some stretch to it, it felt really comfortable and she has been getting a lot of wear out of this pair. It cleans easily and can be dressed up or down.
The leather Phoenix was a bit less forgiving for wide feet. The leather is thick and didn't stretch as much as she'd hoped, so it was a bit of a squeeze for her at first. She found that after some wear, the leather had more give and was more comfortable. She found the leather to be more dressy than the knit.
She said Xero shoes did really well with this design and she's excited to have shoes that are both comfortable and dressy.