Something that had been on my Colorado bucket list was backcountry skiing.
I got the itch a couple years back when I went snowshoeing with a friend that opted to be on his skis instead. Every time I looked at him, it was obvious that he was having a much better time than me traversing the snow.
And a much easier time. There was a fairly long stretch where we had lost the trail and I was post-holing constantly—sinking up to my hip—while he skied past me with ease.
The second time backcountry skiing wormed its way into my brain was while driving through Loveland Pass. We kept passing parked cars on the side of the road and realized that they were skiers and snowboarders that were traversing the backcountry instead of the nearby Keystone Resort.
And when I saw those skiers and snowboarders, they looked like they were having a blast!
But backcountry skiing was a lot to bite off.
Where do I start?
How do I start?
Who could I go out with?
Enter: 57Hours
57Hours is a new site and app that connects people with guides for outdoor adventures. The goal of their platform is to provide a seamless experience for freelance guides and adventure seekers.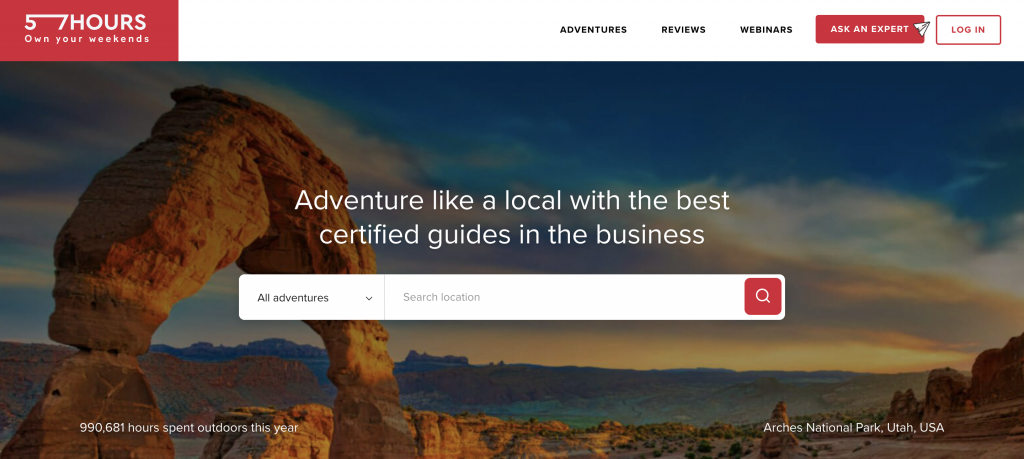 For clients, it eliminates the hassle of calling around to different guides and companies to find the appropriate scaled adventure, a guide that fits your need, and then all the craziness of coordinating dates.
57Hours matches adventurers with the best-fit guide based on need and skill level. Plus, choosing a day for your adventure is as easy as booking an Airbnb.
For guides, the app provides another avenue for acquiring new clients. Plus, they only take a small percentage of your guide fee.
Because of our own mission to connect people with the outdoors, we were beyond thrilled when 57Hours reached out for us to review their guide service.
The User Experience
Navigating the 57Hours website and app was a breeze.
When you first land on their site, you can select your ideal adventure type and location. You can also browse through all adventure types and locations to see the scale of their platform. You can choose to do something locally or all the way across the world.
For myself, I chose backcountry skiing and selected locations in Colorado.
The closest adventure opportunity to me was in Rocky Mountain National Park, so I chose that.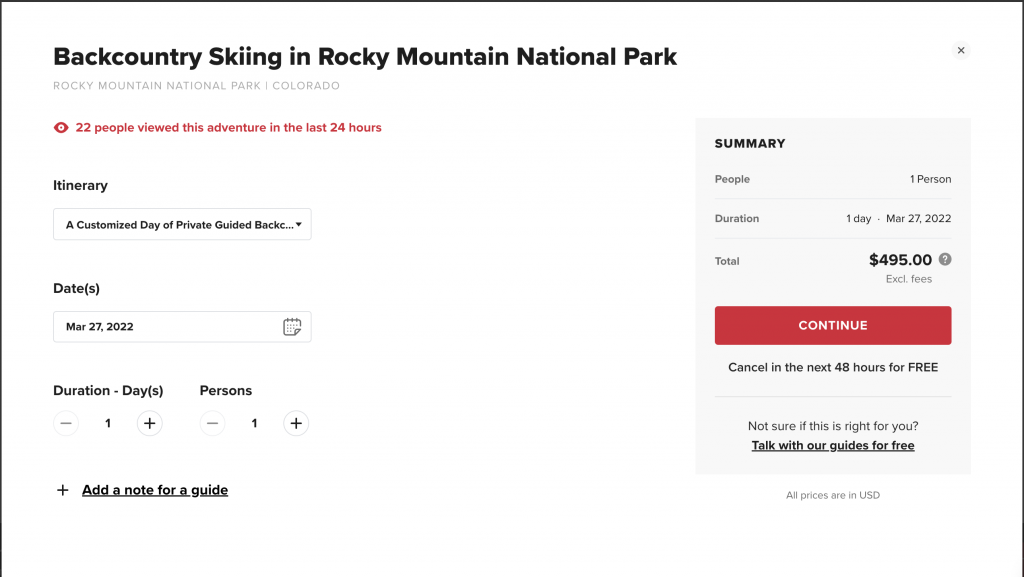 As mentioned before, the user interface was very similar to Airbnb.
I selected dates that would work best and added a note for the guide about what I was hoping to get out of the experience.
Once I hit "continue," I was taken through a checkout portal and had follow-up emails confirming my adventure and notified me that a guide would be in touch.
Pairing with a Guide
Based on my adventure, availability, and level 57Hours paired me up with a guide and pretty soon we began trading emails to lay out the details of the trip.
57Hours goes through a vetting process for their guides, so when they paired me with Max Lurie from Alpine to the Max, I knew I was in good hands.
Max was great at communicating and making sure that I felt comfortable going into this adventure.
I had a lot of questions about equipment and he was there, ready to answer every single one.
As we laid out details for the backcountry trip, he made sure that I knew exactly where we'd meet up, confirmed that I had all the equipment I needed, and helped me rent additional equipment.
Since we were heading into the backcountry of Rocky Mountain National Park, it was important that I rented appropriate skis, skins, poles, boots, and avalanche gear that included a shovel, probe, and tracker.
So far, the experience had been great.
As a newbie to backcountry skiing, I felt that I was at a place with my guide that I trusted him and I trusted myself and my ability to go out, have a good time, and not die.
The Day Of
Finally, the day had come. Time to go out into the backcountry.
I met Max at the entrance of Rocky Mountain National Park and we drove in. After about 15 minutes we reached our destination: the Hidden Valley trailhead.
We spent some time at our cars making sure the gear worked. Max walked me through how to use my tracker and showed me how to put the skins on my skis.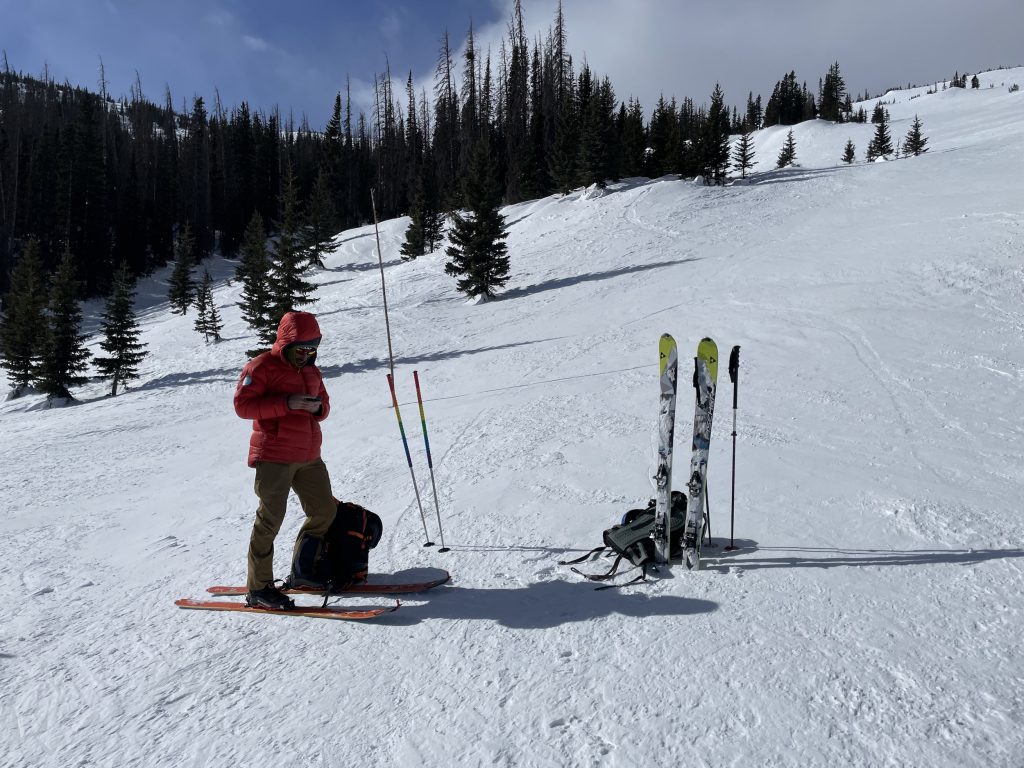 The trailhead, at the very base, was flat, so we spent some time familiarizing me with the motion of backcountry skiing, which took a while to catch on. It's very different from regular skiing and you can't use the same motion as snowshoeing or hiking.
"Pick up your heel and glide," I kept telling myself.
Once I had enough confidence in the movement, we started up on the trail.
When we reached switchbacks, Max paused again and showed me how to turn while on a vertical incline.
And we continued on.
Soon we reached the top of a small hill and after removing the skins, Max used that opportunity to check to make sure I could ski well enough.
It was at that point I realized that my ski boot rentals weren't going to cut it. If there is one lesson here, it is to make sure your equipment is the right fit before you get out to the slopes. My boots were too tight and when I tightened them for downhill skiing my foot would cramp. For this test slope, it wasn't so bad though. My foot was relieved when I made it down and loosened the boot for backcountry skiing.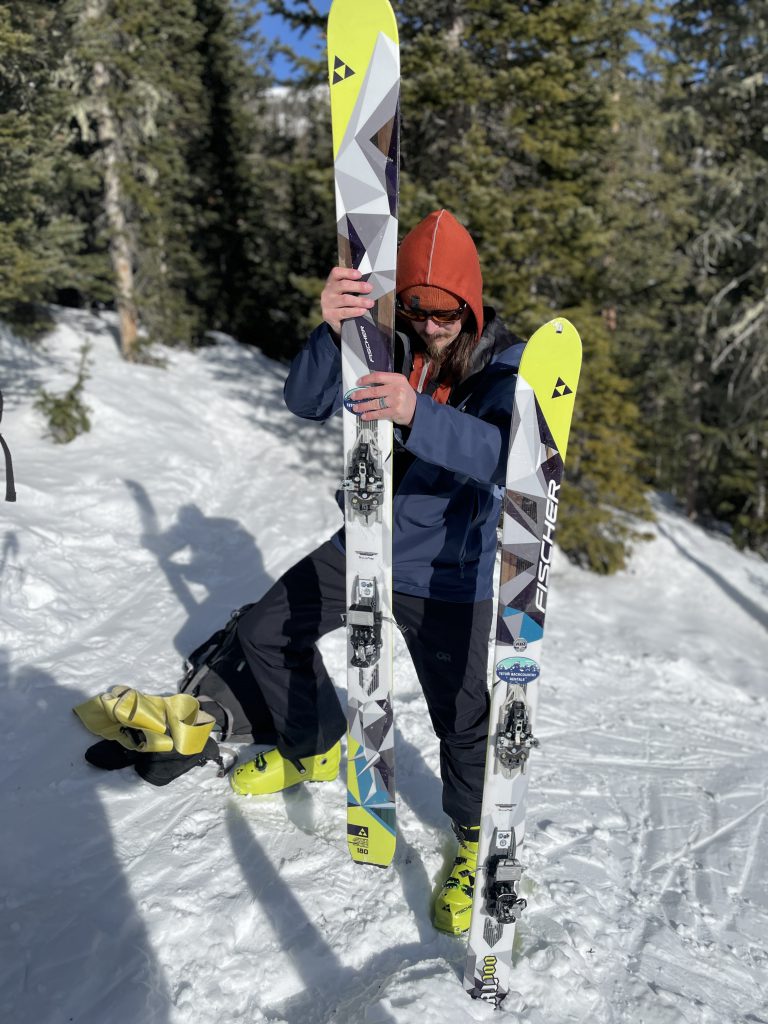 Once skins were back on, we continued on, going up about a mile until we reached the snow covered Trail Ridge Road.
We hydrated and refueled and it was time to ski down.
Throughout the entire process, Max was extremely knowledgeable and patient.
When we made it back down to the cars, we had some time left and Max took the opportunity to do some basic backcountry avalanche training. He familiarized me with my rental equipment and we practiced beacon retrieval.
Conclusion
Overall, this was a great experience.
Getting the experience in the backcountry and avalanche training is something I'll be able to carry with me and use during my next adventure.
And I know that I wouldn't have done this without having someone like Max to guide me.
57Hours made is easy to find a guide and an adventure that was a good fit. If you're wanting to get outdoors for an adventure, but not sure where to start, checkout 57Hours. You won't be disappointed.