When it comes to outdoor activities, especially those under the blazing sun, a dependable pair of sunglasses is a must-have. We had the opportunity to put Tifosi's SHWAE Aviator Sunglasses to the test, and boy, were we impressed! Not only do they offer top-notch performance, but they also come with a meaningful touch as part of Tifosi's Breast Cancer Awareness Collection.
Style Meets Purpose
Tifosi's SHWAE Aviators, part of their Breast Cancer Awareness Collection, sport a stunning combination of pink lenses and a gold frame. Not only are they visually appealing, but they also carry a special message of support for breast cancer awareness. These sunglasses aren't just a fashion statement; they make a meaningful statement.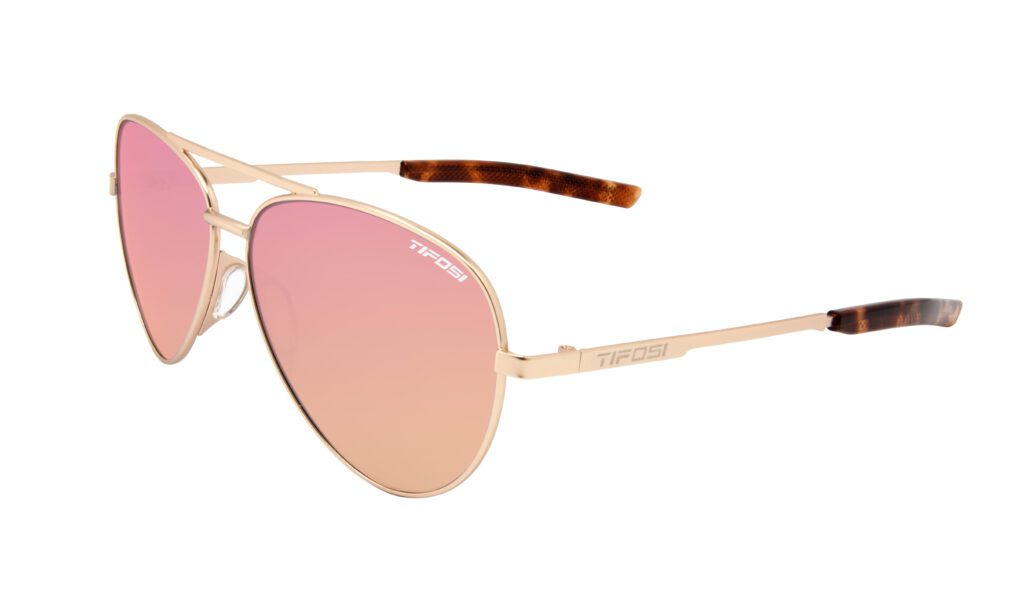 The Breast Cancer Awareness Collection from Tifosi features a delightful array of pink colorways in the brand's most popular active-lifestyle eyewear. Not only do these sunglasses exude style, but they also carry a powerful message of support. For each pair sold, a portion of the proceeds will contribute to the Lynn Sage Breast Cancer Foundation's tireless efforts in breast cancer research and education outreach.
The 2022 initiative was a resounding success, raising over $3,000 for the organization and selling out by mid-October. This year, Tifosi is doubling down on its commitment to the cause by launching the collection ahead of October, the designated national month for breast cancer awareness.
The Glide Technology Advantage
Tifosi's Glide technology is the star of the show here. These sunglasses glide on effortlessly without a hint of hair-pulling or tangling. This feature is a game-changer, especially for those of us who've struggled with sunglasses tugging at our hair during outdoor activities. With SHWAE Aviators, you can focus entirely on your performance, whether you're running, cycling, hiking, or just basking on the beach.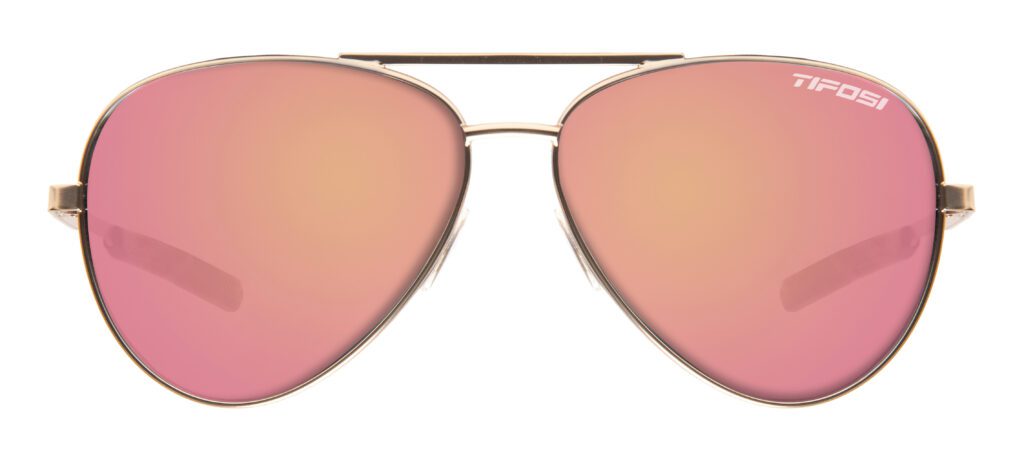 Serious Eye Protection
The teardrop-shaped lenses are made of shatterproof polycarbonate and provide 100% UV protection. This means your eyes are safeguarded from the sun's harmful rays, allowing you to enjoy your outdoor adventures with peace of mind. Whether you're in bright sunlight or facing harsh reflections, these lenses have got you covered.
Comfort and Durability
The lightweight stainless steel frame is a blend of durability and comfort. At only 24 grams, it's incredibly lightweight, ensuring you don't feel weighed down during your activities. Plus, the midnight gold coating adds a touch of sophistication to your look. These aviator sunglasses are designed for all-day wear, so you can transition seamlessly from one adventure to the next.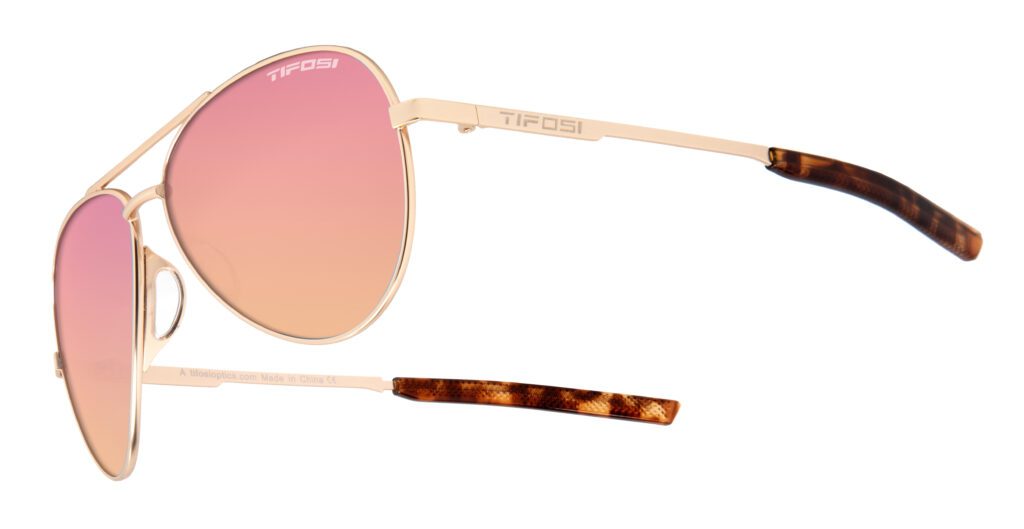 The Unique Design Advantage
What truly sets the SHWAE Aviators apart is their thoughtful design. The hydrophilic rubber nose and earpieces actually increase their grip as you sweat, making sure they stay securely in place, even during the most intense activities. And for those with longer hair, here's the best part: the tangle-free nose pads won't snag or pull your locks. It's a small but significant detail that makes a world of difference.
For All Your Adventures
Whether you're soaring through the skies, teeing off on the golf course, hitting the trails, or simply living the outdoor lifestyle, these no-tangle aviator sunglasses are the perfect accessory. The comfortable design allows you to wear them all day without any discomfort, and the high-quality materials ensure they'll be your trusted companion for years to come.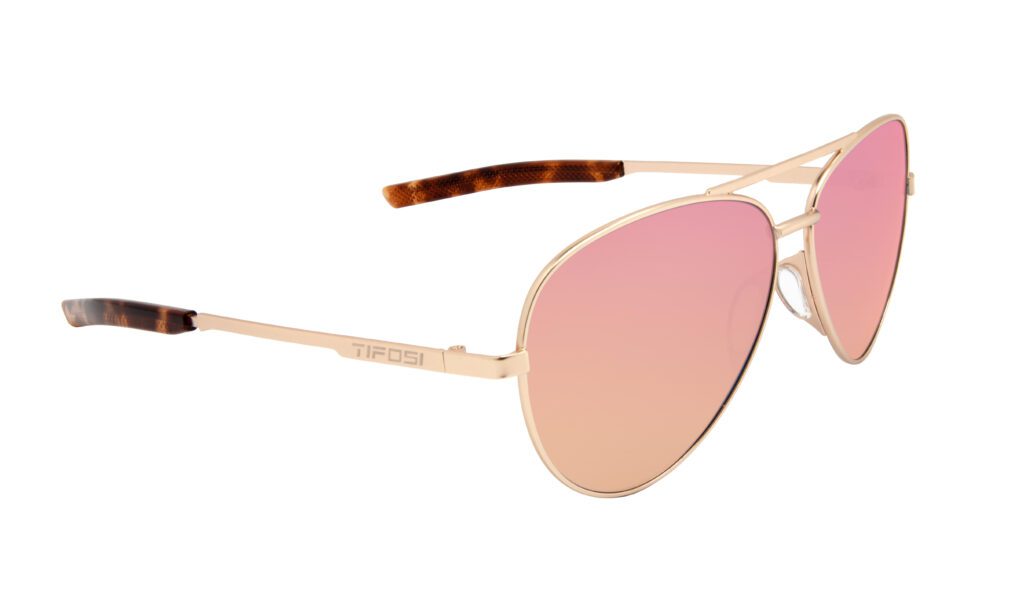 If you're in search of practical, stylish, and comfortable aviator sunglasses that won't pull your hair or get tangled, Tifosi's tangle-free SHWAE Aviator Sunglasses are the ultimate solution. With Glide technology, hydrophilic rubber, and tangle-free nose pads, these sunglasses are the ideal accessory for any outdoor activity. Give them a try and experience the difference – not just in style, but in making a meaningful contribution to breast cancer awareness as well.