As a seasoned backpacker, I've always prioritized carrying gear that strikes a balance between weight, comfort, and durability. The Sea to Summit Ultralight Insulated Air Sleeping Mat checks all the boxes and then some, making it my top pick for a sleeping pad that truly enhances the backpacking experience.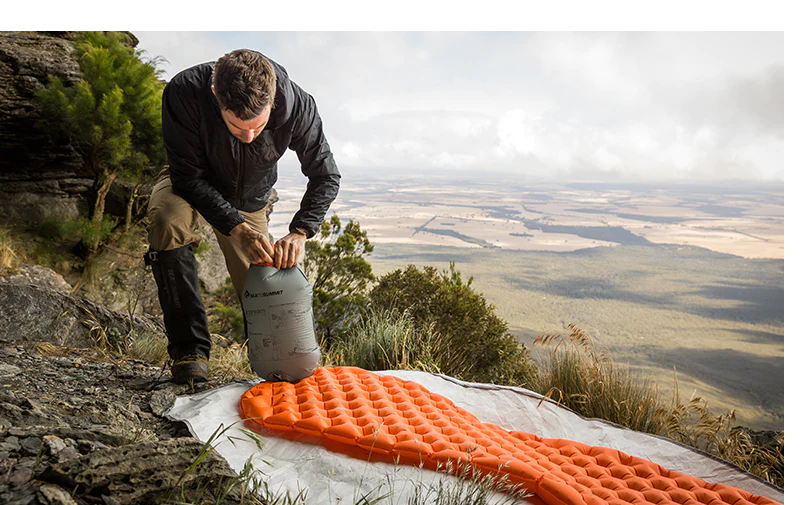 Ultralight and Compact: Perfect for Backpacking
One of the standout features of this sleeping mat is its ultralight design. Weighing in at a mere featherweight, it doesn't add unnecessary ounces to your backpack. Plus, it packs down incredibly small, leaving you with more space for other essentials. Whether you're a minimalist backpacker or just want to reduce the load on your shoulders, this sleeping pad is an ideal choice.
Supreme Comfort: Sleep Like a Dream
Don't let the word "ultralight" fool you; this sleeping mat doesn't skimp on comfort. The Air Sprung Cell design is a game-changer. Instead of relying on traditional baffles, it uses hundreds of individually air-filled springs to provide support and stability. I found this design to be incredibly comfortable, and it contours to your body, offering a restful night's sleep even on uneven terrain. No more tossing and turning to find that sweet spot.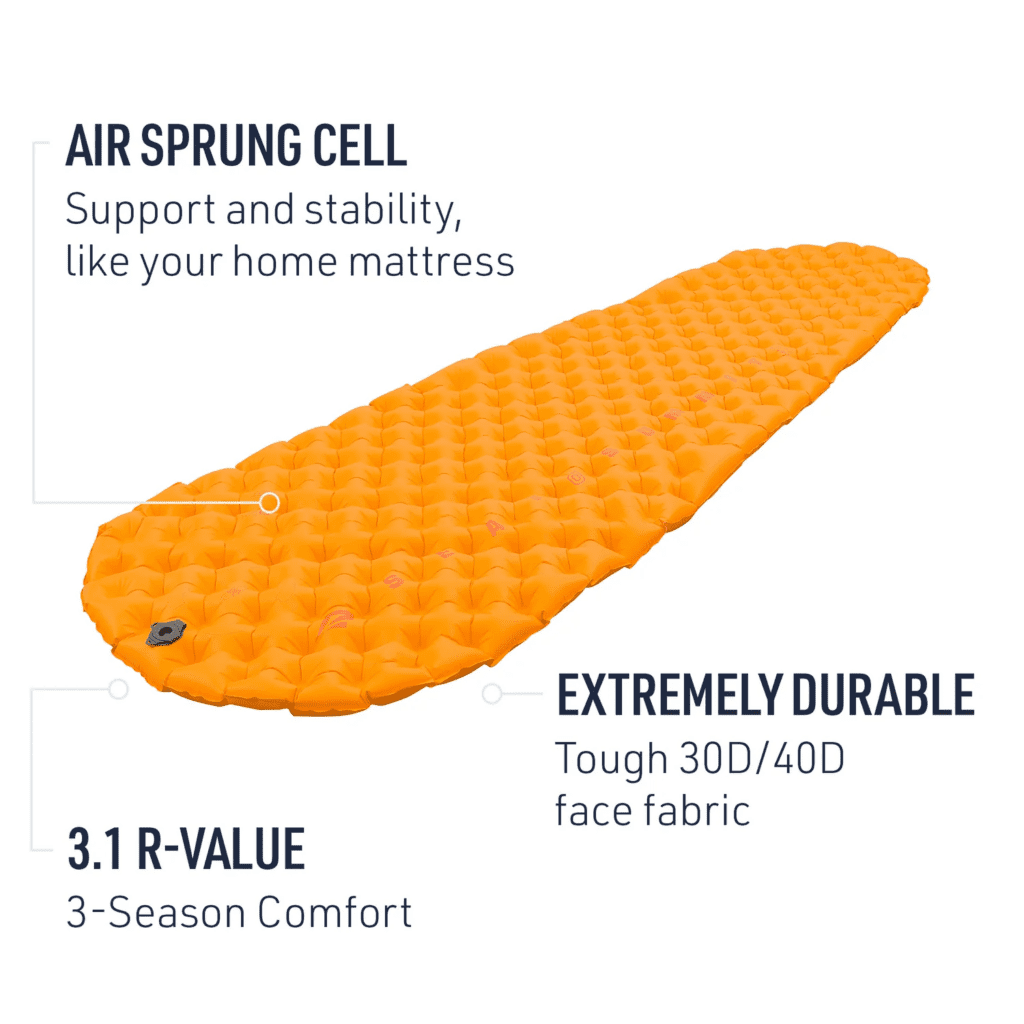 Effortless Inflation: No Huffs and Puffs
The supplied stuff sack with an integrated Airstream Pump is a game-changer. Say goodbye to huffing and puffing to inflate your sleeping pad after a long day on the trail. This pump makes inflation quick and easy, and it virtually eliminates condensation moisture inside the pad. In a matter of moments, you'll have a fully inflated, comfortable sleeping surface ready for you to relax on.
Quiet Nights: No Crinkly Noises
If you've ever been annoyed by the crinkly sounds of some sleeping pads when you shift around in your sleep, you'll appreciate the Sea to Summit Ultralight Insulated Air Sleeping Mat. Its reflective material (Exkin Platinum®) and the outer laminate material are exceptionally quiet. Your tent buddy will thank you for choosing this pad, especially on those quiet wilderness nights.
Exceptional Insulation: Warmth When You Need It
Backpackers often face varying temperatures, but this sleeping pad is equipped to handle them all. With an R-Value of 3.1 and two types of insulation, it effectively prevents radiant and convective heat loss. I've used it comfortably in late spring through early fall, and it has kept me warm even on chilly nights.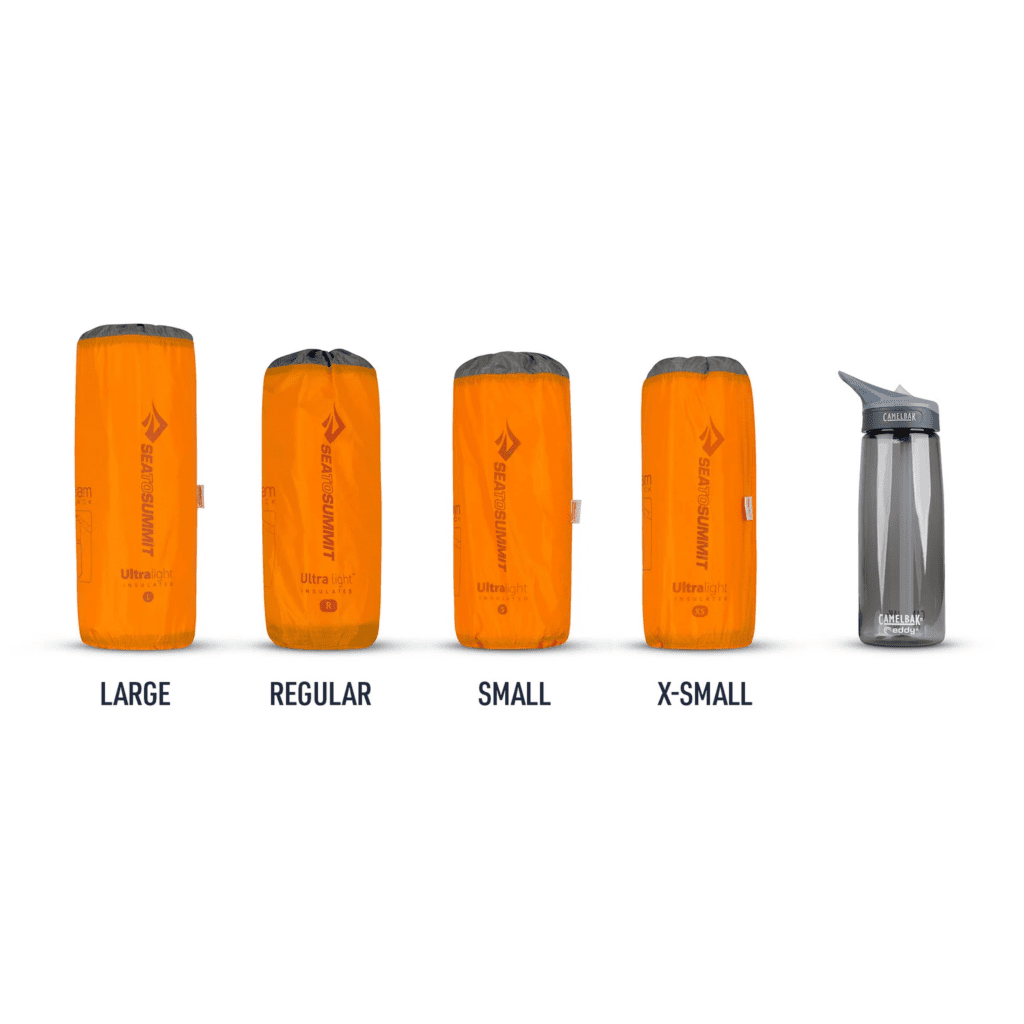 Additional Features:
The 30D/40D face fabric is not only durable but also lighter, which adds to the overall appeal.
The multi-function valve is handy for quick inflation, deflation, and adjustments.
The anti-microbial treatment on the TPU lamination ensures hygiene during extended trips.
The included stuff sack doubles as a pump and comes with a repair kit, adding to the pad's reliability.
The PillowLock system prevents your pillow from slipping during the night.
The Sea to Summit Ultralight Insulated Air Sleeping Mat is the perfect sleeping pad for backpackers who refuse to compromise on comfort, durability, insulation, or ease of use. It's incredibly lightweight, compact, and comfortable to sleep on. The easy inflation system is a game-changer, and the insulation ensures you stay warm on chilly nights. Whether you're trekking through the mountains or exploring the wilderness, this sleeping mat will be your trusty companion for a good night's rest. Say goodbye to sleepless nights and hello to backpacking bliss with this fantastic piece of gear.
Disclaimer: The product reviewed in this article was provided as a sample by Sea to Summit for the purpose of an honest and unbiased review. The opinions and experiences shared in this review are solely based on personal testing and usage of the product. The author has no financial affiliations with Sea to Summit and has not received any monetary compensation for this review. Transparency and integrity are of utmost importance, and the review reflects genuine insights into the product's performance and features.