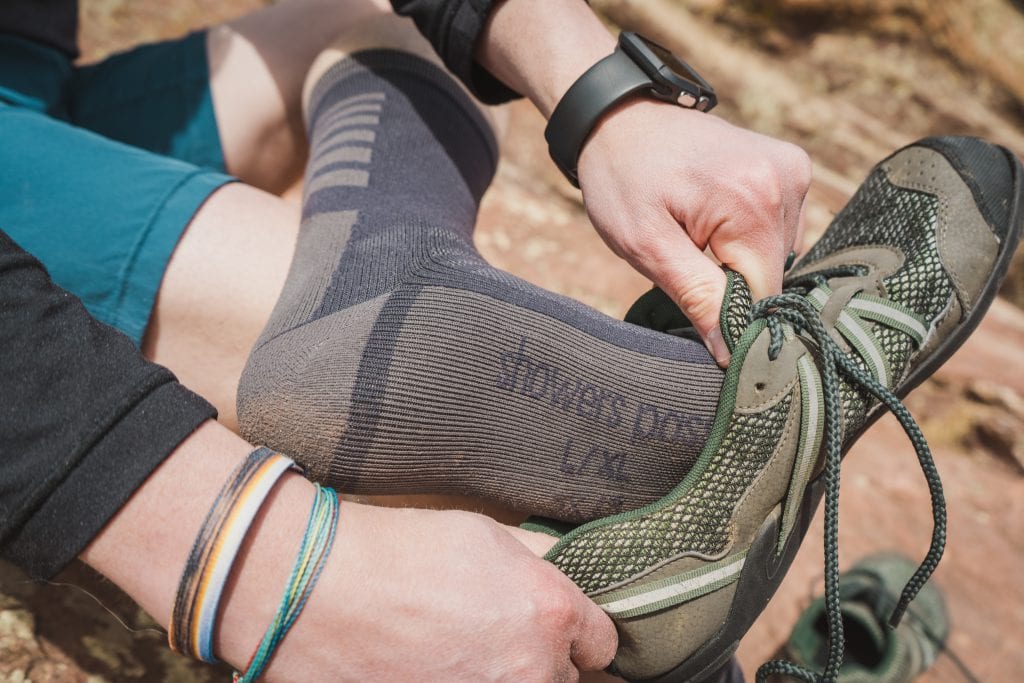 Update
This is a repost from one of our first product reviews.
I still stand by how awesome these socks are. They have been my go-to for many snowy and wet runs.
They were also my go-to during the Silverton 55K Ultra and I was so thankful I had them. Halfway through the run, after climbing to 12,000 feet, and running above the tree line for a couple hours, we had descended and hit a water crossing.
After this water crossing, runners had the option to change socks and shoes and continue on to finish the final 10 miles of the race. But, right after changing shoes and socks, there were two more immediate water crossings. My feet were still dry, so I opted to continue on without changing.
I went through the first water crossing: still dry.
I went through the second water crossing: still dry!
Part of the dryness was because the water hadn't gone over the tops of the socks. They were still high up on my calves.
It wasn't until I hit the final water crossing (a fast moving river I had to cross while holding a rope) near the end of the run that my feet finally got wet. The river was up to my waist and the water got in between my skin and the lining.
Since the launch of the Crosspoint Socks, Showers Pass has continued to innovate their socks. They recently sent me a new pair to test, and they performed even better than before.
These are my go-to for winter running, snowshoeing, and skiing.
Original Post
I had just begun a trail run on a wet, snowy night when my foot broke through a layer of snow into an ankle-deep puddle of cold water.

Normally there'd be swearing and I've have to cut my run short. Running with wet, cold feet for any length of time is plain miserable.

But my feet weren't wet. They weren't cold.

My feet were dry and happy because I was wearing Showers Pass Lightweight Waterproof Crosspoint Classic Socks. Showers Pass had sent me a pair to test out, and they have become my go-to socks for snow, slush, mud, or rain-filled runs. They are the perfect partner to my minimalist shoes that don't offer any type of water resistance.

While my fellow night runners complained of wet and cold feet—trading stories of shoes and socks lost in sticky mud and snow—I couldn't help but be thankful for my choice of socks. Even as we rounded the final corner and I landed on what I thought was asphalt, but what was really a deep puddle of slush.

Technology and Features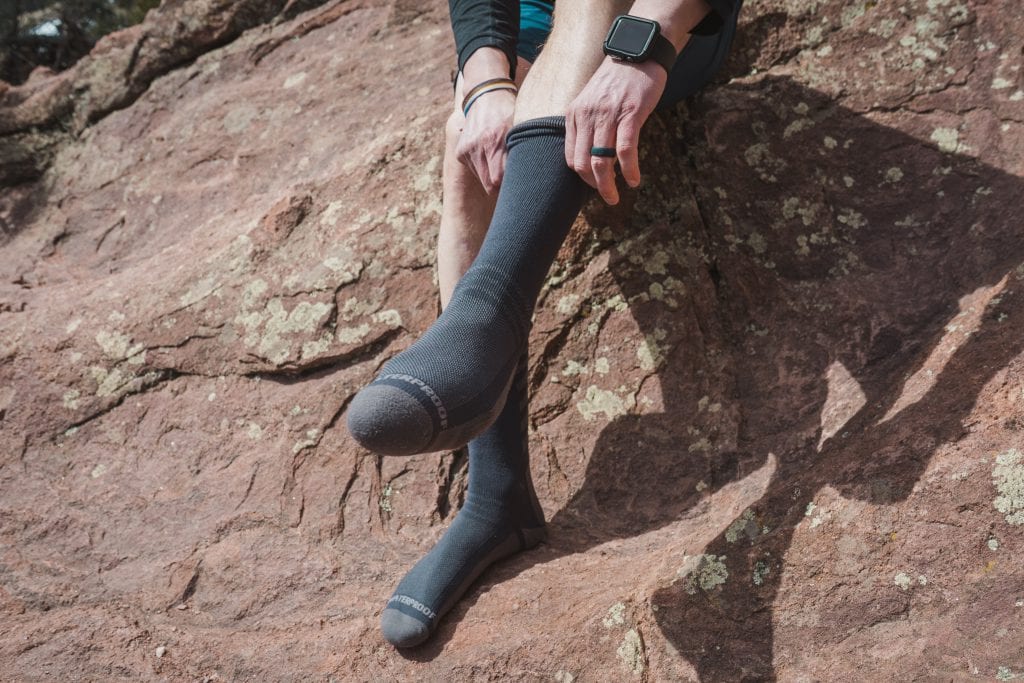 The Waterproof Crosspoint Socks are constructed with three elements: a knit exterior sock, a waterproof membrane, and a knit interior sock. They feel thicker than your average pair of socks, but still fit comfortably. The first time I slipped them on, I commented how it felt like I was pulling on a wetsuit.

Their waterproof ability starts at the toe and goes all the way to just below the cuff. Even with the waterproof technology, I still found that my foot was able to breathe. That's because they use an ultra-thin PTFE Waterproof Breathable Membrane that stretches to let your feet breathe without letting the pores open, keeping your feet dry.

Cleaning

Showers Pass suggests machine washing in cold water (avoid fabric softeners and bleach). You can tumble dry on low heat, however, the dryer can cause shrinkage. To prevent this, I highly suggest letting them hang dry.

Conclusion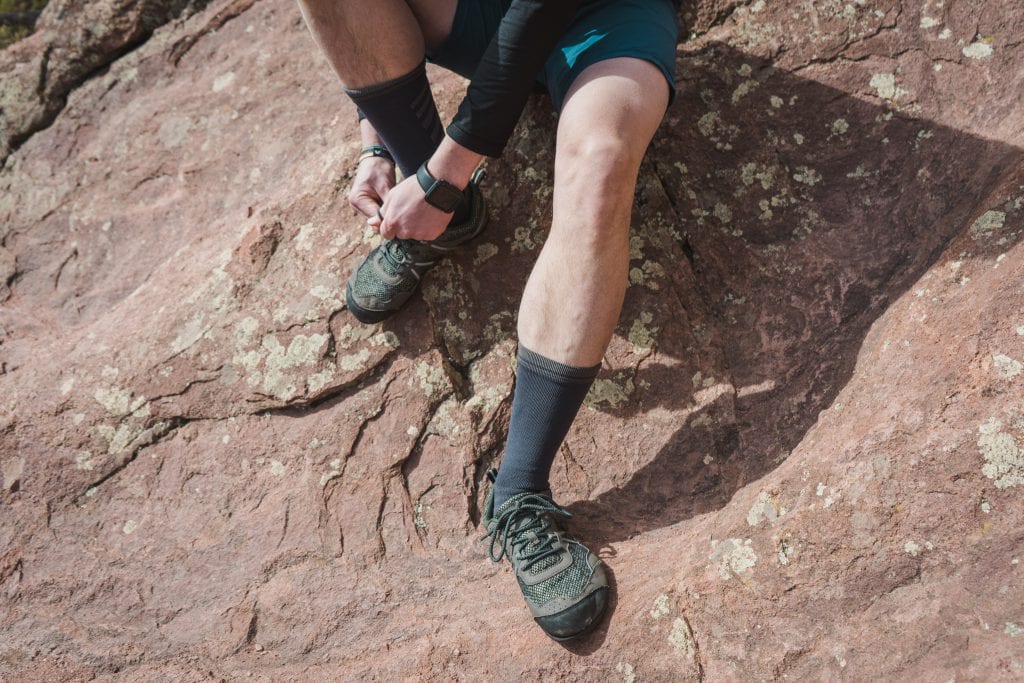 Needless to say, I'm a big fan of the Waterproof Crosspoint Socks. They are the perfect companion in Boulder for wetter runs and bike rides. I even took them snowshoeing with great success.

It's worth noting that Showers Pass sells a variety of the sock with a merino wool interior for colder outings, but for my snowshoeing adventure I doubled-up with a pair of merino wool socks underneath and was pretty comfortable.

These socks are only the first step in having a full waterproof experience. Because Showers Pass is based in the Pacific Northwest, they know how to make a lot of great waterproof materials, including pants, jackets, and gloves.

Check them out at the links provided or visit www.showerspass.com.