With so many fancy food options out there, finding good, nourishing food that fits your diet can be challenging, even cooking in your kitchen at home! Throwing in a camping stove and a dirt-floor kitchen certainly doesn't make things any easier. Below, find a collection of backpacking food ideas for your next overnight, three-day or thru-hike!

Recipe Ideas for Vegetarians

Breakfast:

Egg bombs! Beat some eggs, throw in your favorite omelette ingredients and throw it all in the oven in a muffin tin. You also could bake them in a pie crust for a mini-quiche. Eat them cold while on the run or throw them, foil and all, into a fire or over a stove to warm them up and eat from your sleeping bag!

Trusty instant oatmeal. When backpacking, I like to spice mine up with fresh fruit, nut butters, powdered milk (great for longer trips) and instant coffee when I really need some help. I also find the runnier it is, the less I mind the stickiness of instant oats.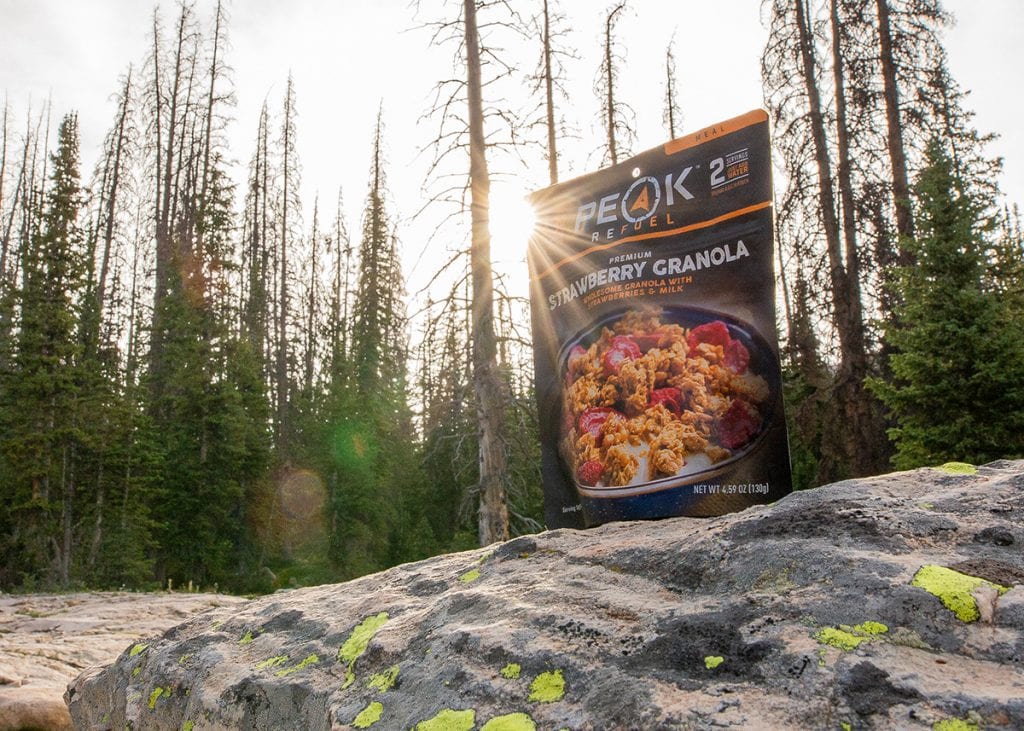 Freeze-dried breakfast. Several days into a trip, another bowl of oatmeal can look like an uphill battle. So, I will occasionally treat myself. Peak Refuel makes a good strawberry granola (it has berries in a bag! Just add cold water), and many other brands make egg-based breakfasts worth trying.

Lunch:

Veggie cheese wraps. They got me through almost the entire Great Divide Mountain Bike Route. 2,700 miles of bell peppers, soft cheese and seasoning salt wrapped in a hearty tortilla. Of course, ingredients are limited by logistics, but we found cucumbers and bell peppers were robust enough for two to three days of wraps. A soft, white cheese is also important, as no one wants to eat a ¼ pound of cheddar for lunch.

Leftovers. On the first day of any backcountry trip, I treat myself by reheating whatever leftovers I had in the fridge that morning. Hearty dinners are a favorite of mine, and the best backpacking food out there, so anything hard to cook on a camp stove can be a treat. Just reheat and eat.

Dinner:

Instant rice, refried beans, cheese and spinach. I try to keep my dinner simple to prepare and simple to cook. Cook the rice, dump everything in and enjoy all the major macronutrients and some fiber to boot. There are a thousand permutations on this one. Starch, protein, fat, green is my formula, and it rarely steers my wrong. I also find myself cracking eggs into just about everything. Just be careful when you pack the eggs! Plastic egg cradles work, but I find myself leaving them in the cardboard and swaddling them with clothes.
Vegan Backpacking Food Ideas

Breakfast:

Sweet porridge. We've all eaten enough oatmeal in our lives, so in the backcountry I mix it up. Common favorites are grits, halwa (made with semolina flour), and polenta. Adding additional fat, usually olive oil, and chia seeds keeps everything tasting like the yummy stuff I eat at home without all the heavy ingredients like coconut milk.

Lunch:

Powdered hummus. It sounds like an abomination, but it genuinely is pretty rad. Especially days into an adventure that fresh hummus just isn't tough enough for, the powdered stuff is worth its weight in gold. When I'm out of backpacking food ideas, I mix it up and eat it on its own or mix it in with other cooked ingredients for a high-protein sauce in other endeavors.
Backpacking Food Ideas for Dinner:

Grain bowls. Especially for longer trips, whole grains are a very important part of my food planning. Dense and shelf-stable, they are a constant in my pack. Beyond the grain, it all comes down to preference. My dinners, diet to diet, vary in substance but not structure. I try to include a starch, fat, protein and green in each dinner. For vegans, that can look like farro, kalamata olives, broccoli, sun-dried tomatoes some fried tofu (if I've got any left after nibbling), and a light sauce based on the sun-dried tomato oil. Depending on the trip, I might pre-cook the tofu or broccoli, but if I intend to eat it on the second or third day of a trip, I'll toss everything into the boiling water sequentially, steaming everything together.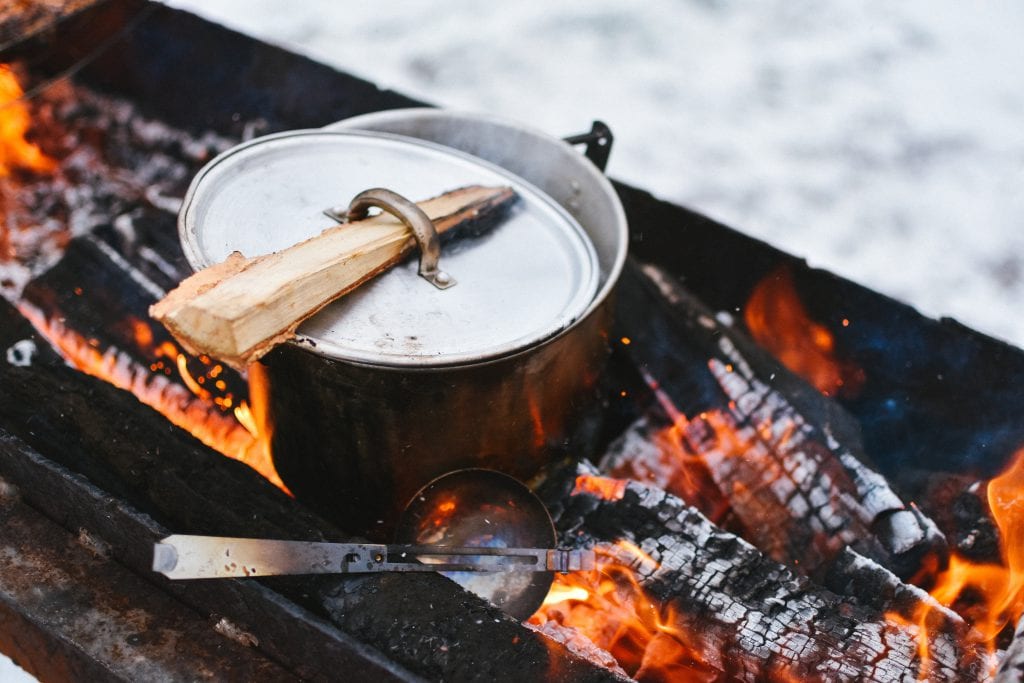 Hobo dinner. If you're in a place where fires are permitted and convenient, an excellent, low-input option is tossing a potato (sweet is my preference) wrapped in foil into the fire. Once it smells good, pull it out! This works for most vegetables, but if you're going to throw a container of broccoli in the fire, make sure to oil it a bit first. Once you've got the potato cooked, load it up like a baked potato with vegan cheese (if you roll that way), tasty veggies, and maybe some avocado. The meltier the toppings get, the better! And no stove required.
Keto Backpacking Food Ideas

Breakfast:

Eggs bombs! If you can't tell, I love eggs. Similar to the vegetarian version, throw all the meat, vegetables and cheese you can fit in, then warm them up in foil over a stove. The cheesier they are, often the better they stand up to time in a backpack.

Lunch:

Chicken salad. Especially if it's avocado-based, it'll keep well in a backpack longer than cream-based options. Celery is a great add to keep it crunchy on the second or third day.

Bacon Avocado Power Bowl. This is a friend's invention, mashing crispy bacon, avocado, sauteed greens and sometimes salmon together. The mixture becomes dense, but always tastes so freaking good. Make sure to cook the bacon ahead of time; it gets messy doing it in camp!

Backpacking Food Ideas for Dinner: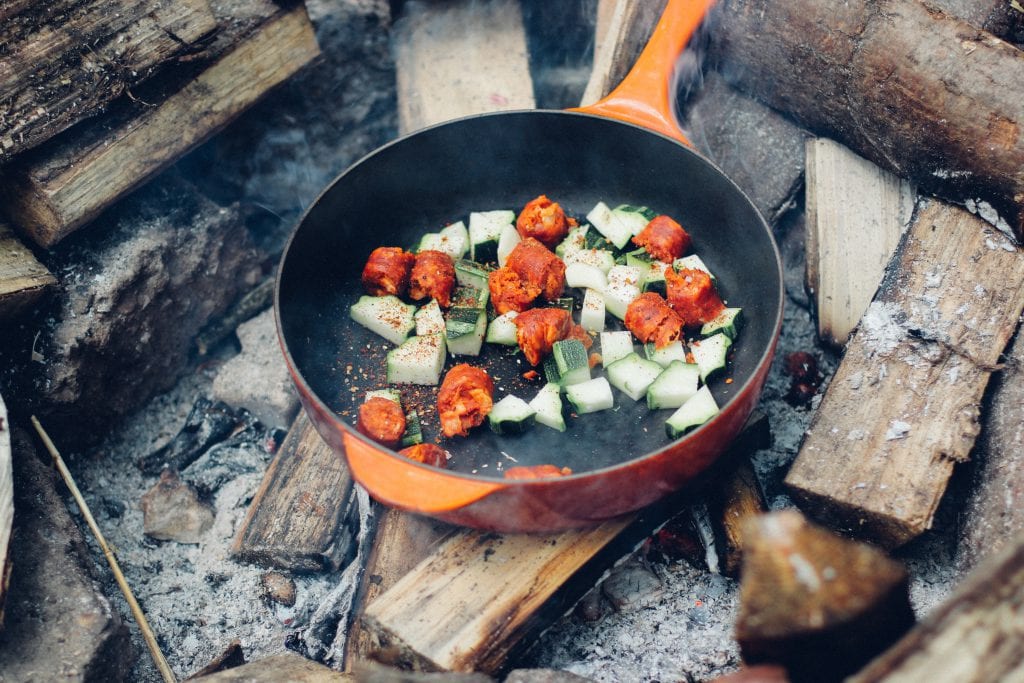 Meat and Veggies. If I'm only going out for a day or two or camping somewhere cold, I'll bring some pre-cooked steak or pork chops. After a long day, it doesn't matter much if they're warm or not, but a quick rewarm is easy enough. On longer trips, I'll bring packet tuna, smash it with avocado and cheese, and toss with some cooked zucchini to keep it from getting too dense. This style of dinner often ends up cold, as the reheating of everything together on a single burner can get complicated.
Please note that Peak Refuel is an affiliate to Huck Adventures, and at no additional cost to you, Huck earns a commission if you decide to make a purchase after clicking through the links above. Use the code Huck for 15% off. We appreciate your support!