When I first started running, I used what I had for equipment: old, tattered Reebox and cheap cotton socks.
As my mileage increased and I set my sights on my first marathon, I bought a pair of running shoes and running socks from Swiftwick.
Swiftwick were my first official pair of socks for running, so I was excited when they sent me a couple of their new styles to try.
Swiftwick socks across all their various styles, have several key features.
They include a lightweight upper to increase breathability and to keep your feet cool and comfortable. Their toe box and arch support is built so that the sock doesn't move on you.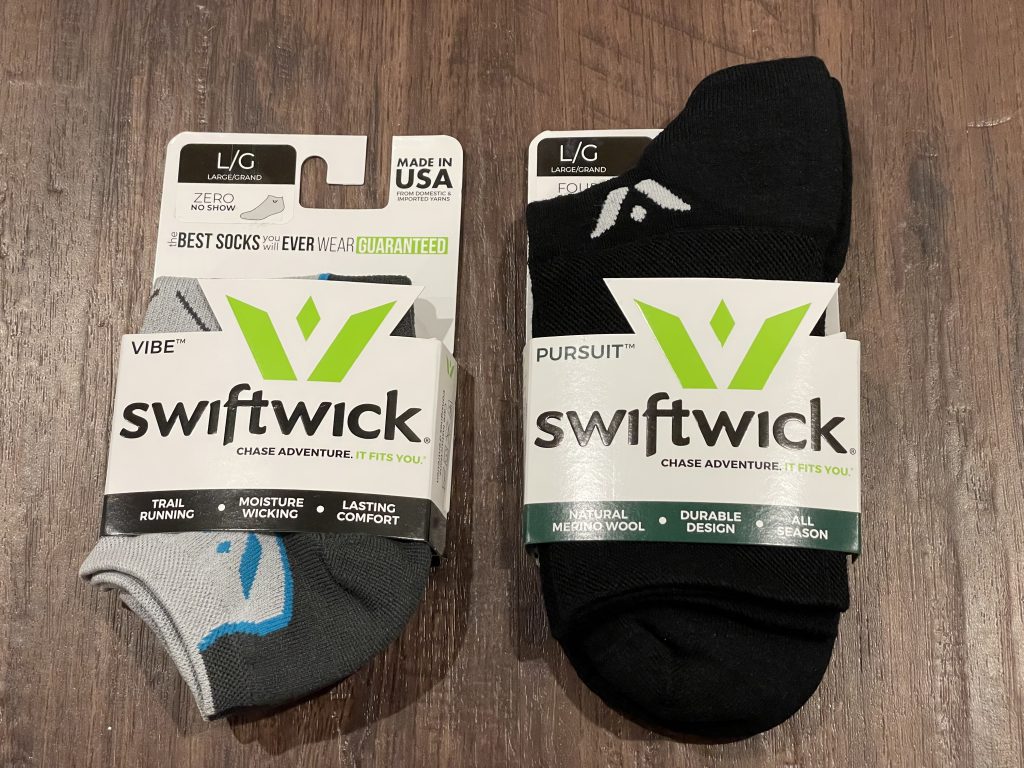 Swiftwick VIBE™
The Swiftwick VIBE™ is a medium cushion, compression sock built for trail running.
The compression feature supports the muscles in your foot, which is perfect for the trail. As you're running on uneven terrain, you need something that will support you every step of the way.
I test a "no show" size and the height fit comfortably on my foot. I didn't experience any rubbing between the sock or my shoe on my ankle bone.
The Swiftwick VIB Zero is perfect for runs is warmer temperatures.
It should also be noted that the Swiftwick VIBE comes in a two heights, including the Zero (no show) and One (ankle length)
Swiftwick PURSUIT™
Now that it's getting colder, the PURSUIT™ has become my new favorite trail running sock.
Similar to the VIBE, the PURSUIT comes in several sizes, ranging from no show to calf-length. The ones I tried were the PURSUIT Four, which came up to the middle of my calves.
The PURSUIT is constructed with Merino wool and has a reinforced heel and toe for maximum durability. Merino is nature's technical fiber. It absorbs moisture without feeling soggy and regulates temperature.
"Oh, but wool," you think. "Isn't it itchy?"
Not with Swiftwick. It was made with a Merino wool that produces a soft, no-itch feel throughout.
PR'ing my Trail Marathon Time
With gear reviews, we like to put in the miles.
With Swiftwick, I wanted to see if I could beat my trail marathon time.
During my last ultra, one of the challenges I had was blisters on the bottom of my foot from my socks moving that slowed me down on the final 10 miles. I had to stop, pop, drain, and apply bandaids.
But with Swiftwick, on some fairly technical terrain, I didn't have the same problem.
These socks rock!