We get excited when we hear of outdoor brands that are not only innovating, but have made sustainability and preserving the beauty of the outdoors a priority. United By Blue is one of them.

United By Blue is a young company but is doing some remarkable things. As a certified B Corp, they have to prove each year that they put people and the planet before profits, and a couple of their initiatives really make them stand out.

First, is their mission: for every product sold, they remove one pound of trash from oceans and waterways. To date, they have removed over 1.5 million pounds of trash. Plus, it's a mission that they encourage others to share in. On their website, you can sign up to join them on one of their cleanups.

The other thing that makes United By Blue unique is in order to have the least impact on the environment, they use materials like organic cotton and recycled polyester from plastic bottles.

They recently launched a collection of jackets and vests using a very interesting insulation material: bison down.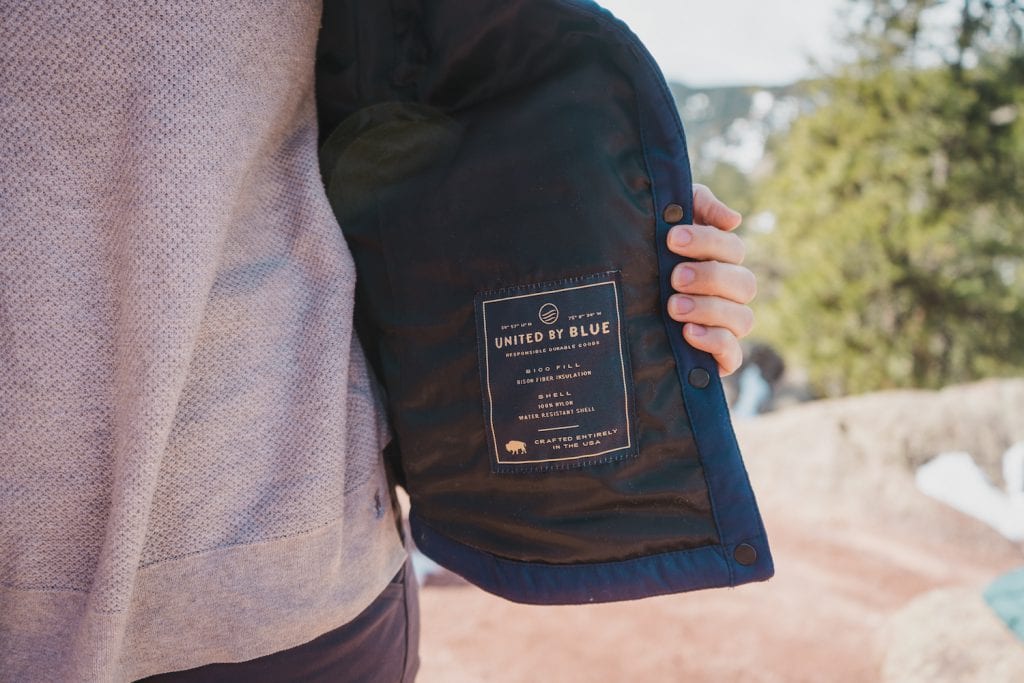 Bison down usually ends up in landfills as a bi-product of the ranching industry. United By Blue, however, acquires the material before it gets there, combs and cleans it, and blends it with recycled polyester for an amazingly lightweight and warm material that they call BisonShield.

Bison down is naturally hypoallergenic, moisture wicking, and provides superior warmth while regulating temperature. It's the same natural properties that let bison survive cold winters instead of migrating.

United By Blue gave us a bison jacket and a pair of their merino wool socks to test out and share our review.

Women's Bison Snap Jacket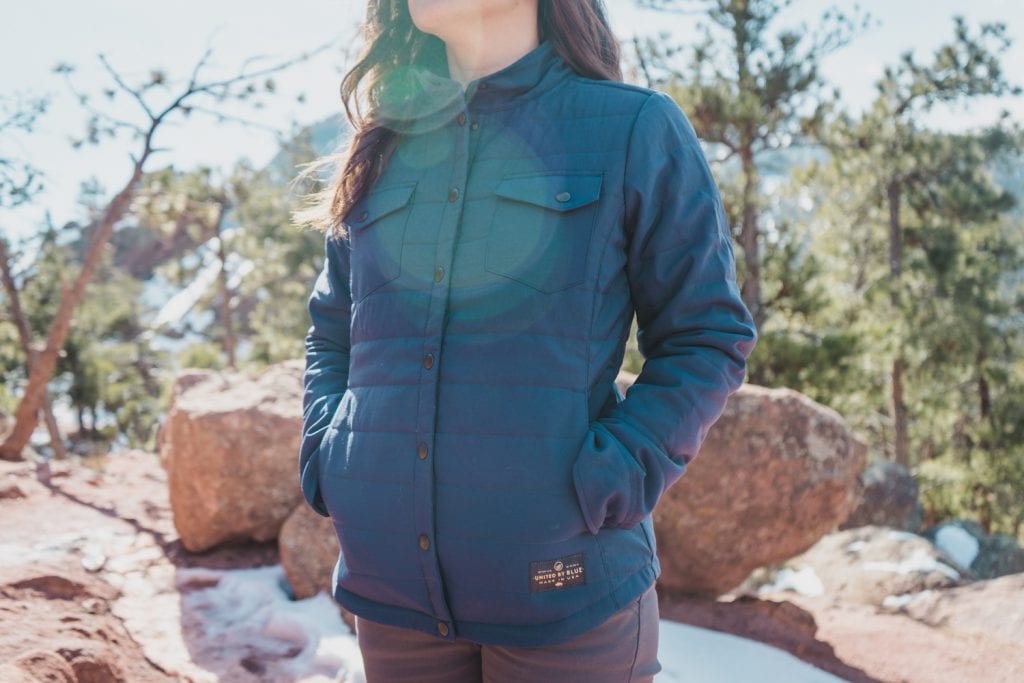 The Bison Snap Jacket was truly a pleasant surprise. I don't typically wear clothing made from animal by-products, so I didn't know what to expect. Other than the bison tag on the inside, you couldn't tell the jacket was insulated with bison down.

This is the perfect jacket for spring, fall or a mild winter day, since it's suited for 32 to 70 degree weather. And I found it surprisingly warm for how thin it is.

I'm 5'2 and typically wear size medium jackets, and I felt like it was true to size and the right cut for my medium build and still allowed room for layering underneath. It reminded me of my favorite jean jacket, where it can be a bit stiff and restrictive at first when stretching or crossing my arms, but it didn't bother me after a couple days of breaking in the jacket.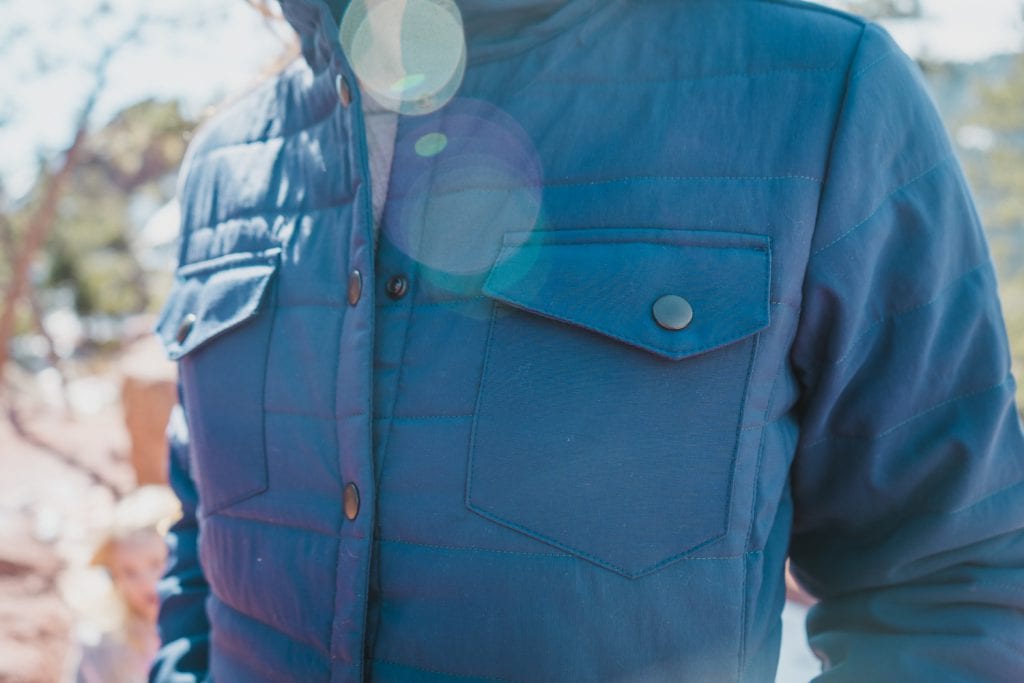 The look and style of this jacket is versatile and has a dressier feel than a utility or sports jacket. Its warmth, weather proof material, and deep pockets made it great for a hike, but it's cut, style, and space for adjustable layering made it the perfect jacket when I traveled from Denver to Phoenix for a work trip. And the color they chose for this one is a particularly gorgeous shade of blue that I loved.

Trail Sock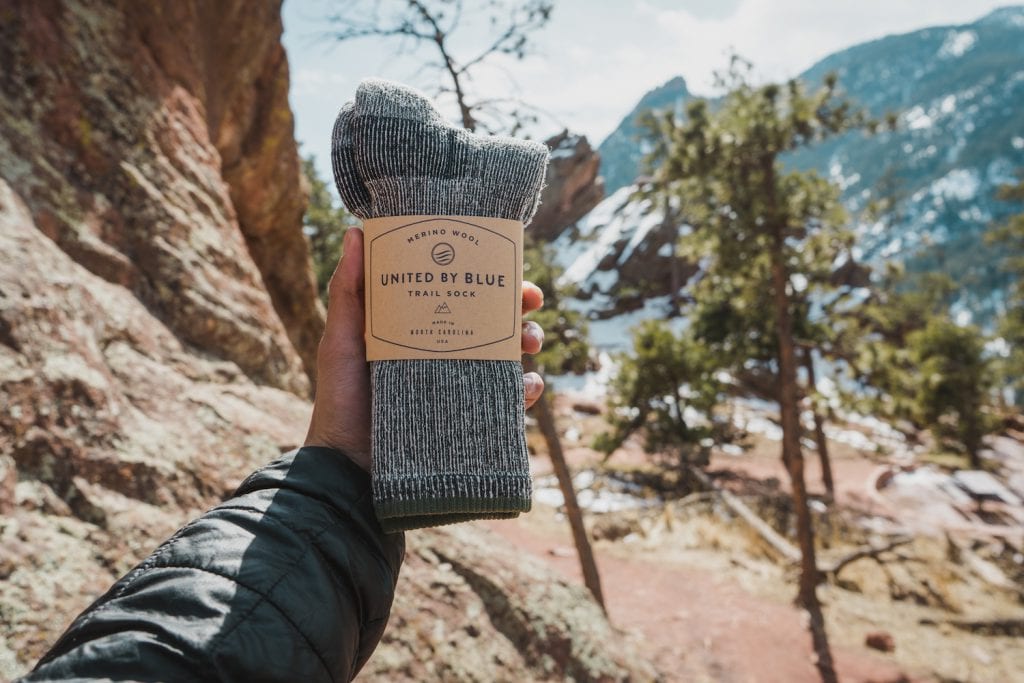 I also got to test United By Blue's unisex Trail Socks and found them amazingly comfortable when compared to other merino wool hikers.

I have a wide foot and have experienced socks from other brands that end up being tight and restrictive. And having the right sock for your activity is just as important as your shoes. Keeping your feet comfortable is all about choosing the right fabric, length, and features.

United By Blue's Trail Socks are made from merino wool and are extremely soft. They were super cozy when just hanging out at home. Plus, on hikes and trail-runs they were very breathable, warm, and comfortable. My foot was able to flex and bend in them without feeling encumbered by any rigidity.

At only $14 a pair, I'll definitely be adding more of these to my sock drawer.
Please note that United By Blue is an affiliate to Huck Adventures, and at no additional cost to you, Huck earns a commission if you decide to make a purchase after clicking through the links above.