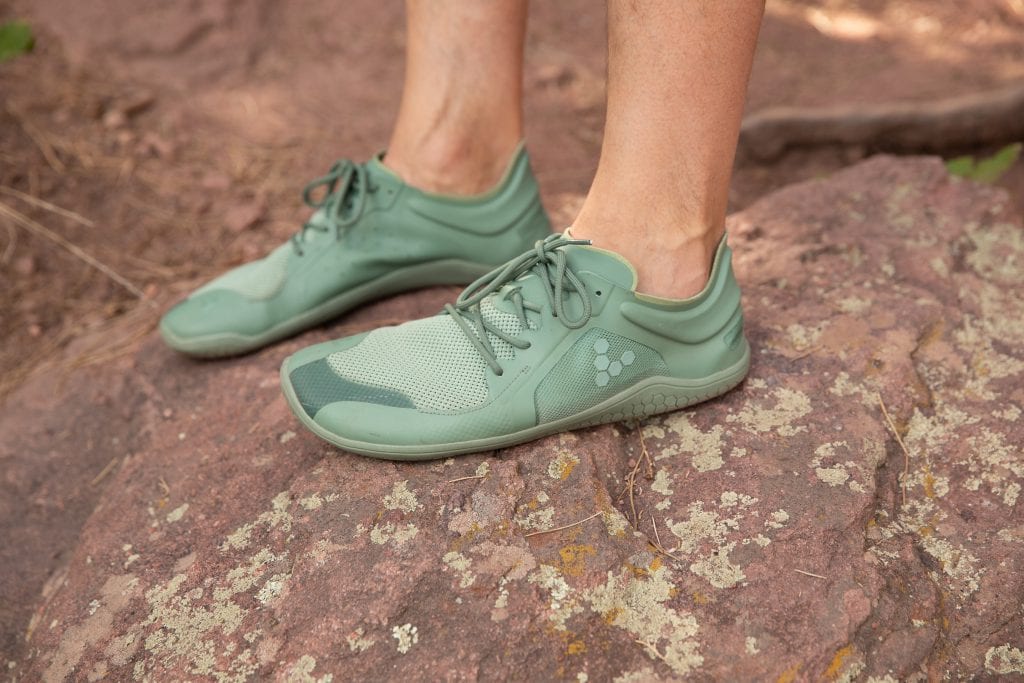 The hot trend in footwear over the last couple of years has been tied to the sustainability movement. Brand after brand are announcing new sustainable measures they are taking to help save the planet. You can now buy shoes made from plastic, ocean plastic, recycled shoes, or even from biomass.
But try as they might, I'm a big believer that the only sustainable shoe is a minimalist shoe.
Over 20 billion pairs of shoes are produced annually. Because traditional shoes have a six to nine month, or 250-350 mile lifespan, it's estimated that 300 million pairs ending up in landfills after they have been worn out.
Minimalist shoe brands, like Vivobarefoot, have always had a special place in my heart. One of the first reviews we published was of their Primus SG trail-running shoe. I've had them for almost a year, putting over 1,000 miles on them on trails, including 50K, 55K, and 50-mile ultramarathons. And they're still holding up. Sure the lugs have worn down, but they are still my go-to shoe for trail running. I'll probably continue wearing them until my toes start poking out of the bottom.
But that's the difference between a minimalist shoe versus a modern shoe. When a modern shoe breaks down, it's in the cushion and the arch support. Your feet are weaker in them, and they pick up on the discomfort a heckuva lot faster. With minimalist shoes, there's next to nothing between you and the ground, and your feet are stronger. So, when it comes to wear and tear, the deciding factor to buy a new pair is usually how visible your toes are or the attractiveness of the next new thing.
The Next New Thing
Vivobarefoot is committed to sustainability. By 2020, their goal is to have 90 percent of their shoe materials made from sustainable material.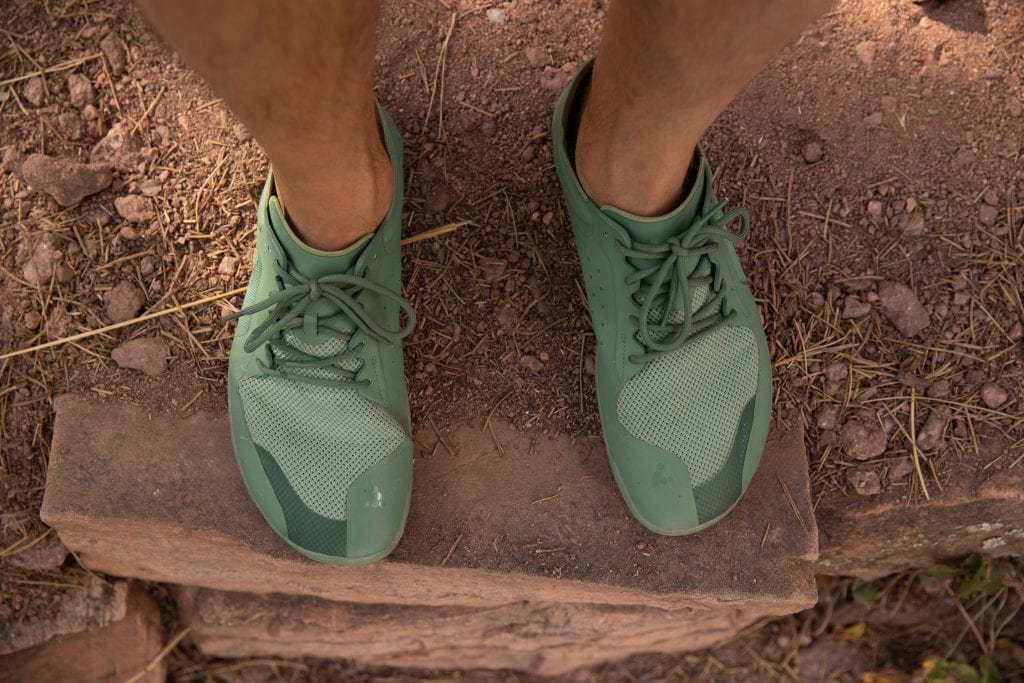 In July, Vivobarefoot sent me a pair of their Primus Lite II Bio, their most sustainably-made shoe, to review. At first glance, it's not my typical style–it's green. Not a cool, dark forest green like the Primus SG, but a bright green that lets your feet stand out wherever you are walking. They aren't the type of shoes an introvert like myself typically wears because they are conversation starters. But it does allow me to geek out a bit, because these shoes have a pretty awesome story.
The Construction
Vivobarefoot first started making shoes with bio-based materials in 2017, when they created the Ultra Bloom, a shoe moulded from algae-based foam. They had discovered that the algae choking the world's waterways could be repurposed into a foam material.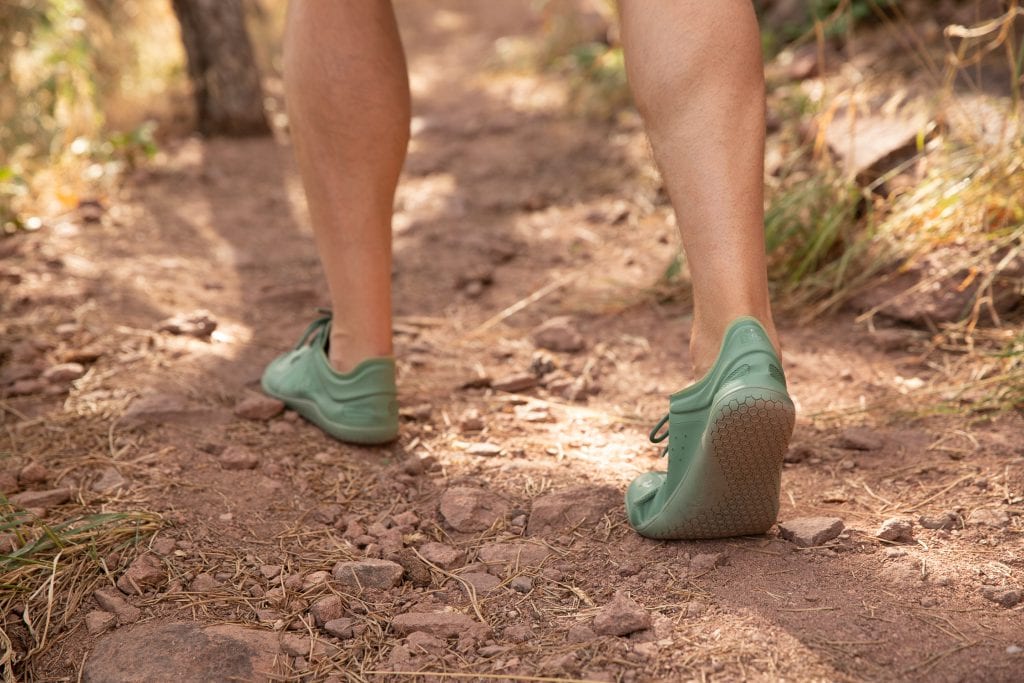 As chemical waste seeps into waterways, an algae forms. The algae releases toxins in the air that are harmful to humans and animals. It also depletes oxygen from the water and blocks sunlight, which negatively impacts marine ecosystems. By repurposing this algae, for every show they make, Vivobarefoot recirculates 57 gallons of clean water back into natural habitats and prevents the equivalent of 40 balloons full of CO2 being released into the Earth's atmosphere.
But they didn't stop there.
With the Primus Lite II Bio, they use a corn-based biopolymer made of yellow dent field corn called Susterra Propanediol. This material is made from glucose from field corn and is petroleum free and non-toxic. It also uses 52 percent less energy than other petroleum-based materials and causes 32 percent less greenhouse gas emissions.
So, you're literally "going green" when you wear these shoes.
The Wear and Feel
Just like every other pair of Vivobarefoot shoes I've opened, it was easy to fall in love with them. These shoes quickly became my go-to shoes during the summer. I'd wear them to the office, on bike rides, running errands—essentially anytime that I didn't want to wear sandals.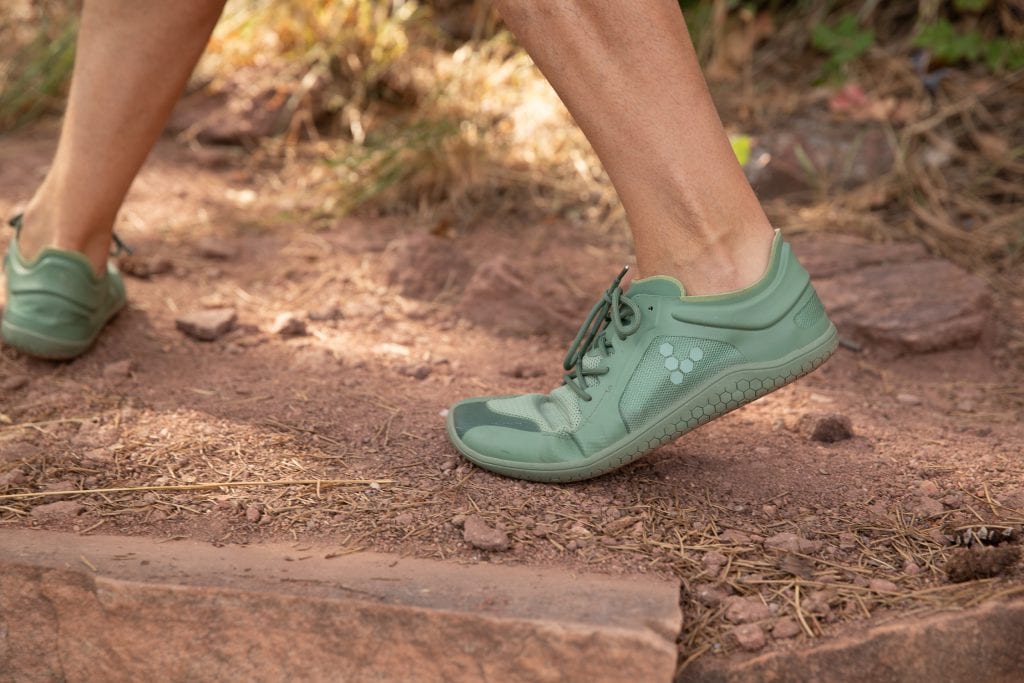 When packing for a week-long conference in Boston, I debated over which shoes I should pack, but ultimately decided to go all-in and just pack the Primus Lite II Bio.
I was happy I did. Boston is an amazingly-walkable city. From the time I landed at the airport till the time I left, I didn't step foot in another vehicle (with the exception of a water taxi). At the conference I was on my feet a lot as well. Through it all, my feet were surprisingly comfortable. The materials breathed well, and there wasn't a day where I got home and had to unpeel sweaty socks off my feet.
They are also part of Vivobarefoot's active line, and while testing them, I have taken them on runs on the road, concrete sidewalks, and lightly graveled paths. They've held up well, allowing for ample ground-feel as any true minimalist shoe should. These were size 11, and with Vivobarefoot, I've found that they fit comfortably snug on the side while leaving plenty of room in the toe-box. Even with the extra room, I've never felt my foot slide in the shoe or have blisters form due to too much movement.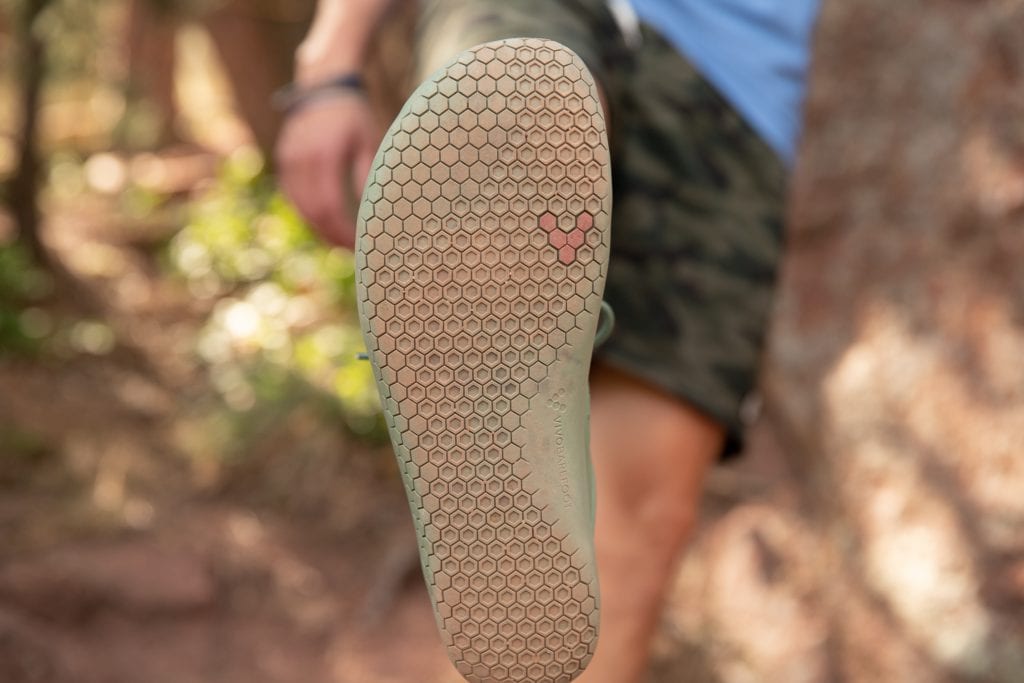 And the green coloring is surprisingly easy to style with your wardrobe and very modern looking.
Conclusion
It shouldn't be a surprise that I love these shoes. It's awesome to wear something that has such a strong sustainability message. I'm excited to see how Vivobarefoot continues to embrace their sustainability message and how it affects their lineup of shoes.
Please note that Vivobarefoot is an affiliate to Huck Adventures, and at no additional cost to you, Huck earns a commission if you decide to make a purchase after clicking through the links above. We appreciate your support!