Backcountry radios occupy an interesting niche in the outdoor community. They're used operationally by heli guides, ski guides, mountain rescue teams, some mountain guides and ski patrol, but rarely by recreational users. I think the vibe is that they're too sophisticated for whatever mellow multipitch we've decided to do today. In a word, embarrassing for weekend warriors, but I've seen so many people yelling at each other from rope lengths away, often making life-or-death decisions based on the muffled cry of their partner. Wild that people do that.

The established radio in the outdoor world is the BCA Link, which helps the above phenomenon make sense. It's a 2-piece unit, and it's burly. Beyond being a little intimidating, finding a place for all that in your pack feels like a lot. And it's expensive ($180).

In the smaller, single body radio world, there's not much on the scene, apart from crappy Motorola and Chinese radios. Having used both options for mountain guiding a number of times, I can say that they are unsatisfactory. Poor, poor battery life and functionality not built for the mountains makes them far from my first choice. With cell service, I would rather use my iPhone.

Enter the Rocky Talkie. It aims to bridge the gap, offering a slim, backcountry oriented design without all the bulk and presumption of the BCA offering. It's marketed not only as a skiing radio, but a climbing radio, making long, windy alpine routes a touch less scary. With huge battery life and range specs and a much lower price point that the Link, I was highly intrigued.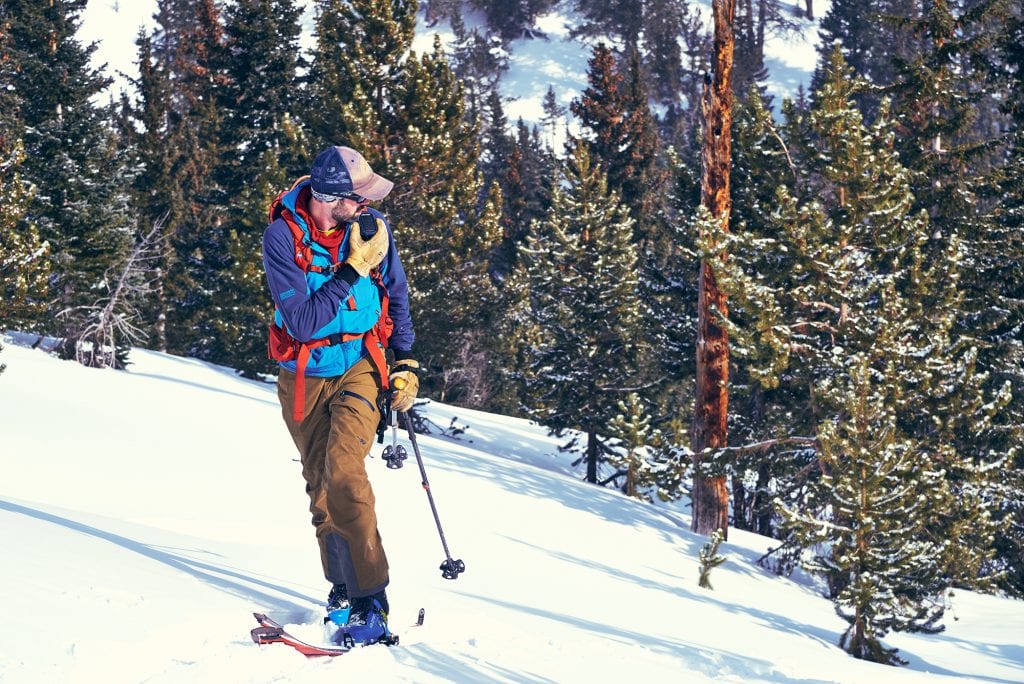 Performance:

In my first two months of use, I've found these radios to perform on par with larger units. My local ski area is two large basins divided by a prominent ridge, and the radio has had no problem receiving or transmitting signals several miles through this ridge, and the fidelity has been strong. The performance is comparable to the larger sets used by patrollers across the mountain. Even in tight, rocky gullies facing away from the rest of the ski area, I can still pick up what's going on.

The battery life has also been quite impressive. I've not charged them once since I picked them up two months ago, taking them out at every opportunity (maybe two dozen times). They still sit at about 70% battery life. While they will not sit 'on' for hours on end, they will stay on for about an hour without input before sleeping. If you are base comms, this is a little inconvenient, but these radios are designed for on-route on-demand communication.

Design:

I've also found the design quite inspiring. Attaching radios to backpacks is always a pain. Where do they go? Do I just cinch them on crane my neck in to speak? How floppy is the attachment? How large and obnoxious is the unit? Do I have to run cords to my backpack? The Rocky Talkie has two attachment points, with one pre-setup on a spiral extension cord. This means I can keep the radio secure on my bag, and unclip the main carabiner easily to bring the radio right up to my mouth. While orienting the radio initially was a bit of a pain, once I found my spot, it has lived on my bag ever since, even on ski tours where I didn't need a radio. 

The single unit design has also been quite nice. When I do find myself swapping bags often (Black Diamond Cirque 35 to Mammut Pro X, depending on avalanche conditions and terrain), it is really convenient that I don't need to rethread the mic and transceiver through a port in the bag with every swapover. It clips on and clips off. Done.

Will I keep it on my backpack?

What Rocky Talkie set out to do, which was to create a safety tool that climbs and skiers would carry every day, is a daunting task. For people cutting grams out of their equipment lists, creating a radio that could be compelling for disasters yet still sleek enough for a recreational is hard. But I think they did it. This is a no-frills radio that doesn't seem handicapped by that feature. It's powerful and will go on my bag deep into the backcountry without (much) complaining from me.
Visit https://rockytalkie.com/ to learn more.
Rocky Talkies are rugged radios designed and tested in Colorado. Over 3-days of battery life and 25+ mile max range.