The holidays are right around the corner and I wanted to share with our dear readers some of the products that are at the top of my list.
Faherty Good Feather Long Jacquard Knit Robe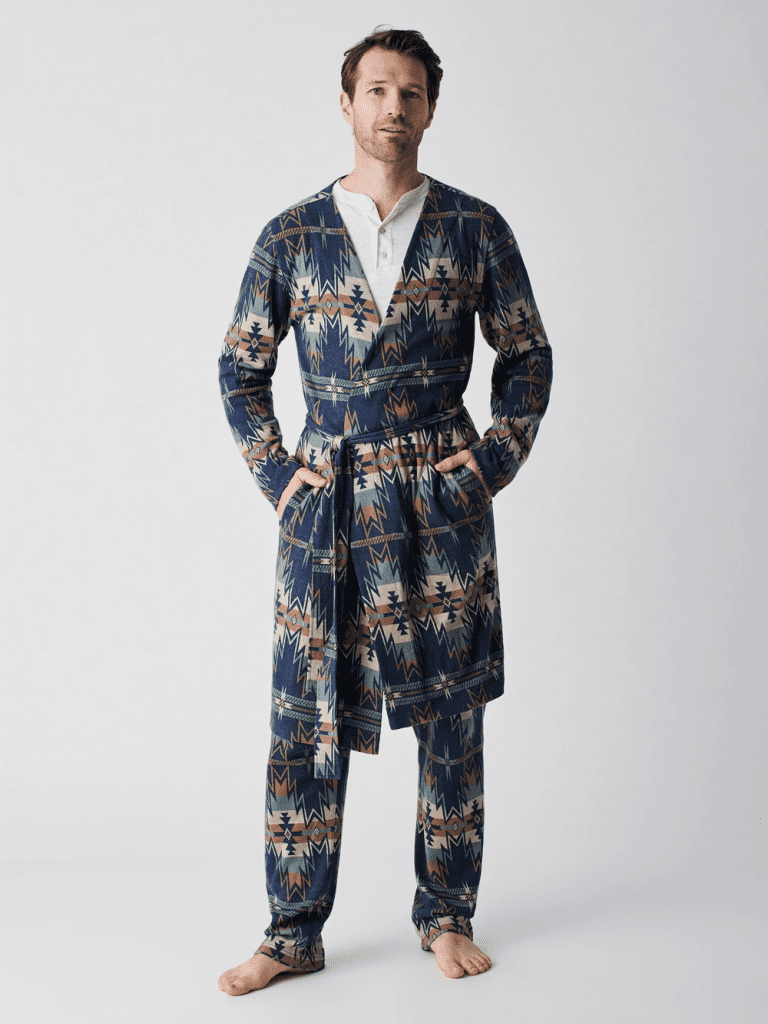 When I was at Outdoor Retailer in August, I had the opportunity to chat with the folks at Faherty. I had been getting served Instagram ads for the past couple of years and had fallen in love with the aesthetics of their brand.
Being able to chat with them solidified how darn awesome their company was.
And being able to see and touch their products in person solidified how darn awesome their clothing was.
At the top of my wishlist, is the Faherty Good Feather Long Jacquard Knit Robe. It is part of their Native Designed project where they partner with indigenous native artists on product design. This robe was designed by Doug Good Feather. He's an artist, veteran, author, and teacher from the Standing Rock Lakota and Dakota Nation and is the founder of the Lakota Way Healing Center.
While this robe looks and feels super duper comfy and would be perfect to lounge around the house in, my ideal use is for putting on after my daily ice bath.
United By Blue Recycled Wool Hawk Sweater
We've featured United By Blue in the past. They are still one of my favorite brands; mostly due to their mission: removing a pound of trash from our waterways with every product sold.
Their Wool Hawk Sweater is a standout in their new products for Winter.
The design is pretty darn cool.
Plus, the symbology of the hawk, definitely speaks to my journey over the past year and my quest for spiritual awareness.
COROS VERTIX GPS Adventure Watch
I've had the Coros Apex for almost three years. Throwing out (not literally) my Apple Watch was one of the best decisions I ever made for my fitness journey. And, while the Apex is still performing as if it's brand new (review forthcoming), a part of me is ready to upgrade. Because 'tis the season, right?
The Coros Vertix GPS Adventure Watch is an upgrade, for sure. Longer battery life. Longer battery life with GPS going. If you're looking for a new adventure watch and you're looking at other large watch manufacturers, compare the specs. I don't think you can beat Coros on battery life.
With GPS use on the Apex, I typically charge once every 14 days. Sometimes every 7 if I am putting long hours on the trail. I have a friend that has a watch brand that starts with a G and he's charging his once every 48 hours with light use.
Why do I want to upgrade?
Well, in part for the longer battery life the Vertix will provide.
Second, because I want to continue taking my fitness to new levels, their 24/7 blood oxygen monitoring can help me reach new heights.
Finally, their Vertix in the Mountain Hunter colors (pictured above) is pretty darn sweet.
Gnarly Nutrition Sample Box
You already know: I'm a big fan of Gnarly Nutrition.
But there's still products I haven't tried.
That's where their sample box comes into play.
You get a mixture of protein powders, collagen, greens, BCAAs, pre-workout, and their hydration mix.
If you're looking for a new workout partner, try their sample box. You won't be disappointed.
United By Blue Dog Products
Okay, so this one really isn't for me. But it's for my pup, so it is still sort of for me.
United By Blue this Fall came out with some of the awesomest dog products: leashes, bowls, toys, harnesses. And I want them all.
At the top of my wish list is their matching leashes, harnesses and collars. The colors on these are fantastic. My pup is all white, so he needs some color in his life.
But one important piece I'll highlight on the harness is that it is a no-pull harness. It clips in the front and will keep your dog, no matter how big or enthusiastic, from pulling.
"Oh sure," you might say, "they'll still pull."
I've been using a cheap one (that is partially chewed and falling apart) over the past month and my puppy has never walked better. Clipped to the leash or on the back of the harness led to a lot of pulling. And he is almost 60 pounds. That is a lot of pulling.
You see, that's why this is really a gift for me.
Vuori Ripstop Climbers and Aspen Shirt Jacket
I love Vouri.
They make some of the most comfortable activewear on earth.
When Huck Adventures first started, we featured their Ripstop Climbers in a brand feature. They are still one of my favorite pairs to wear and honestly, I really want another pair, especially their blue Ripstop Climber Pants.
I've also had an eye on their Aspen Shirt Jacket for a while.
I work remotely in my basement, so I am always layering up. Plus, I also spend a lot of time outside walking the dog. Having something nice and warm like this would be amazing.