In the past, when we've cruised through Outdoor Retailer, there has been one booth that continued to stand out from all the other cooler companies. And that's Rovr Products. What caught my eye was the evident hardiness of their coolers, their bright designs and bold branding, but most of all their thicc wheels.
We were built to roam and Rovr's coolers were built to roll right alongside of us.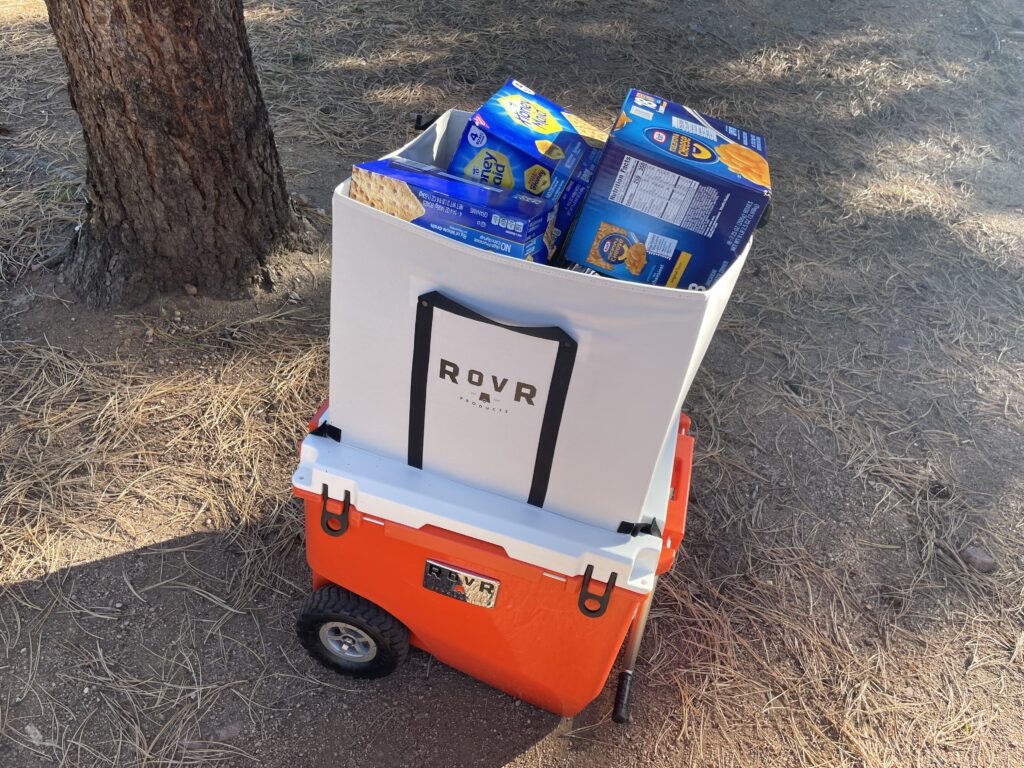 Rovr sent us their RollR 60 to test. And it arrived just in time for a local Cub Scout camp where I was Camp Chef, cooking for over 100 adults and kids. I needed something that could cart in all the cold food, including 30 pounds of smoked pulled pork, and keep all of it cold over the weekend.
Hands down, the RollR 60 is coolest cooler I've seen.
The RollR was built for keeping your food and beverages cool, but with portability and organization in mind.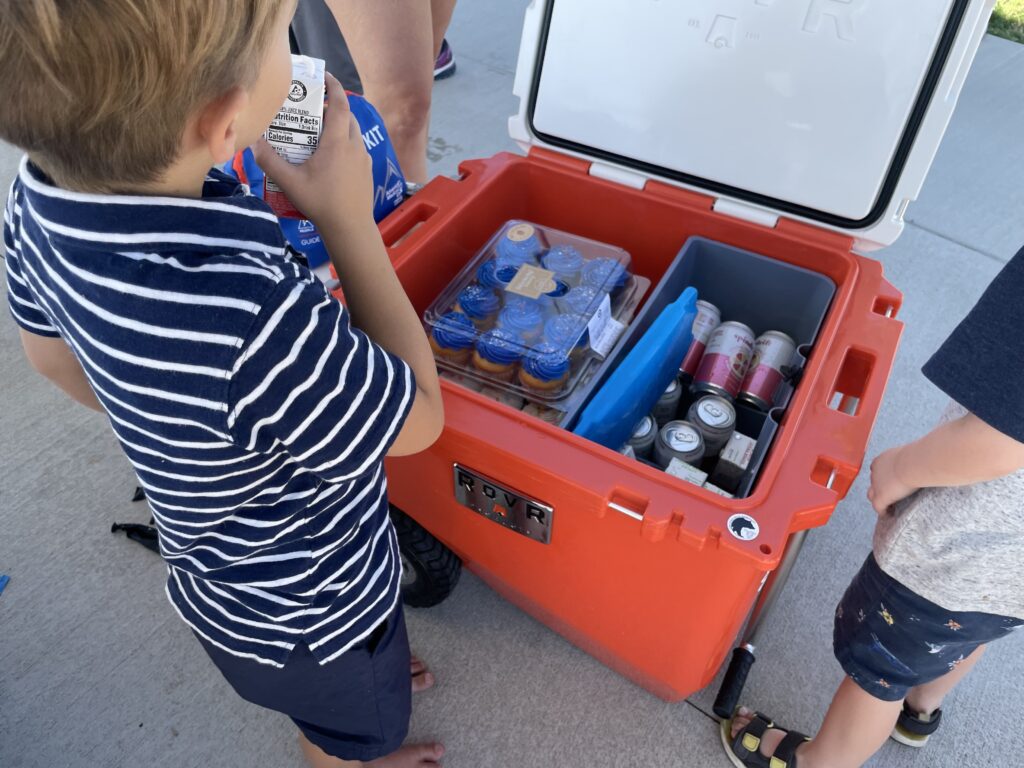 It can hold 60 cans and hold 20 pounds of ice. With their dry bin installed, storage capacity changes, holding 40 cans and 10 pounds of ice in the main compartment and 4-6 bottles of spirits or various foods in the dry bin.
Besides being the coolest cooler from a product design standpoint, the RollR is designed to keep your stuff cool for up to 10 days (depending on use).
When we followed their method for ice retention (article forthcoming), there were still a couple of ice cubes left by the end of day 9. That in itself is pretty darn impressive and its due to the cooler's high density insulation.
And as the ice melts, and water builds up, there is a DualSpout™ Plug to help with draining. The great thing about the dry bin is that as water builds up, your food stays dry. There's a clip on the side of the cooler that keeps the dry bin from floating to the top, as well.
If you're rolling your RollR into areas that have bears, this cooler is bear resistant. They also sell Bear Proof Locks that can attached to each corner for extra protection. But still, practice safe food storage whenever you are out in nature.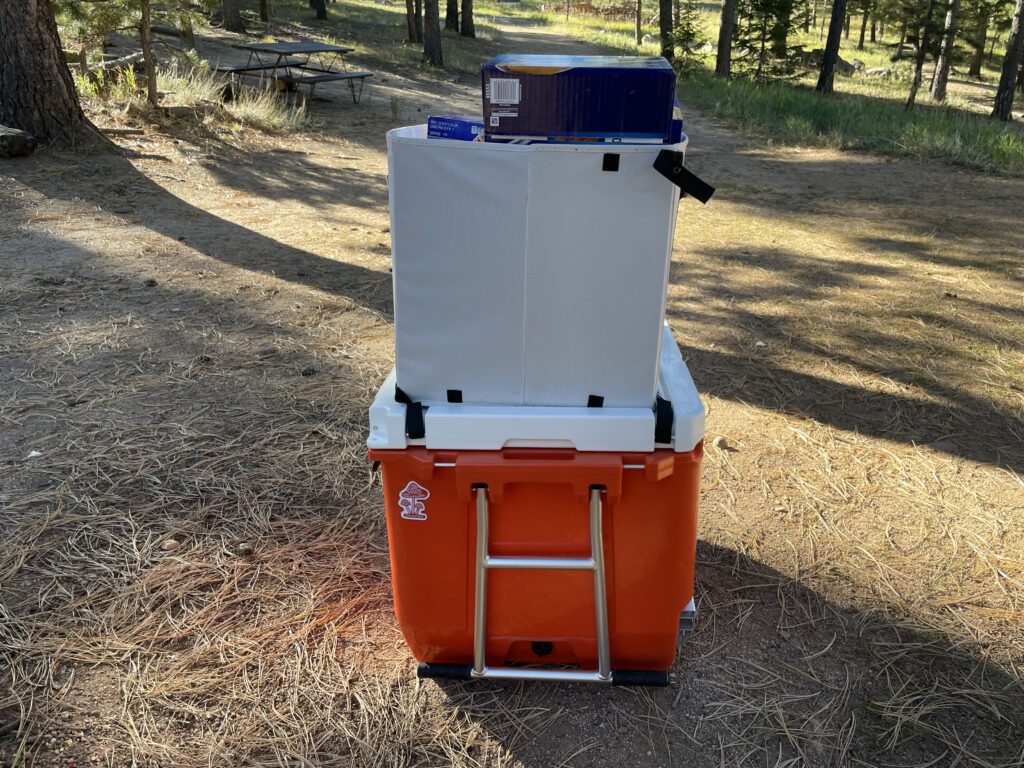 On the base of the cooler are two hearty wheels that are perfect for rugged terrain. When I arrived at the Cub Scout camp, I had a quarter-mile walk from my car, down a loose gravel trail. My 18-year old Igloo cooler wouldn't have been able to handle it, but the RollR handled it with ease.
With the dual grip handle, I found it easy to pull the cooler behind me without it bumping against my heels. Likewise, while it was loaded with 80 pounds of food and ice, it wasn't cumbersome. With one hand I pulled the cooler, while my other hand was free to haul a tent and duffle bag.
With the RollR cooler don't forget to pick up a RovR® LandR™ Bin. This bin sits on top of the cooler, attached by Velcro straps. It's great for storing extra snacks, water, or helping cart in additional campsite supplies.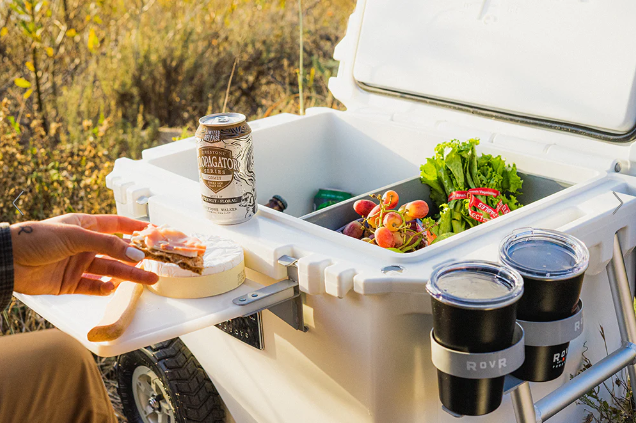 If you do buy a RollR cooler, you also need to pick up their Essentials Pack. It comes with an attachable prep board, cup holder, and stash bag. These accessories make camp life a bit easier. The prep board makes for a great small cutting board or a small serving tray.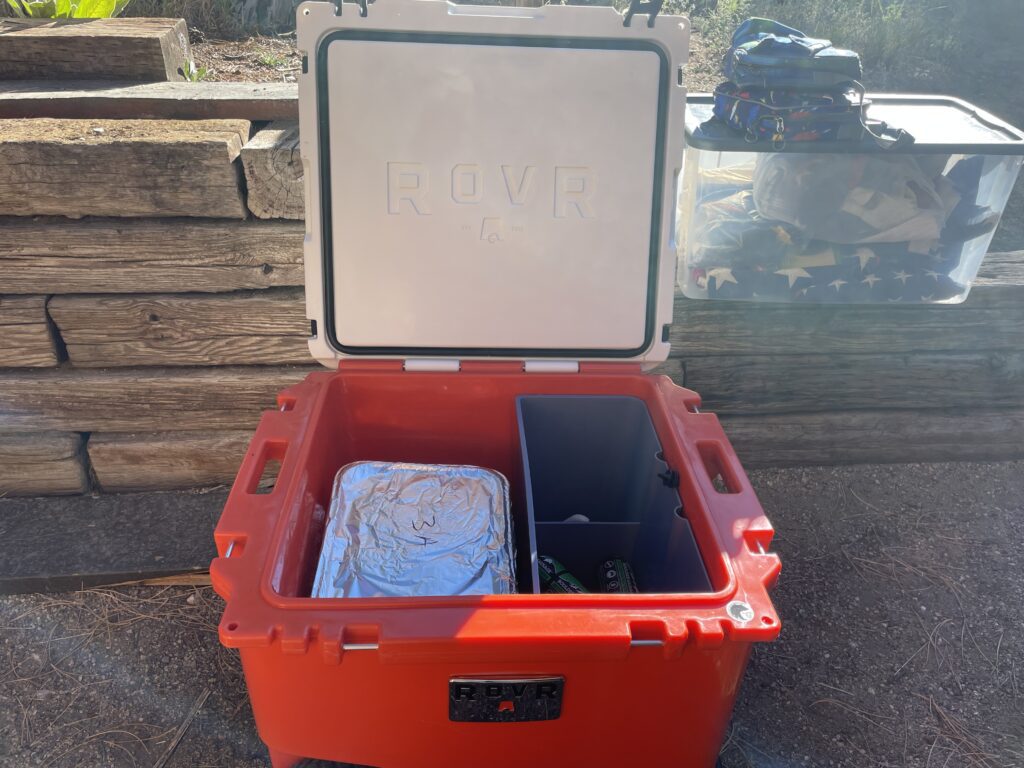 I can't tell you how cool I feel toting around this cooler. I feel like a bad ass.
At the Cub Scout camp, dads were checking it out: opening and closing the lid, playing with the dry bin, and kicking the tires. It definitely catches the eye.
One other killer accessory this cooler has is a bike hitch. Oftentimes in our neighborhood we gather at our community part. And I can't wait for the next opportunity to roll up with this amazing cooler!