The Cotopaxi Del Día Collection offers a unique and sustainable approach to adventure gear. Crafted with 100% repurposed fabric, each piece is a one-of-a-kind creation, adding an element of surprise and individuality to your gear collection. The Del Día bags, including the Allpa 42L Travel Pack, are not just about style; they embody a commitment to eco-consciousness and thoughtful design.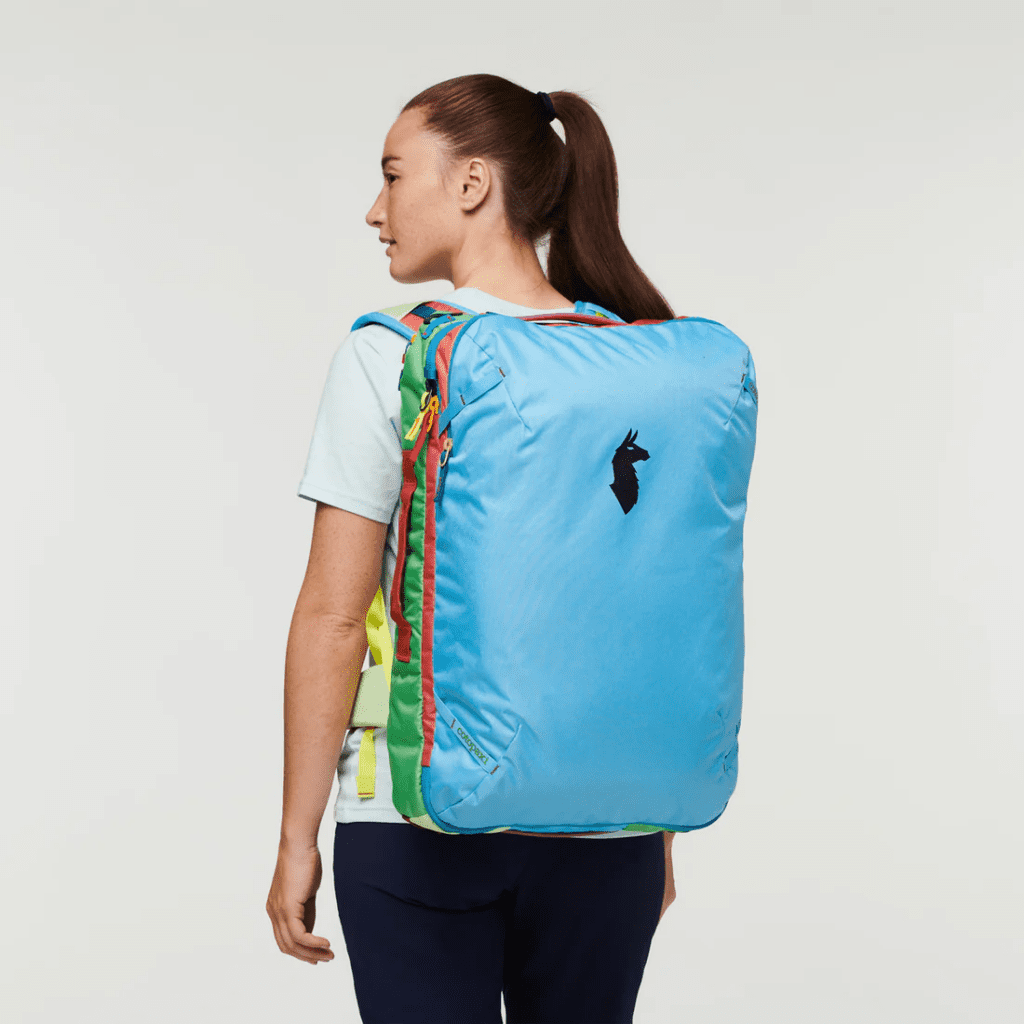 Functionality and Versatility:
The Del Día Collection, with its packs and duffels, is designed to seamlessly blend into a variety of travel scenarios. Whether you're embarking on a backpacking adventure, a camping trip, or a globetrotting journey, these bags excel in both functionality and style. The Allpa 42L Travel Pack, a standout in this collection, caters to those with longer trips in mind.
Allpa 42L Travel Pack – Del Día: Ultimate Adventure Companion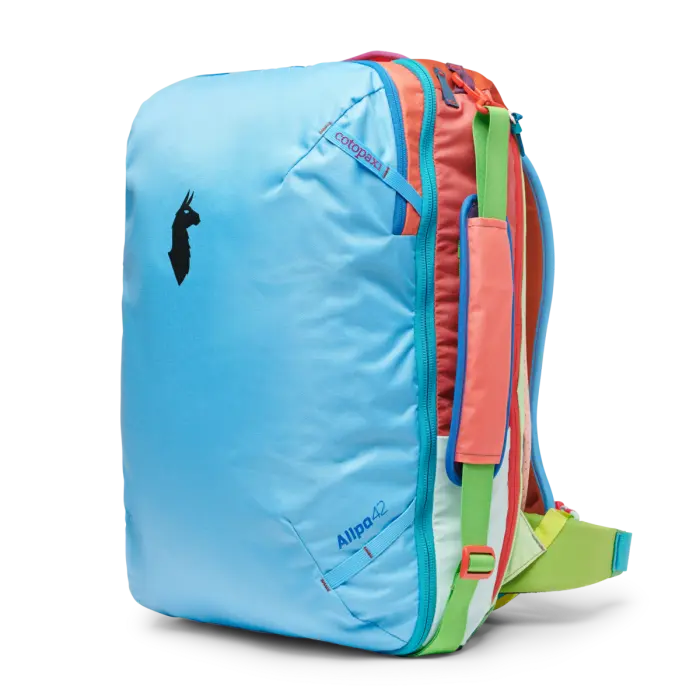 Cotopaxi sent me their Allpa 42L Travel Pack to test.
The Allpa 42L Travel Pack is tailored to accommodate trips lasting two weeks or more. Built with versatility and durability in mind, this pack boasts features that enhance its usability and performance.
Pros:
Comfortable Carry: The padded, mesh suspension system and load lifter straps ensure a comfortable carry, even during extended walks or airport dashes.
Organization Made Easy: The suitcase-style, full-wrap zipper opening on the main compartment makes packing and organization a breeze. The internal mesh compartments further assist in keeping your belongings neatly arranged. And it has enough space for clothing to make sure you're covered (literally!) for up to two weeks.
Tech-Friendly: With a padded 15″ laptop sleeve and a 12.5″ padded tablet sleeve, the pack caters to the tech-savvy traveler. I can easily fit in my HP Laptop, iPad, and Kindle.
Quick Access: The shortcut zipper to the main compartment allows easy access to your essentials without having to open the entire pack.
Thoughtful Design Elements: The inclusion of a top zippered pocket for small essentials, exterior water bottle pocket, carabiner lash points, and reinforced grab handles highlight the pack's well-rounded design.
Anti-Theft Zippers: The YKK security zippers on all closures enhance the pack's security.
Sustainable Aesthetic: The one-of-a-kind Del Día colors are not only visually appealing but also showcase the bag's commitment to repurposing materials.
Rain Cover Included: The added rain cover ensures your gear stays dry during unexpected downpours.
TSA Compliance: The pack's carry-on compatibility makes navigating airports and flights a smoother experience.
Cons:
Random Selection: While the surprise factor of the Del Día colors can be exciting, some users might prefer to choose the color or pattern themselves or have a pre-fabricated bag from Cotopaxi.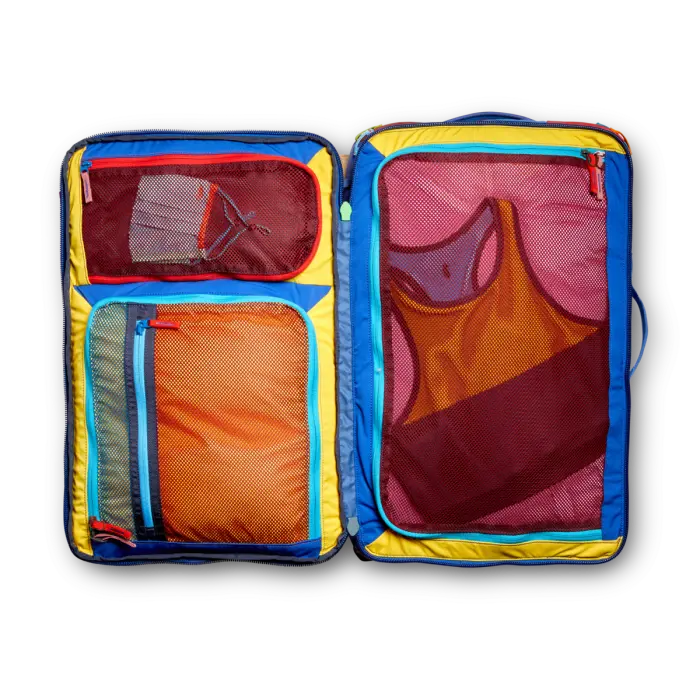 Personally, I love the random color and pattern selection on the bag Cotopaxi sent me to test. It's a vibrant collection of blues, oranges, reds and pinks. I love how unique it is, which is the purpose of this collection. Because of the random selection, each bag will be uniquely yours.
Final Thoughts:
The Cotopaxi Del Día Collection, exemplified by the Allpa 42L Travel Pack, is a standout choice for adventurers seeking both functionality and eco-friendliness in their gear. With its blend of comfort, organization, and sustainable design, this pack is well-suited for long journeys, outdoor escapades, and beyond. The Del Día concept not only reduces waste but also adds a touch of personalization to your gear ensemble. For those who value practicality, style, and responsible manufacturing, the Allpa 42L Travel Pack is a compelling option that encourages conscientious exploration.