Huck Adventures is launching the largest free token giveaway in crypto history today.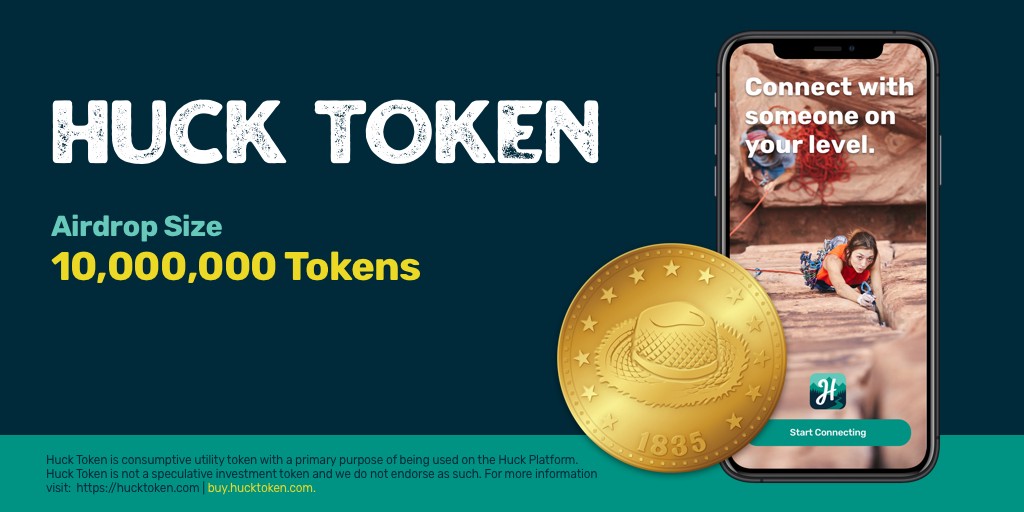 Huck will distribute 10 Million Huck Tokens (ticker symbol: HUCK) to the first 5,000 users who participate in its airdrop campaign. Each user will receive 2,000 (HUCK) tokens, which is currently estimated to be worth about $10 based on the current value of $0.005 (as per Nov. 18, 2019).
1 Huck Token (HUCK) ~ $0.005
Airdrop Est. Value ~ $10
Huck Adventures is creating the world's first social platform and reward system for the outdoor industry. The Huck app, which is currently being tested as a private beta, connects outdoor enthusiasts with each other and the resources they need to get outdoors.
"The Huck Token is the first digital token reward system for the outdoor industry that will allow outdoor enthusiasts to share what they love to do and be rewarded while doing it," said Huck CEO/Founder Ben Nelson. "The Huck Token will be an integral part of our Huck app community that users will be able to earn, spend, or cash out as fiat."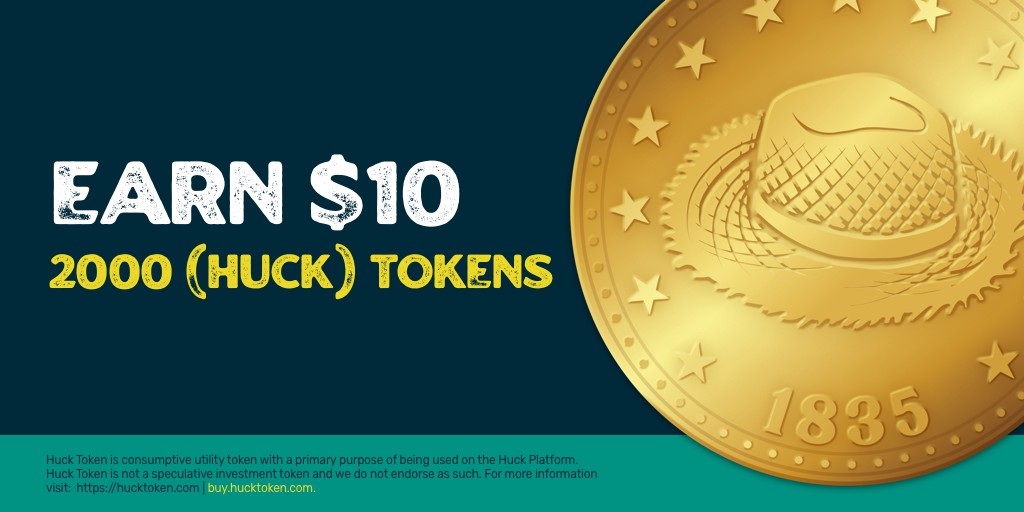 How to Get Free Huck Tokens?
In order to take part of the airdrop you have to:
Register on UpViral (make sure you have a ERC20 ETH address to provide): https://upvir.al/ref/zN28869600
Follow instructions on UpViral for sharing on social media and with friends
Join our Telegram group: https://t.me/huckadventures
Hit 2,000 points to qualify for 2,000 tokens.
BONUS: The top 10 influencers will each earn 2,000 additional HUCK Tokens!
This airdrop will only be available for the first 5,000 users who finish all the steps. The Huck Tokens will be distributed once the airdrop ends.
Huck Adventures plans to announce more opportunities for registered and verified airdrop participants to collect additional Huck bounties on top of the $10 airdrop.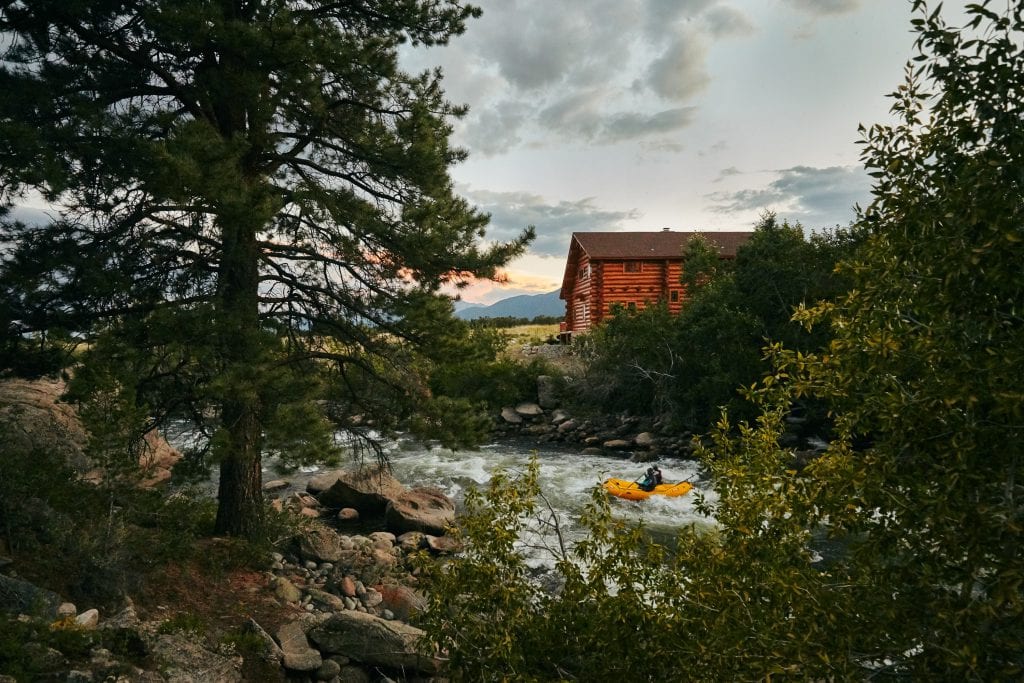 What are Huck Tokens?
The Huck Token is an ERC-20 based utility token, which derives its value from Huck ecosystem products and services. The pre-sale began Oct. 28 and will end Nov. 28, with the crowdsale running Nov. 30 through Dec. 30, with a bonus structure for early adopters. Initial listing price will start at $0.005 per Huck Token. Huck Tokens may be purchased on www.hucktoken.com.
Through the Huck Adventures app, outdoor enthusiasts will be able earn Huck Tokens by contributing to the Huck community, including reviewing outdoor gear, reporting bugs on the app, posting educational content, and uploading photo and video content. Huck Token will be able to be redeemed for rewards through the Huck Reward Platform or cashed out for fiat. Eventually, rewards on the platform will include adventure deals from travel providers, new equipment, and exclusive swag.
How Does Huck Derive its Value?
For a cryptocurrency token to have value, it must have a use-case and an ecosystem to foster growth. The Huck ecosystem is able to provide both these things by uniting a community of outdoor enthusiasts and companies to share their knowledge and love for the outdoors. It also provides an opportunity for these community members to earn Huck tokens through content creation, promotion, bug reporting and more. To learn more, read our recent Medium article: https://medium.com/@huckadventures/how-does-the-huck-token-derive-its-value-2e13a313ae22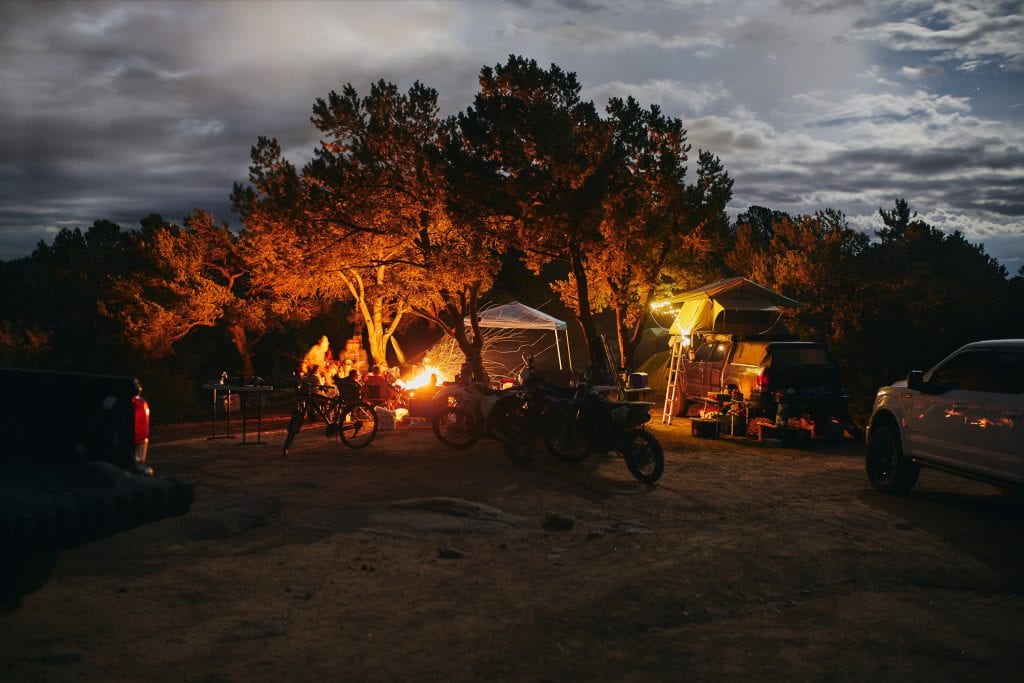 Huck's Mission and Your Impact
Being outdoors isn't just good for us. It's an essential part of what makes us human. Being outside makes us more creative, happier, healthier, and connects us to something bigger than ourselves. That's why Huck Adventure exists: to connect the world with and through the outdoors.
But we don't just want to get more people outside. We want to help preserve the wonder of nature by keeping our land, oceans, and trails clean.
That's why an important part of our mission is reinvesting in the outdoors. And why we've committed to donate 10% of profits to our non-profit partners each year. Our non-profit partners include:
Airdrop Rules:
SPAMMING = BAN FROM AIRDROP
We want to provide our followers a quality airdrop and continue to host airdrops in the future. We can only do this with your help by not spamming our social media channels or telegram groups. Please do not spam our social media or telegram groups with questions about the HUCK coin airdrop. Do not send ads in our telegram group, as spamming will result in a BAN from this airdrop without a warning. For example, posting ''I joined airdrop,'' or ''when will I get my airdrop?'' or sending other ads in the group would count as spam.
NO FAKE ACCOUNTS
You must be a REAL Twitter, Facebook, Instagram, Youtube, Medium follower and active members of HUCK official telegram group will get the airdrop. Bots, fake users or users creating a new account just to complete these actions will be removed from reward list.
ONE WALLET = ONE SUBMISSION
One ETH/ERC20 wallet address cannot be submitted multiple times. Multiple users submitting one ETH/HUCK wallet address will be regarded as cheating behavior.
CHEATING BEHAVIORS = REWARDS CANCELLED
ANY cheating behaviors will not be tolerated. During the airdrop event, if we detect a user is cheating, HUCK has the right to cancel the user's rewards and start a legal investigation if necessary.
HUCK team reserves the right to change these terms and conditions at any time without prior notice.
How to Create a Wallet
There are two ways we suggest that you create a wallet on MyEtherWallet. The two options are by Keystore file and Mnemonic Phrase. Mnemonic Phrase requires the setup of a 12–24 word password while keystore files requires you to store and protect a keyfile to access your wallet. Each method requires the use of a personal passphrase.
Before we continue, a few words of caution:
Never share this information with anyone. This information gives complete and permanent access to your wallet.
Do not keep this information on a device connected to the internet. Hackers can and will find it in your hard drive.
Choose strong passwords and write everything down in multiple locations.
We cannot recover this information for you.
Keystore/JSON
Read more about what a Keystore/JSON file is here.
Step 1. Head to www.myetherwallet.com.
Step 2. Click 'Create a New Wallet'.
Step 3. Choose the 'By JSON File' option.
Step 4. Enter a strong password, and write it down on paper. We cannot recover or reset your password for you. Write it down!
Step 5. Download your JSON File, preferably to a USB device. Do not open this file. It is meant to be used by our interface.
Step 6. Now you're done, and ready to access your wallet!
Mnemonic Phrase
Read more about what a Mnemonic Phrase is here.
Step 1. Head to www.myetherwallet.com.
Step 2. Click 'Create a New Wallet.'
Step 3. Choose the 'By Mnemonic Phrase' option.
Step 4. Enter a strong password, and write it down on paper. We cannot recover or reset your password for you. Write it down!
Step 5. Choose a 12 or 24 word phrase, and WRITE IT DOWN! Do not store this on your computer.
Step 6. Now pass a quick test, and you're done! You're ready to access your wallet.
Follow us on Telegram to get the latest airdrop updates: https://t.me/huckadventures
Check out more details about HUCK project and HUCK token at our website and other channels:
✅Buy Huck Token: http://buy.hucktoken.com/
✅Learn more: http://hucktoken.com/
💎Join Airdrop: https://upvir.al/ref/zN28869600
📑 Whitepaper: https://hucktoken.com/wp-content/uploads/2019/10/HuckTokenWhitePaper.pdf
✈️ Telegram Group https://t.me/huckadventures