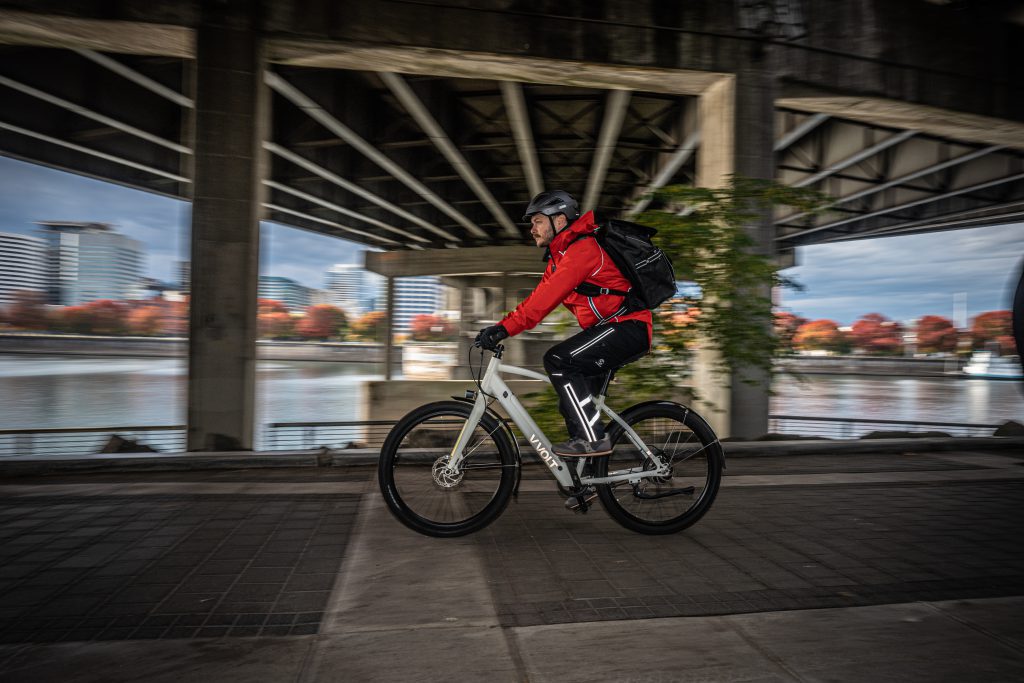 Following June's brand launch, Vvolt e-mobility has enjoyed strong pre-orders of their value-oriented line of ebikes. With the arrival of their initial production of ebikes at their Oregon warehouse, they are now fulfilling those pre-orders and opening regular sales. Pre-order bikes are shipping now, with the brand working toward a one-week shipping time on new orders as the initial order backlog is cleared.
"It's amazing to deliver our initial orders after we've had such great feedback on our pre-production units from consumers and media, but one of my favorite parts about this is that we finally get to debut our packaging," says founder Kyle Ranson. "We've designed a fairly unique box enabling our riders to receive their bikes 97% assembled, only needing to install the front wheel and pedals before topping off the battery and enjoying their first ride."
All models and sizes are now in stock at Vvolt.com. Both existing and new order customers will have the option of taking free home delivery, or having unboxing handled by one of the independent bike shops in Beeline  Connect's nationwide network for an additional charge. 
Stellar Series Offers Clean Designs with Rider-Friendly Technologies
The Stellar Series comprises four ebike models sharing technologies designed to make the riding experience simple and rewarding. All bikes use clean-running Gates Carbon Drive belts, hydraulic disc brakes and motor systems  selected for durability. The $1399 Alpha and Alpha S models deliver motor assist via 350w rear hub drive. Premium Sirius ($2699) and Proxima ($2799) models are equipped with 250w MPF mid-drive motors, delivering 80nm  of torque through Enviolo's unique CVT internal gearhubs. All bikes meet common Class 1 pedal-assist requirements, adding motor assistance up to 20mph. Mid-motor models can be upgraded to Class 3 with an alternate handlebar computer enabling motor assist to 28mph.
Stellar Series ebikes Are Built for Utility in the City and Beyond
Vvolt e–mobility announces their debut product line– a series of four electric bikes offering exceptional ease of use, delivering lifetime value to riders from the moment of unboxing. The Stellar Series of ebikes all feature belt drives for mess-free durability, hydraulic disc brakes for powerful and consistent stopping, and electric assist systems selected for durability and reliability.
Balancing portability and power, Vvolt ebikes use mid-sized electric power systems to keep overall weight down, because lifting and carrying your ebike shouldn't require herculean strength. Furthering practicality, all models are designed for semi-upright riding positions that blend comfort with predictable handling on pavement, paths, gravel and trails. Frames are equipped with fittings to carry cargo, water and mount optional fenders for riding in damp conditions.
This versatility gives the Stellar series more ways to inject more fun into your day from 9-5 and beyond.
Alpha / Alpha S: The Simplest Solution is Often the Best
Vvolt's entry-level models are the Alpha and Alpha S. With simple, one-speed gearing it's all about the ride; amplified by the 350w hub motor and silent-running belt drive. These models feature wide 27.5×2" tires to tame any surface  and excel on dirt roads as well as around town. At $1399, Alpha models are the most affordable ebike in the US market to feature the combination of belt drive, clean-lined internal battery and powerful hydraulic disc brakes. The  diamond-frame Alpha presents a traditional look, while the Alpha S offers a lower step-through frame, making it easier to hop on and off – especially when loaded with cargo.
Proxima and Sirius: Incredible Durability and Extra Power
Proxima and Sirius models step up to a more powerful mid-drive motor from Taiwan's MPF drive with torque and speed sensors to deliver up to 350% of rider power. Vvolt is the first brand to offer the MPF system to the US in commuter and fitness-oriented ebikes, having made the selection due to their reputation for quiet operation and durability based on the self-lubricating, full-steel motor gearing.
Vvolt pairs this super-resilient engine with the toughest transmission on the market: Enviolo's CVT rear hub that runs for tens of thousands of miles without requiring service. As with Alpha models, Proxima and Sirius drivetrains are linked by Gates Carbon Drive belts that run clean and silent without oil.
Made for long commutes and sporty weekend riders, the Proxima runs on gravel-bike style wheels to deliver speed and versatility across multiple terrains.
Riders who seek unpaved paths, dirt roads and singletrack will enjoy the wider 27.5×2" tires on the Sirius, which also features an air-sprung suspension fork to tackle rougher terrain.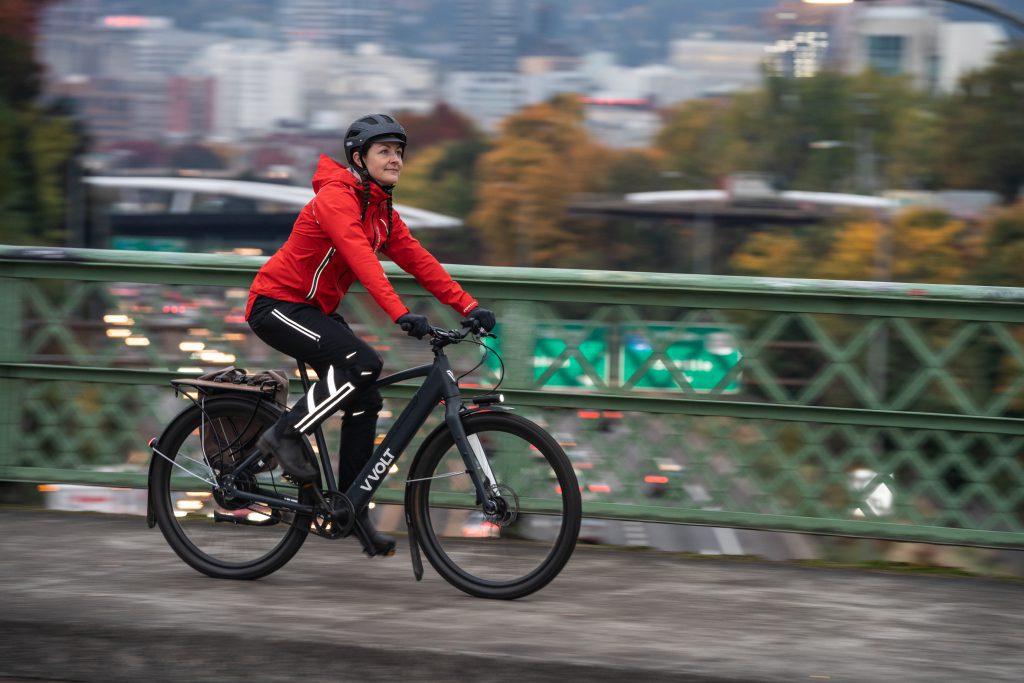 The Bluetooth-compatible handlebar computer syncs to an upcoming mobile app for mid-drive models, with integrated speed/distance/range info and GPS navigation. Riders in hilly locales can also use the app to make their bike more responsive for tackling steep grades while riders looking to maximize range can reduce motor sensitivity to add an extra layer of battery conservation. All Vvolt ebikes come standard with 20mph top pedal assisted speed for compliance with Class 1 standards (the most widely-accepted ebike type across the US.) Mid-drive models may be upgraded to "Class 3" 28mph top pedal-assisted speeds with the purchase of an alternate handlebar computer.
Vvolt is primarily selling consumer direct, so particular care has been taken to create packaging that delivers a rewarding unboxing experience for riders with any level of mechanical ability. Arriving in an oversized box, new owners can  easily slide the 97% assembled bike out of the end of the box, rather than lifting it up and out. The only parts needing installation are the front wheel and pedals, both easily attached using the included multitool. Unlike most bikes that arrive swaddled in layers of foam, cardboard and zip ties, Vvolt is able to package their bikes with minimal in-box protection due to the oversized envelope, cutting down on single-use plastics while making for a  faster and more satisfying unboxing. To further plant their flag as a customer-centered company, Vvolt is offering a three-year warranty on all new ebikes. "It's important to us to stand behind our products, and that includes taking on  some additional responsibility when it comes to warranty," says company founder Kyle Ranson. "We think the fact that most of our suppliers offer two-year warranties speaks to their quality, but we're also making the additional  commitment to our customers to say 'Hey, we're going to be here to help you out in the future should the need arise.'"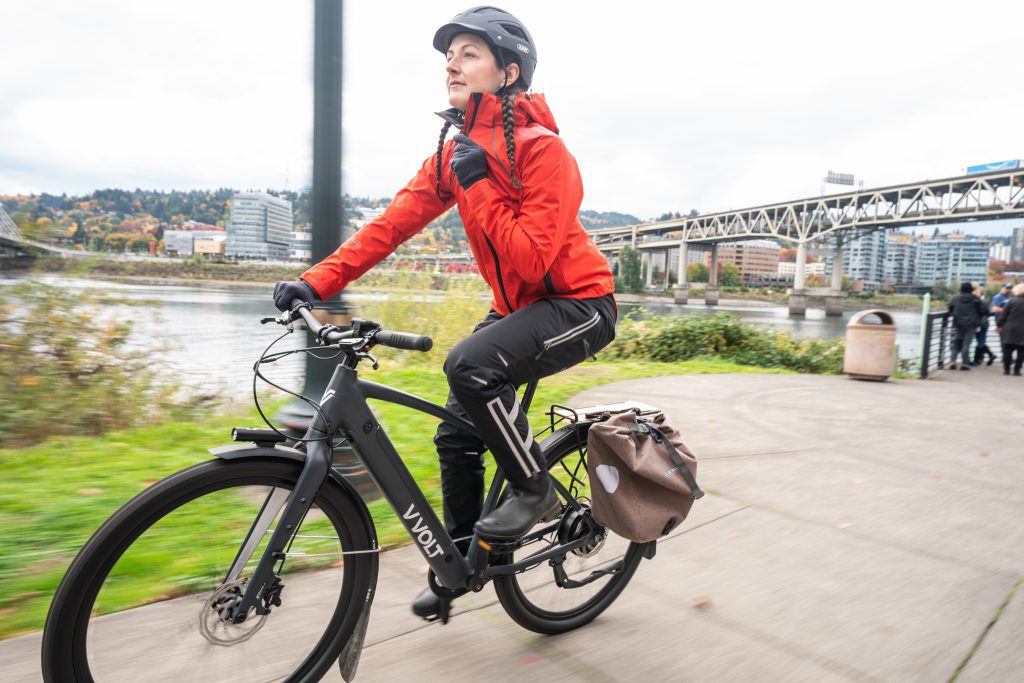 About Vvolt e–mobility
Vvolt is a new electric vehicle brand founded to solve the challenges of human transportation through creating innovative electric mobility products and advocating for people-safe streets.
Based in Portland Oregon, we're drawing on our decades of experience in consumer electronics, bicycles and fashion to make rider-friendly ebikes and vehicles, and back them up with a company that delivers the kind of service we want as riders ourselves.
We're imagining a future where more people ride more often, reducing the number of cars on the street in favor of a mix of electric and human-powered mobility vehicles. This human-scale future is one where we move efficiently from door-to-door, with less time spent in parking lots, or traffic jams. We're here to change our streets and shared spaces from being dominated by cars to places where more riders create safety in numbers for one another. This future is for everyone, where ebikes and other EVs are easy to ride and easy to own.
It's our purpose to get more people out of cars and into riding e-mobility. It's a friendlier way to travel, and with the ability to sidestep auto traffic, often the fastest way to get door-to-door.
We're also here to promote safer infrastructure in our cities, towns and beyond. It's our goal to bring together our public agencies, advocates, media and other brands to make it easier for people to integrate electric mobility vehicles (bikes and beyond) into their lives.
Learn More at vvolt.com