One of my resolutions this winter was to get out and explore more. I've been making good on that resolution; hiking, running and cycling as weather permits. But I was missing out on one of my favorite winter activities, snowshoeing, until recently.
Atlas was kind enough to sponsor that activity by providing us a pair of their 2021 Helium-MTN Showshoes to test out and review.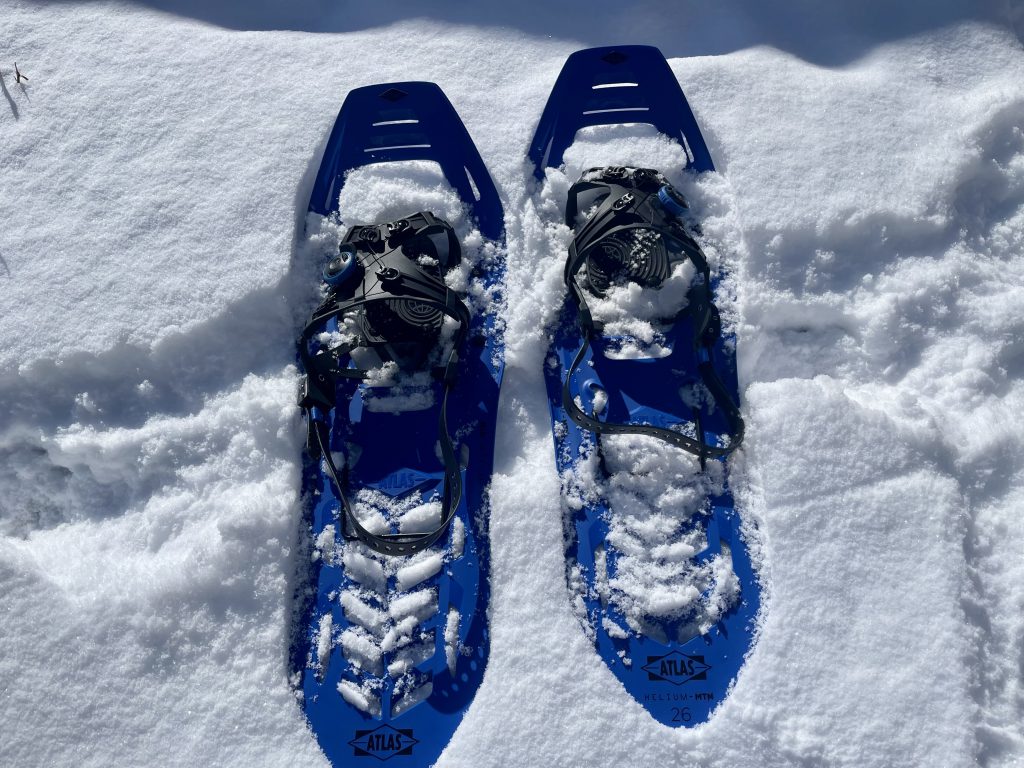 Over the last month, I have gotten out a handful of times, logging in around 20 hours and 25 miles in them.
One of my favorite places to take them locally was the Switzerland Trail that's west of Boulder near the Sugarloaf Mountain peak. There's a handful of trails in that area. Everything from hard-packed snow to fluffy hip-deep drifts.
What makes the Helium-MTN Snowshoes great is their construction.
"Helium" is named after the snowshoe deck, which Atlas claims to be the lightest composite snowshoes available. The deck is designed to shed snow, which during our tests I found to be accurate. Even when my snowshoes kicked up a lot of snow, as I lifted my foot up, it was able to shed the loose snow piled onto the deck. This allowed me to move very quickly across the terrain, not having the weight of snow slow me down.
Binding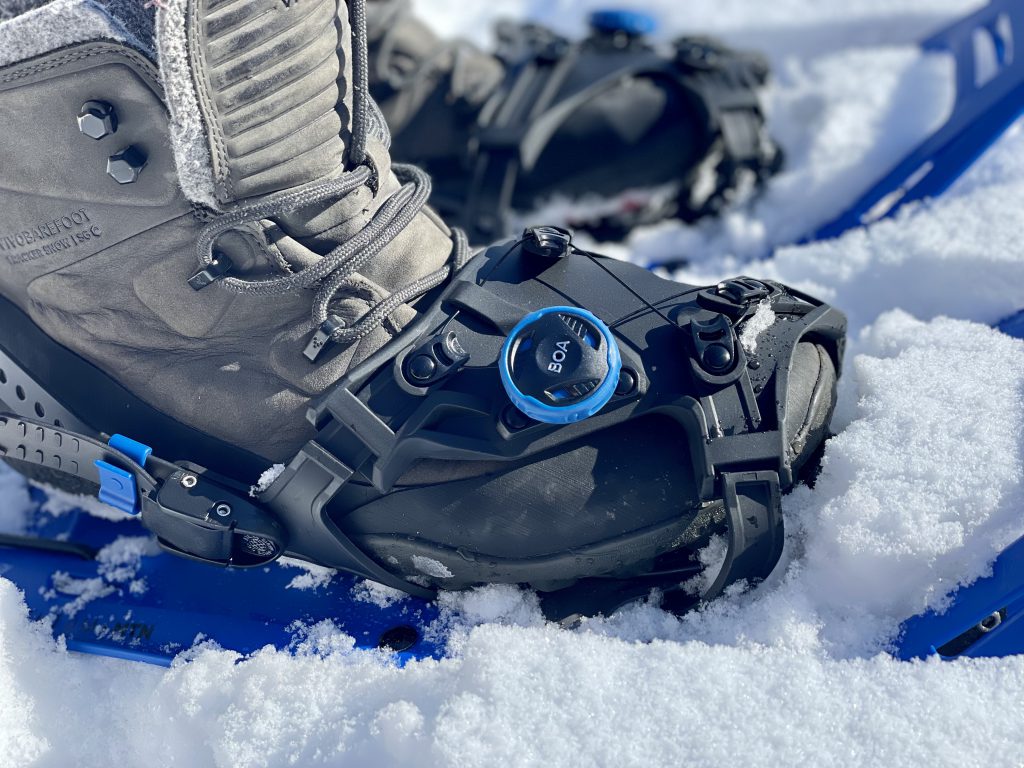 The first time I had gone snowshoeing, I had borrowed a friend's pair. They were around 15 years old and not that great. But the thing I remember most from that experience was the bindings. So many times, in -5ºF weather, my boot would come loose and I'd shed gloves to try and tighten it back up. I didn't have any of those issues with the binding on the Helium-MTN Snowshoes.
The binding at the back of my boot, once in place, stayed in place. In the front, to help secure the toe-box, Atlas introduced the BOA Fit System. This addition of the BOA Fit System helped secure my foot for several hours of comfortable snowshoeing.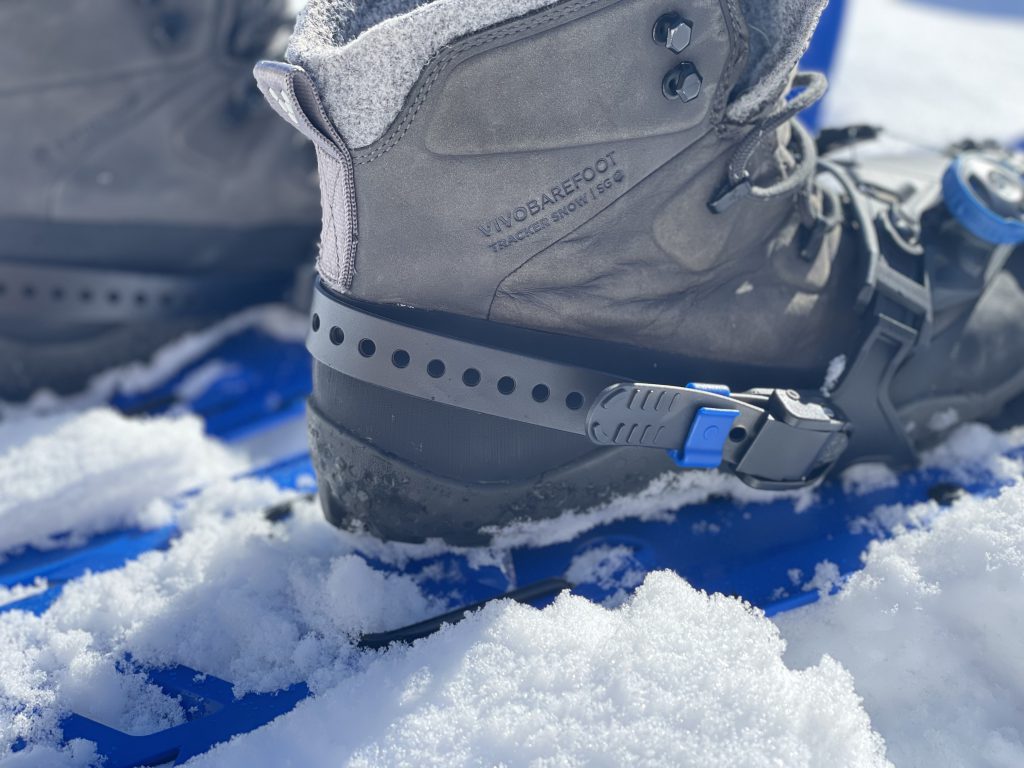 Additionally, these bindings on my first use were very easy to figure out.
But speaking of the secure fitting, I should mention that the boots I wore weren't mountaineering or stiff hiking boots, but minimalist zero-drop boots. Even with a lighter construction, I didn't feel that the snowshoe was putting too much pressure with it's binding of Boa system.
Traction
The traction rails worked really well on both snow and ice, even on steep terrain. The serrated teeth of the aluminum rails were able to provide enough grip that I didn't experience any slippage. Additionally, my foot was able to move freely enough so that I could lean into or back depending on the terrain to have the best balance.
Flotation
One of the key features I wanted to test in these snowshoes was flotation. I went off-trail a few times to find the deepest, most fluffiest snow possible to see if I would sink in to my hip. I would try certain spots, first without snowshoes, to test how deep I would sink. Then with snowshoes. In the spots I tested, I found that the Helium-MTN Snowshoes had adequate flotation. I would sink 25-50% of the total depth. And granted this was off-trail, so I was really pushing what this snowshoe was capable of.
Conclusion
Overall, these snowshoes were great. I really enjoyed my time on the trails with them and look forward for more adventures with them during the winter months.
These shoes are available at REI, but could also be purchased off Atlas's website for $220.