When COROS debuted several years ago, it was a disrupter in the field of GPS watch categories. It's impressive out-of-the-box features and battery life threatened to push Garmin and Suunto off their pedestals.
Three years ago, when I was researching the best GPS running watch I stumbled upon COROS on Instagram and decided to purchase their Apex watch.
This was after using the Apple Watch for a majority of my training. My biggest frustration with the Apple Watch was that I would have to charge it every night and for longer GPS excursions, it would die halfway through.
What made COROS stand out more than anything else was their battery life. And the Apex delivered. Even on heavy training weeks for ultramarathons, I could still go 15 days before I needed to recharge it.
And while it lacked some features that I missed with the Apple Watch (like being able to track non-GPS workouts), COROS' team of developers started to deliver on those features with firmware updates.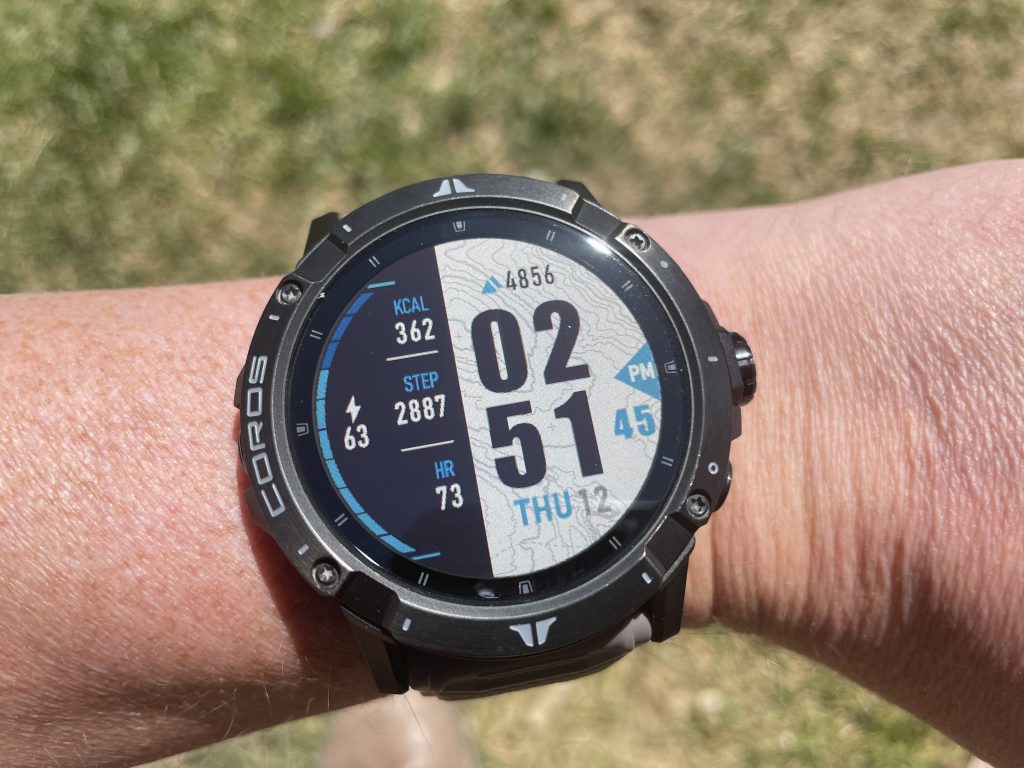 The new VERTIX 2 landed last summer with a ton of new features, including music playback, dual GNSS functionality, full-color topographic mapping, ECG functionality, WIFI connectivity for updates, amazing battery life, and Insta360action cam controls. Externally it boasts a larger screen and titanium alloy bezels and case to survive any adventure.
I've been using the watch all day, every day for the past three months. It has been with me on trail runs, bike rides, ice climbs, gym rock climbing, road runs, backcountry skiing, indoor cardio workouts and indoor bike rides.
So, let's dive in on why this watch is the best gps watch on the market.
VERTIX 2 Overview
The VERTIX 2 is a massive watch. I have skinny wrists and was a bit uncertain wearing this monstrosity 24/7 over the course of our testing period. And it did take some getting used to: both size and weight. But after the first week, it was as comfortable as the APEX.
On the right side of the watch (if you're wearing it on your left wrist) there are two buttons and a separate digital crown (which rotates and can be pressed in).
The top button is used to turn the backlight on or off.
The bottom button has a number of functionalities. On the main screen, outside of a tracked activity, it can be tapped to cycle through metrics on the home screen or held to jump to the settings folder.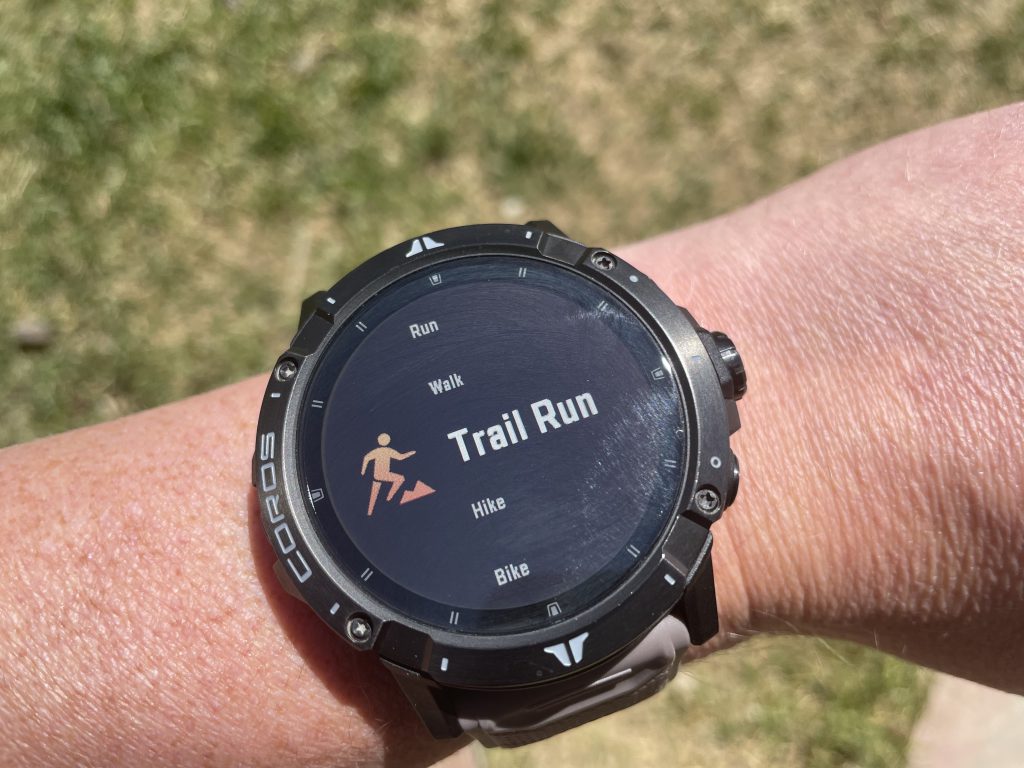 With the digital crown, if you press and hold, it will unlock the screen. This is much better than the unlocking function on the APEX. With the APEX, I had to turn the dial to unlock which was especially frustrating when in the middle of an activity, especially in the wintertime when I was wearing gloves.
With the VERTIX 2, I found the crown easy to use, even when wearing gloves. When I was skiing in the backcountry, it was easy to shift between uphill and downhill tracking, as well as pausing for a snack break.
While in the middle of an activity, the digital crown can be used to cycle through your activity metrics. This is great for some activities (like indoor cycling or GPS cardio) when I am focused on duration and heart rate (trying to keep it in the fat burning zone).
While the touchscreen isn't a new feature for COROS or GPS watches in general, it is still worth highlighting. It is primarily used outside of workout mode. You can click into widgets to slide through your metrics. Or pull up a map and move around easily.
I haven't found myself using the touchscreen too much outside of the widgets. It is a much easier tool that the dial to cycle through and look at a particular time frame of data.
The watch bands connect using a quick release system. Again, this is a step up from the APEX. The tabs to pull and release are much easier to use, allowing you to swap out bands or remove them all together to connect to the COROS Carabiner so you can climb without the watch attached to your wrist.
On the back of the watch is the charging port and optical heart rate sensor. The heart rate sensor is the set of LED's and optical sensors (bright and vibrant red and green lights) that measure your heart rate, but also blood oxygen levels and ECG data.
ECG / HRV Feature
To access the ECG feature, navigate to the settings menu and click HRV test. It'll ask you to place your hand on the bezel.
And it'll start the ECG, lasting for 60 seconds. Throughout you'll feel a vibration, similar to a heartbeat. At the end you're given a HRV value, not an ECG value. Which is confusing.
I'm unsure if this is a feature that will continue being developed.
The HRV value does show up in the app and you can watch the trend over time. The value is scaled from 0-100.
81-100: Superior, relaxed

51-80: High, under minor physical or mental pressure

21-50: Medium, under medium physical or mental pressure

1-20: Low, under significant physical or mental pressure
Widgets for Days
When you're on the home screen, you can move into the widget menu by unlocking the screen and moving the dial.
Widgets include everything from steps, KCAL burned, workout duration, recovery data, to sleep.
With each widget, you can click into with the dial and scroll through the data with the dial or your finger on the screen.
I have found that most of these widgets are pretty accurate. With the exception of sleep. I think it's because of the size of the watch, but I have found that if the watch isn't centered on my wrist that I will miss out on sleep data; viewable as large gaps of "awake" time during the night. Additionally, if I get up in the middle of the night for a bathroom break or to help an awake child, it will register that as the moment I awoke—not counting when I went back to sleep a few minutes later.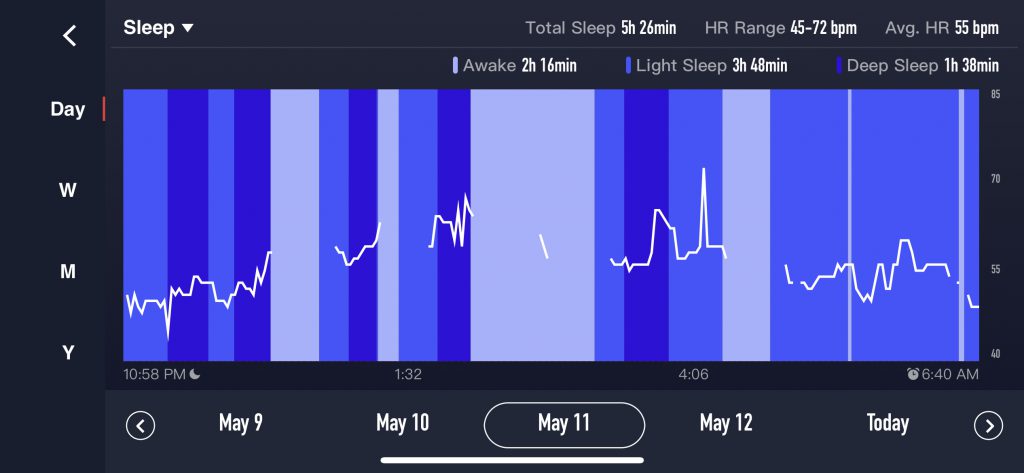 Notifications and Settings
One of the reasons I hated using the Apple Watch as a primary fitness watch was all the notifications I would get. Anything my iPhone received, so did my watch. Ping, ping, ping, ping, ping.
With Coros, I have the ability to be in the same predicament. But I am very conscious about the impact all those notifications have on my mental health, so I have a majority turned off. Right now, phone calls is the only notification I receive. Anything else can wait till I'm at my phone.
But it is fully customizable when you first setup the watch on the COROS app.
If you hold the bottom button, you can also access the settings menu. Here you can access the above mentioned ECG function. But you're also able to connect to Bluetooth devices, WIFI, Insta360 action cam control, alarms, the compass, and music.
Music and Insta360 Cam Controls
The VERTIX 2 is COROS's first watch to feature music. Bluetooth headphones are paired through the headphones menu in Settings. You can pair multiple Bluetooth headphones, which is a great feature for ultramarathons when you might burn through a pair or two.
Pairing is easy and once setup, they are easily accessible. When powered on, the watch will connect to them. When tested, it would take over the connection from my iPhone easily.
For music, the VERTIX 2 supports loading MP3 files to the device using a USB cable from your computer. Drag and drop the files you want to the "music folder" and you're ready to start jamming by selecting the music menu from the settings menu.
You can use the touchscreen to play, pause, skip tracks, etc.
It should be noted though that you can only load MP3 tracks. Services like Spotify or Apple Music isn't compatible and probably won't ever be.
Now, at the time of testing, we couldn't test the Insta360 controls. But to give an overview, if you have the Insta360 Go 2, One X2 and One R), you can control the camera with the VERTIX 2.
Using the dial, you can alternate between photo and video mode, then press the dial to take a photo or start recording a video.
Battery Life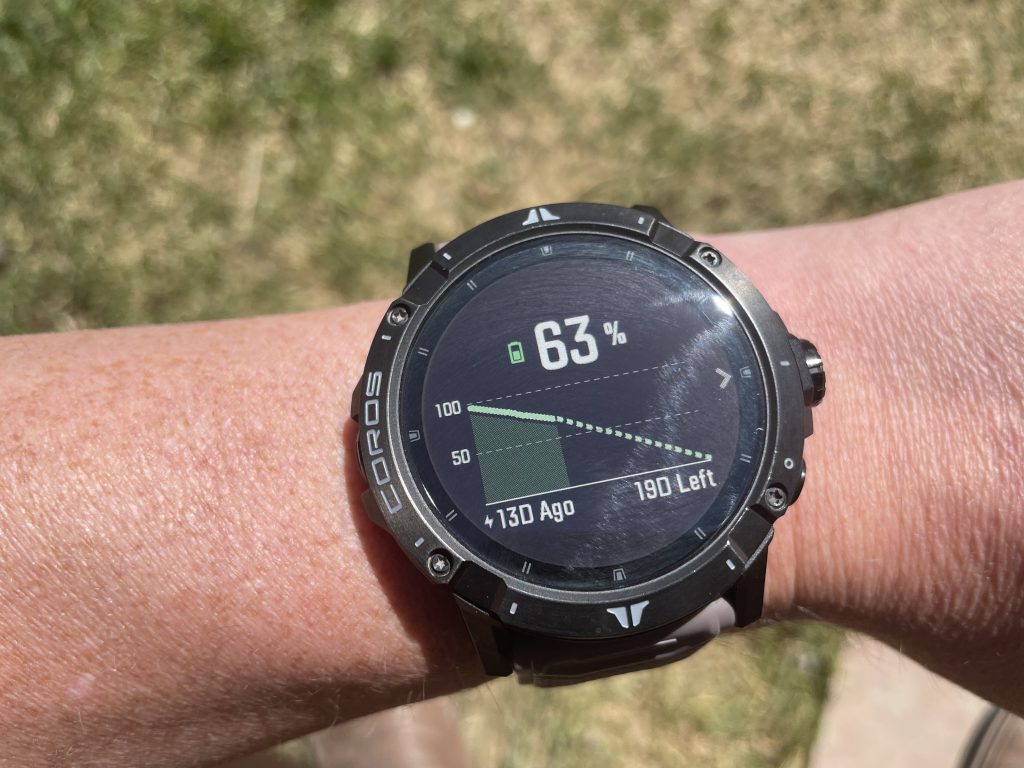 The VERTIX 2 lasts up to 140 hours of standard full GPS tracking and 60 days of normal use. With light GPS usage, daily workouts tracked, and with wearing the watch 24/7, I have gone 35-40 days between charges. During heavy usage periods, using GPS daily, I have gone 25 days between charges.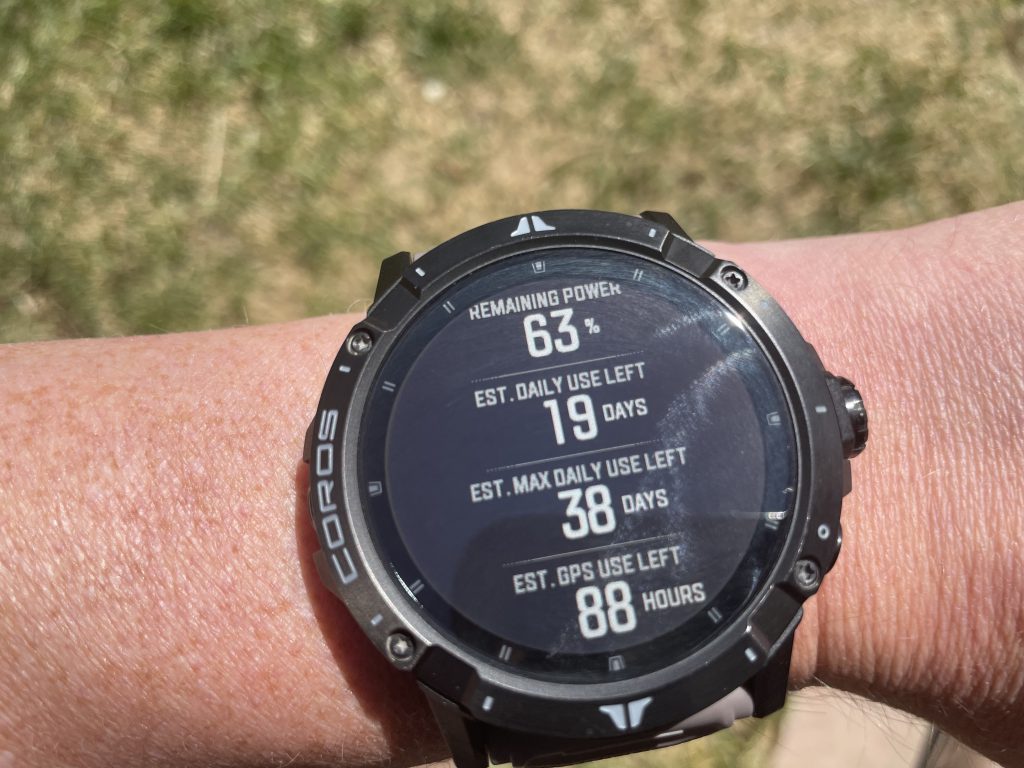 Some features, like the ECG/HRV test, music, and Insta360 camera control will drain your battery faster.
It should be noted that the VERTIX 2 uses a proprietary charger, so don't lose it!
GPS Activity Tracking and Maps
During our testing period we took the VERTIX 2 everywhere: hiking, trail running, road running, road biking, trail biking, back country skiing, ice climbing, and most recently, paddle boarding (yay! spring has sprung!).
GPS accuracy can make or break a watch.
One of the biggest challenges I had with the APEX was that when I was doing trail races with a lot of vertical gains, the watch would think that I wasn't moving and stop tracking.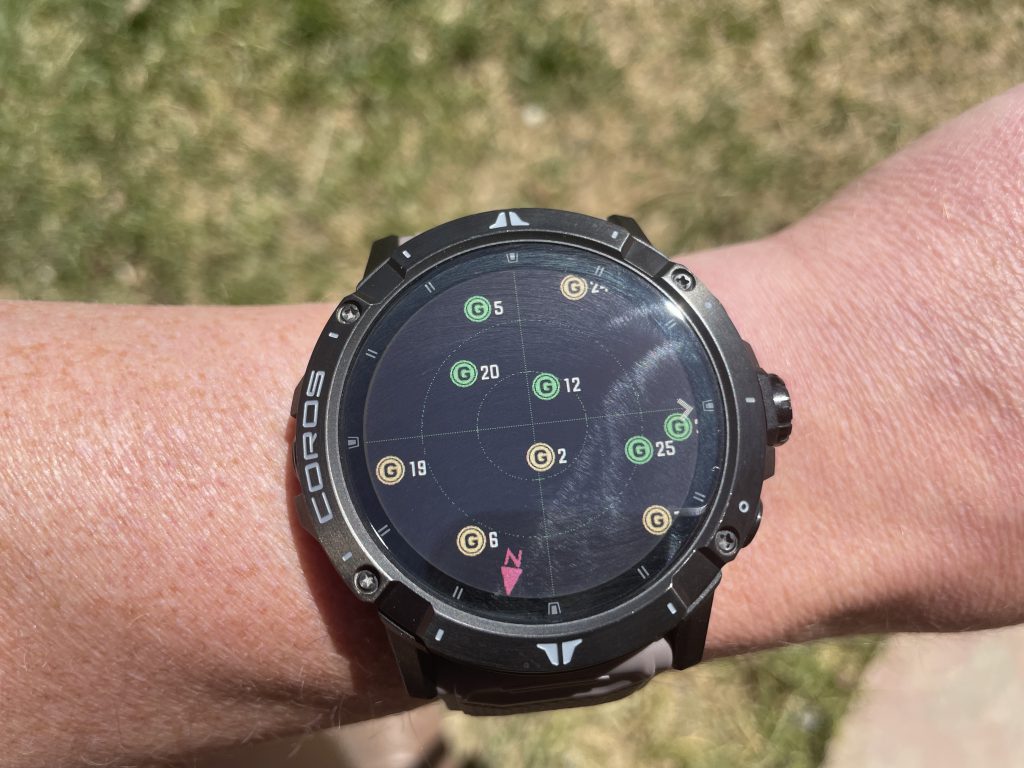 The VERTIX 2 has improved on this by offering Dual Frequency GNSS. This allows the watch to locate the best GPS frequency available from all five of the major satellite systems at the same time.
Additionally, navigation features include topographic, landscape, and hybrid global mapping. You can load a route by transferring it to the COROS app and loading it directly to the watch from the app. I used this feature in the backcountry and part of the challenge is that on the map there aren't any labels or turn-by-turn directions. So it was challenging navigating back when I got off course and lost the trail.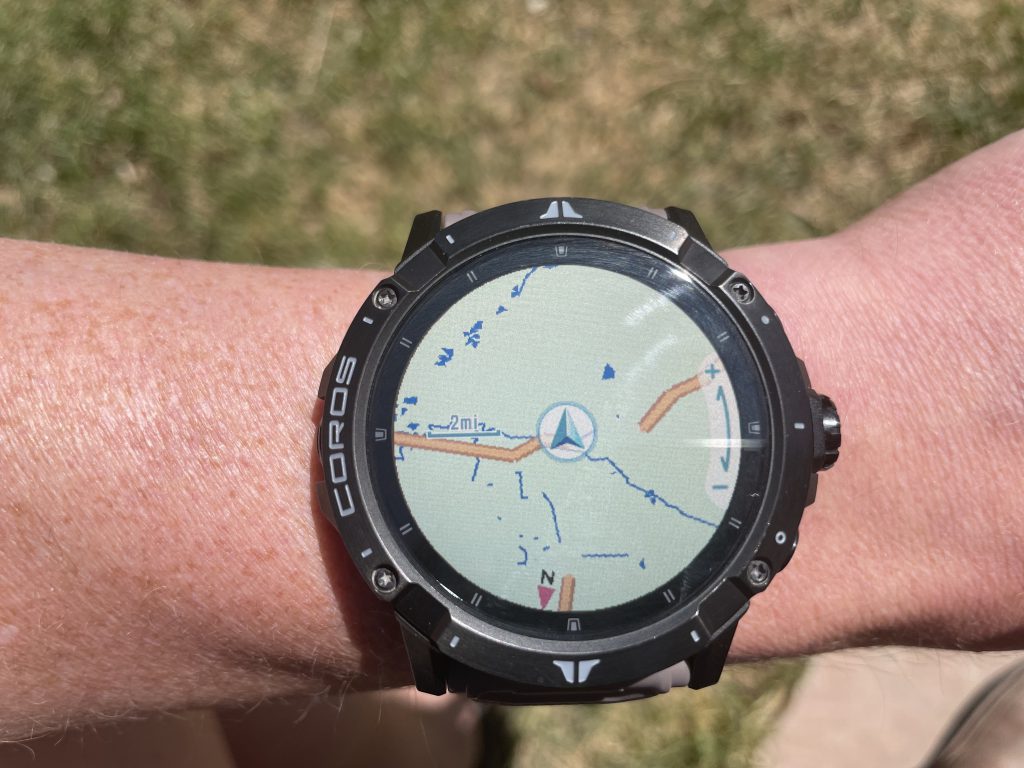 When I looked at the routes tracked, I did find the VERTIX 2 to be pretty darn accurate, including in heavily wooded areas or terrain that had more vertical climbs.
I highlighted a few examples to showcase the accuracy of the GPS data.
In the middle image, this was a point on my run where I transitioned from trail to sidewalk. While it didn't show me directly on the trail, throughout it caught every little turn and pivot I made, including where I ventured off the paved trail onto a single track.
For the Ski Touring tracking, when I zoom in, you can see all the switch backs I went up.
What I am most impressed by is the fact that the watch is more accurately picking up trail runs on steep inclines. No longer is the watch auto-pausing because it can't register movement. And that in itself is a huge winner for me as I continue training for ultras this Summer.
Conclusion
Throughout the testing period of the VERTIX 2, I continue to be impressed by the leap forward COROS has taken with this watch.
There are a ton of really awesome features with the music and Insta360 features.
But more than anything, the feature that is worth shouting about is battery life. There isn't another watch on the market that can match COROS on what they were able to accomplish with the VERTIX 2.
Sure there are some improvements I'd love to see (especially with maps), but if there's a company I trust to get it done, it's COROS. Their developer team is amazing and based on what they have done in the last few years, I'm fairly certain they will keep the VERTIX 2 ahead of the competition
If you're an endurance athlete or avid explorer, I have no doubt that this is the watch for you.
The COROS VERTIX 2 is available online and at several different retailers. It retails for $699.