The Murph Challenge is an annual fitness event that pays tribute to Lieutenant Michael P. Murphy, a United States Navy SEAL who sacrificed his life during Operation Red Wings in Afghanistan in 2005.
This challenge has become a popular way for individuals around the world to honor and remember fallen heroes on Memorial Day.
The Murph Challenge consists of a grueling workout that includes a one-mile run, 100 pull-ups, 200 push-ups, 300 air squats, and another one-mile run—all done while wearing a weighted vest.
There are variations. GoRuck, in 2023, published their version of the Murph, which traded out the 100 pull-ups for 100 bent over rows using either 40 or 60# sandbags. Due to a shoulder injury, this is the version I completed this year.
This intense physical test pushes participants to their limits, testing their strength, endurance, and mental resilience.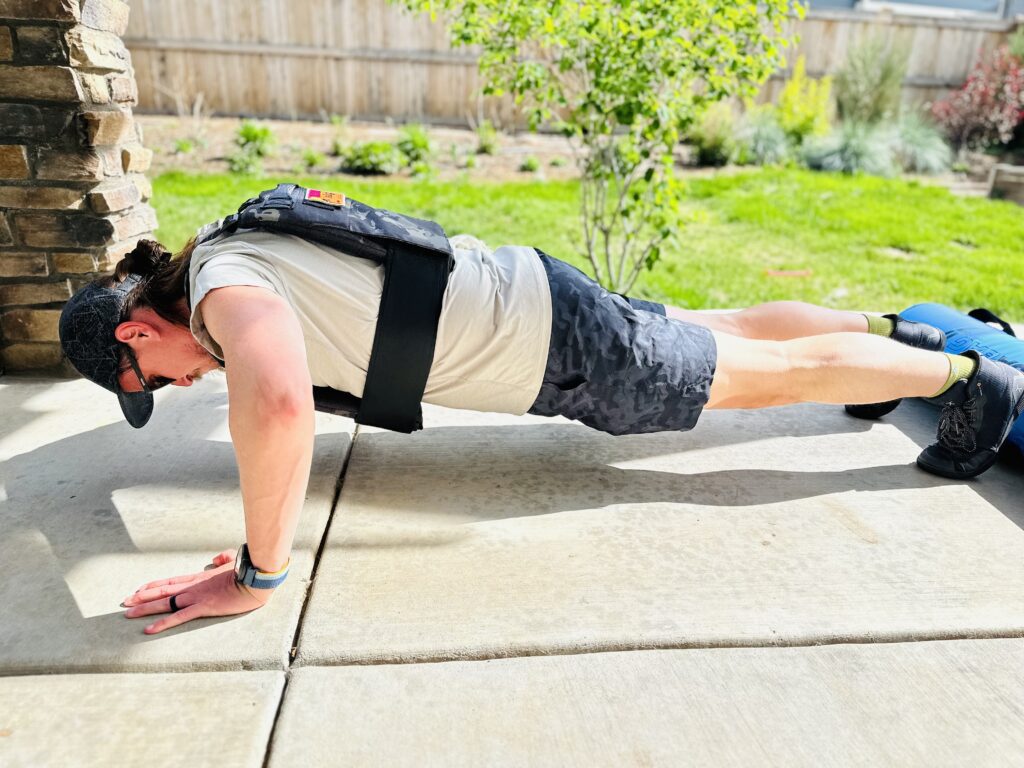 This was my first year training for and completing the Murph Challenge.
Completing the Murph Challenge requires not only physical preparedness but also the right gear and equipment to enhance performance and provide necessary support.
From weighted vests to durable footwear, the products used during this challenge play a crucial role in helping participants achieve their best results.
In this product review, we will explore several items that Huck Adventures received from the brands below to test.
And we put them to the test while training and during the Murph Challenge, evaluating their functionality, comfort, and overall performance. Whether you're a seasoned athlete or a first-time participant, finding the right gear can make a significant difference in your Murph Challenge experience.
GoRuck Training Weight Vest
Completing the Murph with a weighted vest is a big part of the challenge. Sure, doing the workout without weights is already grueling. But it also simulates the real-life conditions of military personnel and the gear and equipment they carry.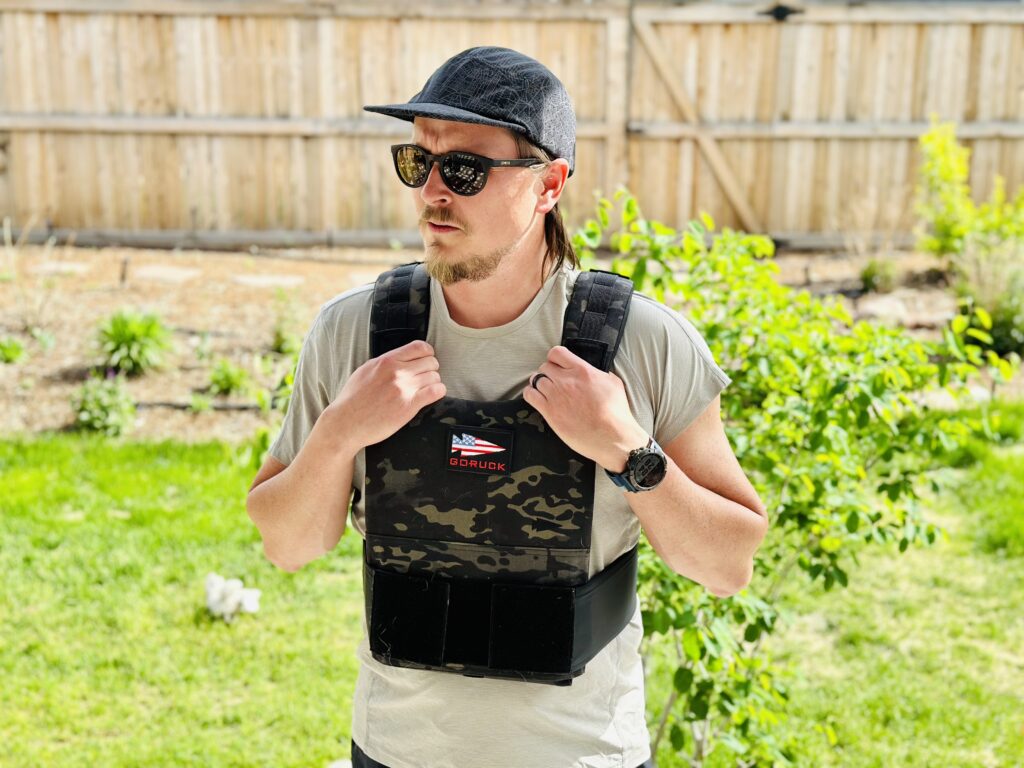 The GoRuck Training Weight Vest (full review here) was a consistent companion while I trained and built up my rep counts for the Murph.
Anytime, I walked the dog, I put it on.
When I hiked one of the smaller mountains in Boulder, I put it on.
Running in the GoRuck Training Weight Vest was surprising. I thought it would bounce, but it didn't. It stayed secure, but didn't feel tight. I could still breath deeply.
My biggest challenge wearing it was getting used to the weight on my shoulders. For longer periods of activity, my shoulders would tire from holding the weight and I would find myself unstrapping the velcro and stretching; providing some relief. Gradually that feeling went away.
For the Murph, the standard is a 20# weight vest. Mine was 40#. I wore it for both runs, but ended up shedding it halfway through the rows, pushups, and squats.
Ten Thousand Interval Short and Versatile Shirt
Throughout these past several months, Ten Thousand has been a consistent workout partner.
While training in cold weather, I used their Sherpa Tech Jacket and their Interval Pant.
But as temperatures warmed up, I found myself training more and more in their Interval Short and Versatile Shirt.
Everything Ten Thousand makes is amazing. The material is soft and moves with you.
When doing workouts, like the Murph, where you are doing a lot of different compound movements, I was very pleased that I didn't chafe.
I was able to also test how odor-resistant the material was when I took the Interval Short and Versatile Shirt with me on a five-day work trip. Each morning, I went to the hotel gym and I worked up a heavy sweat. By the time I reached by fifth morning and my fifth workout, they still smelled great.
When I am not working out, I find myself wearing them. Even now as I am writing this article, I am wearing them.
I have an upcoming weeklong Boy Scout camp that I plan to take the Interval Short and Versatile Shirt to.
If you're looking for new workout apparel, checkout Ten Thousand. You won't be disappointed.
Flux Footwear
If you're doing the Murph, you need the right shoes. Shoes that are perfect for the gym and perfect for running.
And that's where Flux Footwear comes in. Full reviews here.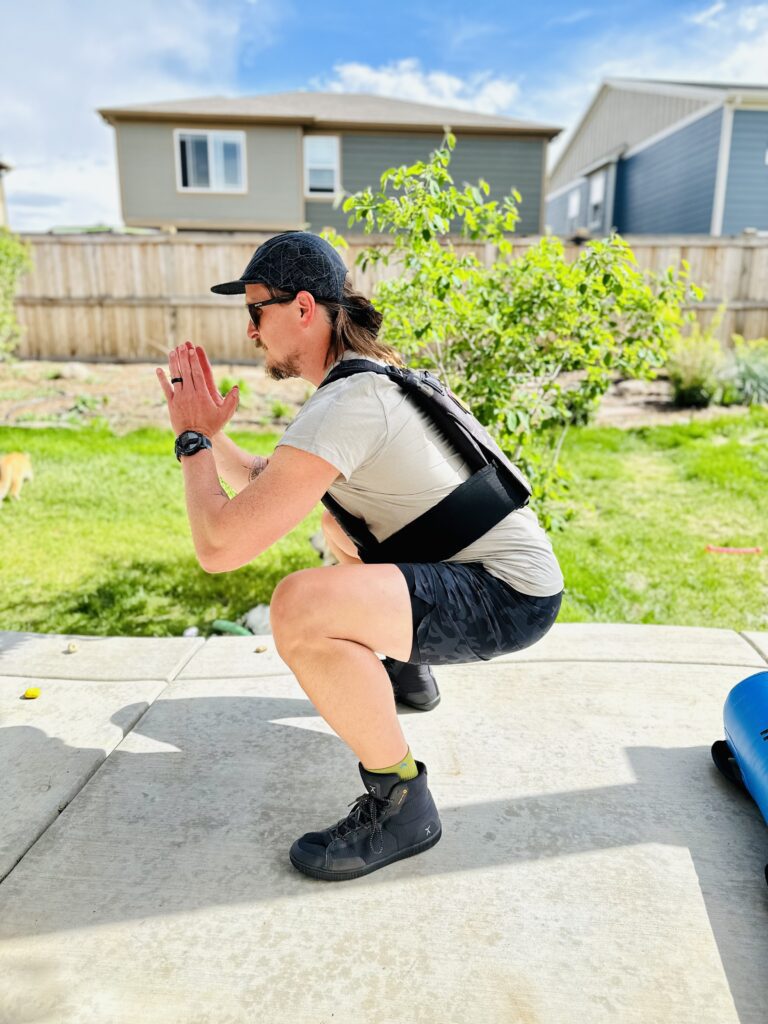 While training for the Murph Challenge, we tested the Flux Footwear Adapt Trainer and Flux Footwear High Top Adapt.
For workouts where I lifted heavy for squats and deadlifts, I consistently found myself wearing the High Top Adapt. I enjoyed the extra ankle stability that the construction of the high top provided. For the Murph, these were my shoe of choice for this exact reason.
One of my favorite features of Flux Footwear's shoes is their innovative ADAPTSOL CUSHION. It allows the shoe to adapt to the shape of the user's foot, providing a comfortable and customized fit. The little bumps in the footbed also act as little foot massagers.
These shoes are also minimalist in design. Wide toe box. 10mm insole. 0mm heel to toe drop. It provides the perfect balance between cushion and ground feel so that when I am lifting in them or running, my feet are very happy.
Decathlon Workout Equipment
When I first started this journey, I knew I needed to make some changes with how I worked out. I needed to build up strength, so I could increase my endurance. It wasn't enough to just do bodyweight pushups or squats with the GoRuck weighted vest.
As I was researching equipment, I realized just how darn expensive it would be to build out my home gym.
But then I came across Decathlon. Huck Adventures partnered with them to review their weight-training rack and their weight plates. I also purchased a incline weight bench and an Olympic barbell.
What makes Decathlon different is that their business model is built to lower overhead and indirect costs so they can provide their customers with high quality equipment at a lower price than their competition.
When I was researching, I compared prices between Decathlon, the big-box retailers, and leading fitness companies and Decathlon consistently was a better value.
And upon receiving the equipment, I was happy with the overall quality.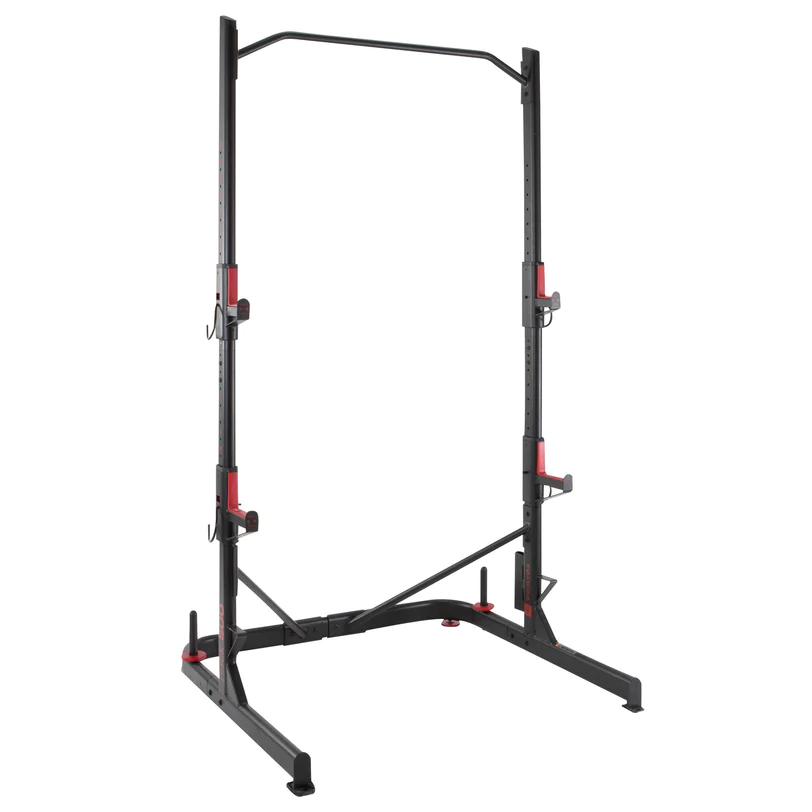 The weight-training rack was the most important piece of equipment I added to train for the Murph. Mostly because it allowed me to do pull-ups. It is able to be secured to the floor to prevent any wobbling and if I had the space, I could have trained to do kipping or butterfly pull-ups to have an easier go at it.
The rack was a great setup for bench-press and using as a squat rack to help me build up my strength and endurance for the weighted exercises in the Murph.
I have been very impressed with Decathlon as a brand and the equipment I received and bought from them. If you're looking to build out your home gym, checkout Decathlon.
COROS VERTIX 2
The COROS VERTIX 2 was also a consistent partner while I trained.
I mean, it's a consistent partner every day. I hardly take it off. You can read my full review here.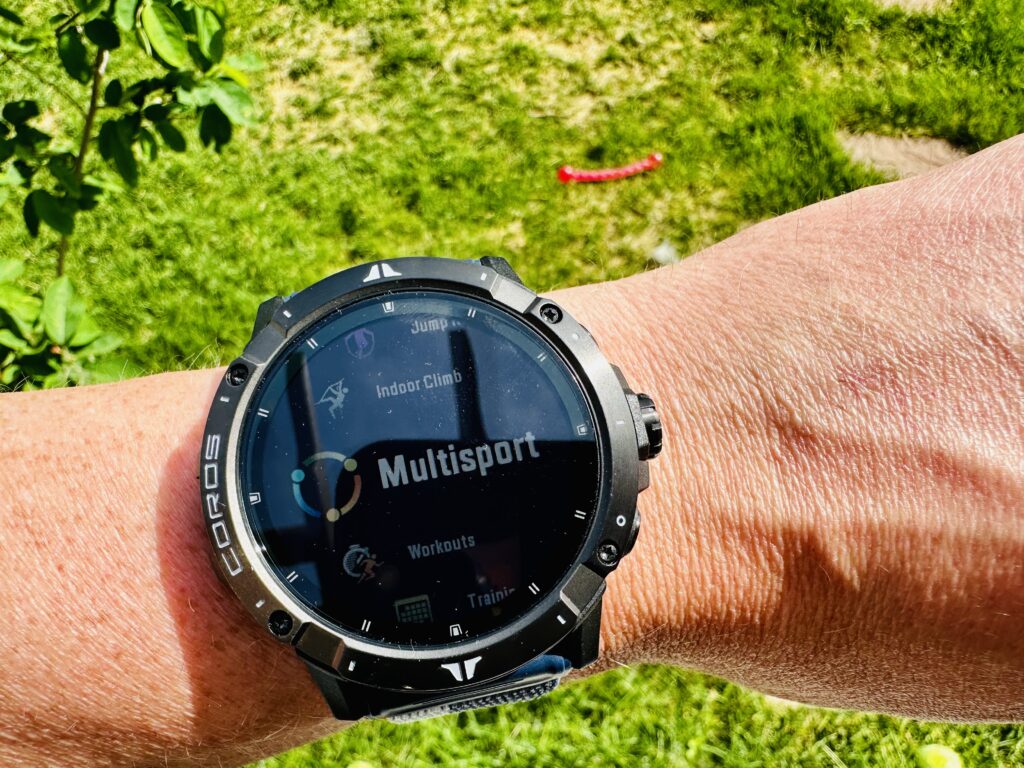 But the big feature I want to highlight is the Multisport mode.
With this mode, you can set up your watch for workouts like the Murph. You can assign 5 different workout modes with the Multisport mode. For the Murph, I set mine up for Run, Gym Cardio (this is the mode I tend to use for a majority of my workouts, focusing more on my heartrate range versus tracking reps and muscle group in their Strength mode), and finally Run.
It is easy to use and setup. The user interface of the watch makes it really easy to switch between workouts in Multisport.
The COROS VERTIX 2 is the best watch on the market, in my opinion. Mostly because of its battery life (on average, I charge every 28 days). But their team consistently brings updates and new features to the watch through their firmware updates. They listen to their customers and continue to improve their software and hardware.
HydroJug
Hydration is one of the most important aspects of pushing yourself physically.
My go-to water bottle for years was a simple stainless steel 32-ounce. But I would find myself filling it up multiple times throughout the day. Which, in itself, isn't a bad thing, but I'm lazy sometimes.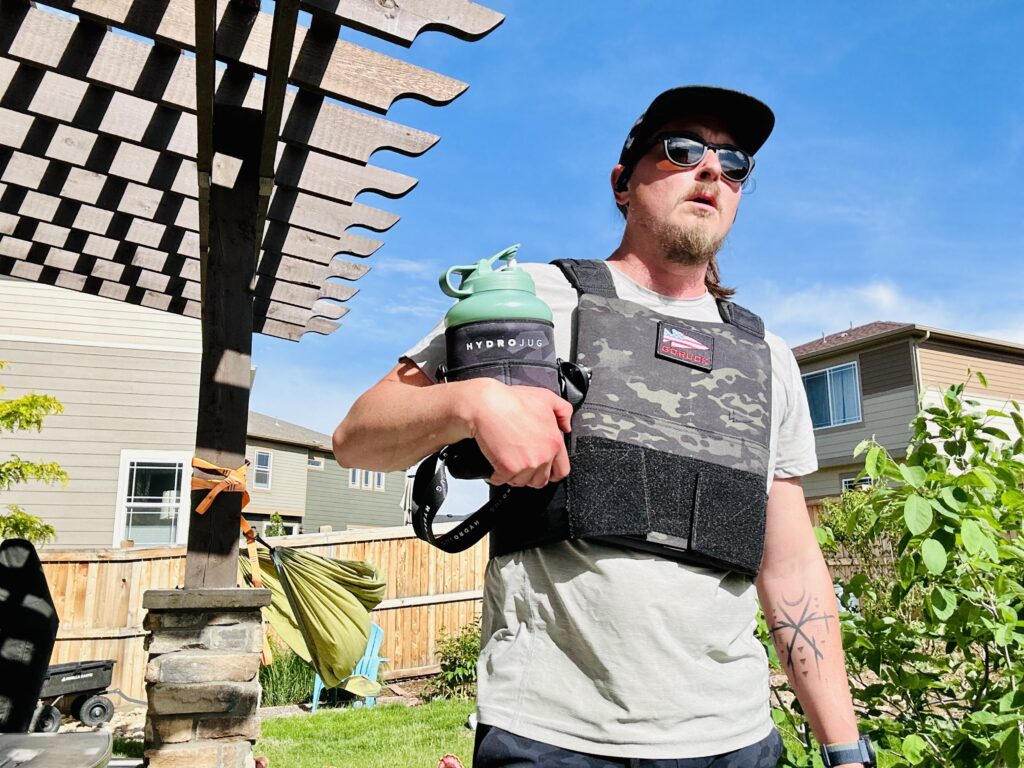 HydroJug has become my favorite hydration vehicle. It's a 73 oz. water jug. I tested their plastic version that came with a straw and sleeve to keep your water cool, but they also have a vacuum-sealed stainless steel version, as well.
It's handle makes it easy to carry and when it's full, you can get a few reps of bicep curls in.
The flip-top makes it easy to open and the straw has a rubber bottom that allows it to pop out for easy drinking.
Throughout the day, the HydroJug has been a consistent companion. Whether I am working or working out, the HydroJug goes with me wherever I go.
The designs they have on their website are pretty cool, as well. For testing, I received the sage color HydroJug and a black camo sleeve. It looks pretty sweet.
Murph Results
I'm not going to lie.
The Murph Challenge was hard.
I followed GoRuck's Murph Challenge, which was a one-mile run, 100 bent-over rows, 200 push-ups, 300 squats, and finished with another one-mile run.
I broke out the rows, push-ups, and squats into 20 rounds of 5, 10, and 15 respectively.
For both runs I wore my 40# GoRuck weight vest and wore it for the first 10 rounds of rows, push-ups, and squats.
My total time was 58 minutes. I'm not blaming my kids for my time, but it's worth mentioning that I had several pint-sized interruptions. Total activity time was 47 minutes.
Halfway through the rows, pull-ups, and squats I had moments where I wondered if I would be able to finish the Murph.
When I started my final run, I knew I was committed, because I had to get home, right? But, being perfectly honest, there were moments where I walked to catch my breath.
But I finished.
A huge thank-you to the brands that partnered with Huck Adventures for the Murph Challenge.
This is going to be a new Memorial Day tradition for me. And I hope to beat my time next year.